Uncategorized
Super Cool new Westworld Website Hints at Season Two, Comic-Con
The last time we checked in with HBO's riveting, critically acclaimed sci-fi/western thriller Westworld, we'd learned that creators Jonathan Nolan and Lisa Joy were planning on playing with perspective and time in season two. What this meant was that season two might not pick up where we left off in season one's finale, in the moments after creator Robert Ford (Anthony Hopkins) had been killed and the robot revolution had begun. While we might have assumed that season two would deal primarily with how the hosts would handle their hard fought freedom (and the surviving humans still in the park), Nolan and Joy hinted that season two would actually step back to show us what the park was like for regular guests. While they'll definitely be dealing with the momentous revolt and the future of the newly freed and suddenly sentient (at least some of them) robots, you can bet the show won't unfold the way you might have expected.
While we wait for season two, which won't air until 2018, an intriguing new website for the show has popped up—Discover Westworld—that hints at a possible plot line for the upcoming season, and, the Westworld panel that will be at Comic-Con.
A few seconds after you visit the site, something weird happens—an unknown user tries to get this message to the outside world: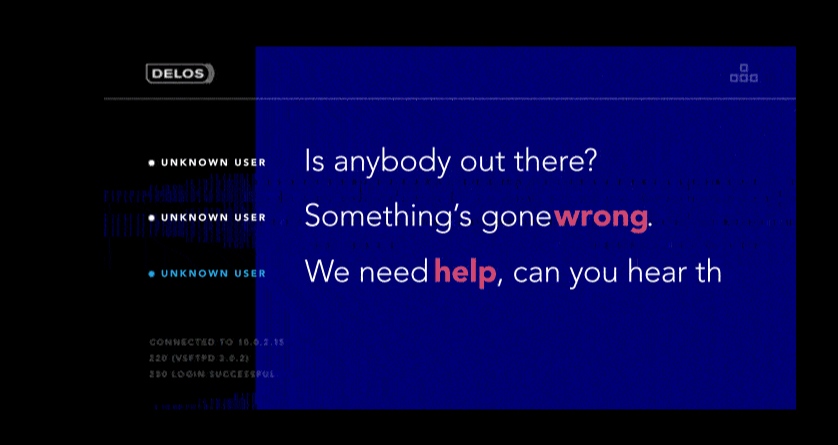 This cry for help is quickly erased—first, by an alert that reads "Loading – Journey into Night", which was Robert Ford's new narrative in Westworld before he was killed, and, is also the title of the second season premiere. Then, a registered user informs you that "All is well" and that the "celebrations continue."
So who is that unknown user trying to reach the outside world? Is it a trapped human left inside the park (like Shannon Woodward's Elsie, who went missing during season one)? Or is it a robot, perhaps Evan Rachel Wood's Dolores? Does this mean that part of season two's narrative will explore someone desperately trying to get out of Westworld, like Thandie Newton's robot Maeve had been doing until she made the fateful decision (the first evidence of her free will, it turned out) to get off the train and stay in the park?
The site is filled with clever little easter eggs, and tells you that you can "Plan your adventure in our newest experience center, opening in San Diego." The site has a robot guide of its own, Aeden, who will take you through the many services offered in Westworld, including a traveling roadshow. This is all timed with the upcoming Westworld panel at San Diego Comic-Con, leading us to believe that the site is hinting at not only elements of season two, but for things that will be revealed at the Con.
We'll find out more once we report back from Comic-Con, for now, poke around the site and let us know what you find.
Featurd image: Evan Rachel Wood, James Marsden and Anthony Hopkins. Courtesy HBO.