Key and Peele Production Designer Reflects on a Career of Comedy
Production designer Gary Kordan is setting the scene for some of the funniest shows on television. From instantly iconic sketch comedy to powerhouse sitcoms, Kordan has built backdrops for some of the top comedians in Hollywood. His work adds realism and exceptional detail to outrageous scripts by heavyweights like Melissa McCarthy, Ben Falcone, Keegan-Michael Key and Jordan Peele.
"Key and Peele is the gold coin in my pocket as a job in the television industry for a production designer," Kordan said of the Peabody award winning sketch comedy show. Breaking the mold of sketch shows that focused on jokes and gave little thought to the backdrop, Key and Peele's sets were film quality. Each episode had eight or more sketches that lasted no more than four mintues and rarely repeated.
"I feel we changed the game with what sketch shows should look like," Kordan said. "The biggest honor a production designer and creative group can have is when other people in your industry notice that, this show looks good. The show has been over for a couple years, but people still regard it and reference it every day like it's just aired on television last night."
Kordan spared no detail recreating the world of 19th century France for a sketch mocking the beloved and overly dramatic Les Miserables and sent the stars back to a 1980s aerobics championship. Perhaps the most memorable is the gritty tavern of the Pirate Chantey.
"It was coming off three or four solid weeks of shooting where none of us had any time talk about what every department was going to bring to the table," Kordan recalled. "We just knew we had to make it great. We loaded in at five o'clock in the morning and we were shooting by seven. When the monitors went up and we looked at it everybody said, 'Look what we're capable of.' Pirate Chantey is the best depiction of what the department heads and what the crew on Key and Peele were capable of, after being together for five seasons."
Since then, Kordan has spread himself over a multitude of new projects including the upcoming buddy comedy Ghosted, McCarthy and Falcone produced Nobodies, TV Land's Teachers, and Amazon's Just Add Magic. Ghosted is set to star Adam Scott (Parks and Recreation) and Craig Robinson (The Office) as "hapless paranormal investigators" in Los Angeles. Kordan describes the sets as a mix of Minority Report and Doctor Who.
"Ghosted was a really great opportunity to work with [director] Jonathan Krisel, who I'm a huge fan of," Kordan said. "His vision was to make a sci-fi show that was current but felt like 1983. We had so much fun with the details and what's on the monitors and the dry erase boards and the computer screens. We created those set with a world that was maybe built in the late 70s by the government, and hasn't gotten much funding since."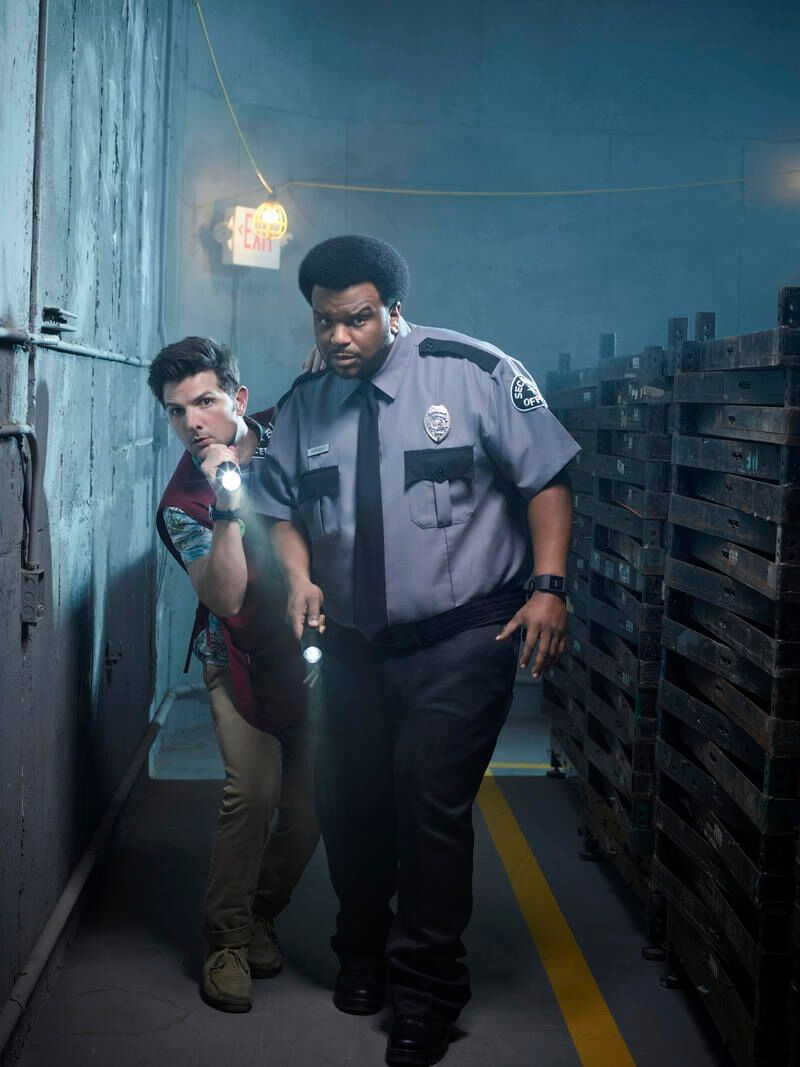 Adam Scott and Craig Robinson in Ghosted.
On Nobodies, Kordan recreates a world that all struggling comedians know too well. Based on the experiences of the show's stars and Groundlings alums Hugh Davidson, Larry Dorf, and Rachel Ramras, some of the sets are based in reality. Even the home of actors and producers Melissa McCarthy and Ben Falcone.
"Ben and Melissa's house is a compilation of what I imagined how they lived and doing research with Melissa," Kordan explained. "When we were doing the pilot, Melissa opened up photos of her house. I saw an awesome green kitchen island and I said, 'This is great. We can build something just like it.' She goes, 'No, you can borrow it.' The set dressers went over to their house, went into the kitchen, took their kitchen island, put it on a truck, and brought it to set. We shot those scenes over the course of a couple days, brought it right back to their house and put it in the kitchen."
Kordan attested that McCarthy's generosity is commonplace on set. "On the first day of the shoot, a couple of the construction guys were carrying a flat and maybe needed one more guy and Melissa darted right across the parking lot and helped them carry it onto the stage," Kordan recalled. "When you see one of the biggest stars in the world jump in and understand what the crew members are going through and what their challenges are, it says so much about her."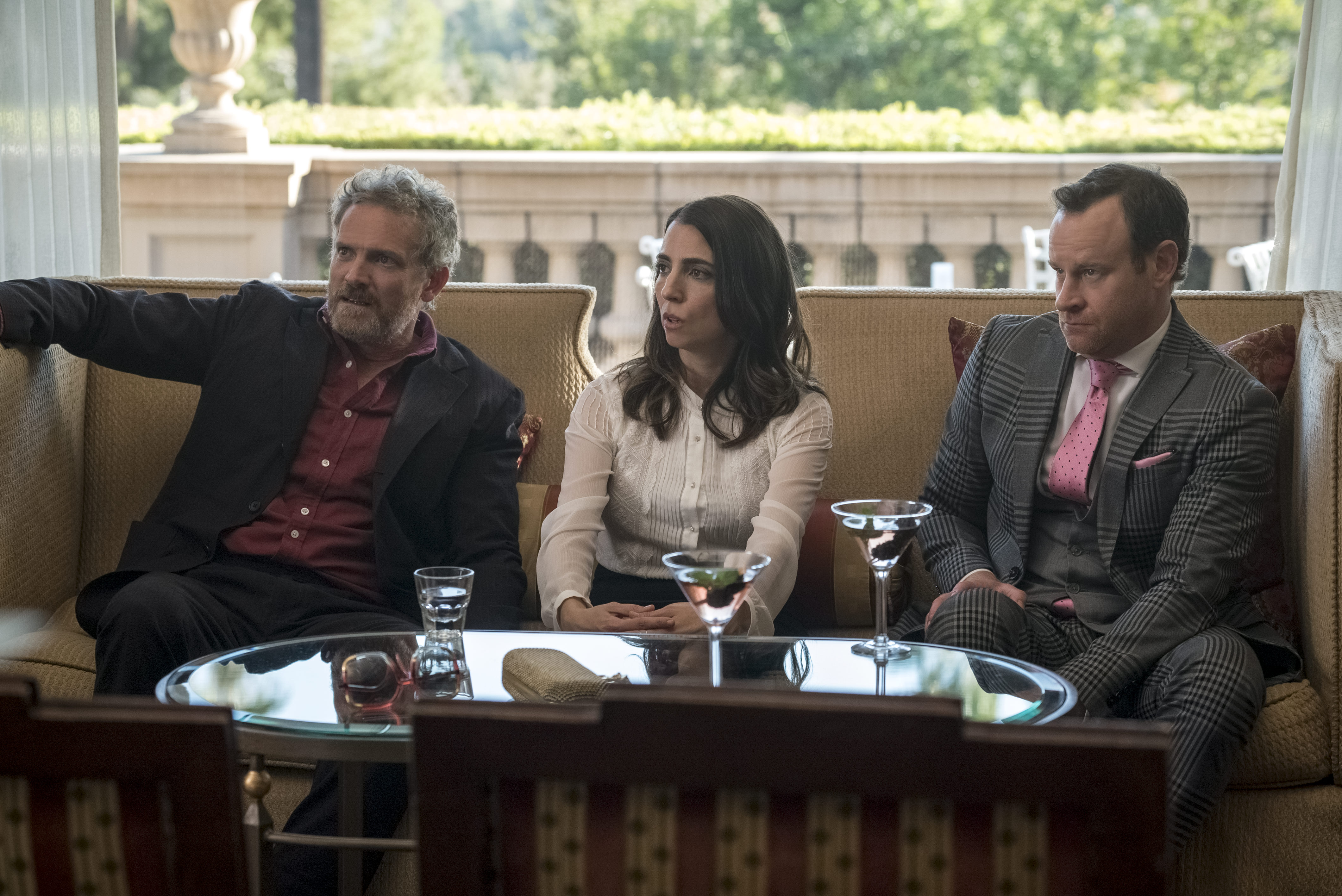 Hugh Davidson, Larry Dorf, and Rachel Ramras in Nobodies. Photo Courtesy of TV Land.
The wacky Teacher strikes a different note pairing hilariously raunchy adult characters with a grade school setting. "The cast of Teachers is so collaborative with the art department," Kordan said. "We envision who their characters are and then we just turn it up to a hundred. The cast and the scripts are so dysfunctional that we made a specific choice on that show to make it look like a kids' show. To have brightly colored walls and fun friendly graphics, furniture, and carpet so when the words that are coming out of the characters' mouths that are so derogatory, the juxtaposition from the background is where the hilarity comes from."
Kordan flexes his versatility on Amazon's Just Add Magic, a mystery adventure show geared toward young audiences, yet avoids condescension. The set design harkens back to the golden age of children's programming like Charmed and Are You Afraid of the Dark? that won fans with thorough and detailed design. "In my industry, working on a kids' show sometimes is frowned upon," Kordan said. "They're talking about obnoxious kids, brightly colored walls, overstuffed orange and yellow and pink furniture, with lots of pastel design, stupid parents, and lighting that is just flat and bright. We set out to make a kids' show that doesn't look anything like that. Kids don't need to be hit over the head with these bright colors and these sort of laugh track-style shows. This is a mystery, and it's creepy, and it's fantastical."
Kordan has spent his career bringing comedic visions to life, but he got his serendipitous start when he went from fan to fulltime staff for his favorite funny lady. After years of taping and studying Joan Rivers on The Tonight Show as a child, Kordan answered a bulletin board posting for CBS interns. Luck would have it that the posting was for The Joan Rivers Show.
"I got the job as an intern and quickly they realized that I was in art school and I had art ability and Joan, actually, put me in the art department on her show," Kordan said. "All of a sudden I was able to use my artistic abilities with my obsession with comedy and I was doing it for the biggest, funniest comedian in the world. That kick-started a love of interpreting the scripted words into what's visually funny and what helps the joke."
Learning from his show business idol has paid off. Even Kordan can hardly believe the serendipity looking back on his career. "The older I get the more I can't believe how the stars aligned," Kordan said. "It's such a rarity that something like that happens. But I thought she was the greatest, funniest person. Years after recording her on television I was in her writers' room creating the props and the graphics and the design that she was coming up with ideas for. That doesn't happen often in one's life, or ever."
Featured Image: Jordan Peele and Keegan Michael Key on Key and Peele.