Here's Your First Look at Zazie Beetz as Deadpool 2's Mutant Assassin Domino
20th Century Fox has a very good marketing team, but for Deadpool, there is no one more affective than star Ryan Reynolds. He's been keeping us updated on all the happenings on Deadpool 2, and now he delivered our first look at Zazie Beetz as Domino, the mutant assassin who will be partnered with Josh Brolin's Cable in the film.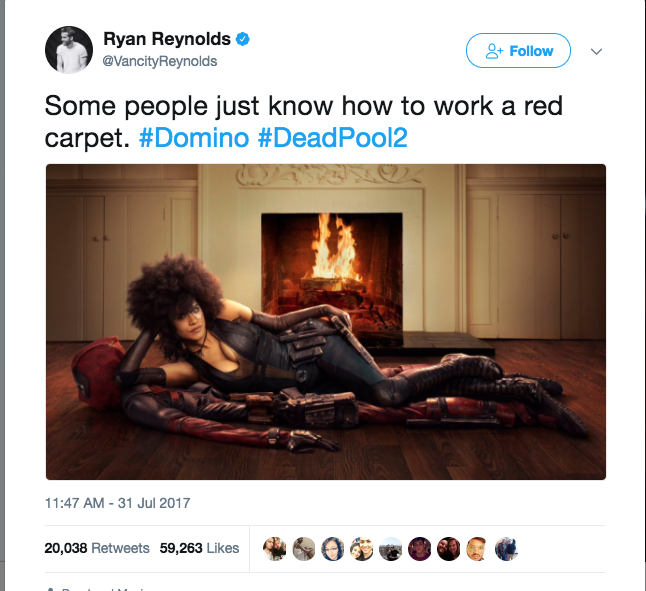 Beetz looks right at home as she literally crushes Ryan Reynolds' Merch with the Mouth, hinting at a possibly tough relationship between the two. Beetz's Domino looks a whole lot different than the comic book character (and a whole lot better), retaining mostly just the trademark tattoo on her left eye and the notion that you do not want to mess with her.
Best known for her role as Vanessa in Atlanta, where she's one of the Emmy-nominated show's breakout stars. Starring alongside a ripped Brolin, these two X-Force mutants are going to be a potent pair for Deadpool to deal with. Should their onscreen chemistry be sufficiently magnetic (and there's no reason to think it won't be), look for them to star in their own X-Force spinoff soon-ish.
The latest from set suggests that Deadpool 2 is going to be closer to a buddy comedy, with Reynold's smart ass Deadpool irritating Brolin's all-business Cable. Along with Reynolds, Beetz and Brolin, the film stars Monica Baccarin, T.J. Miller, Brianna Hildebrand, Jack Kesy, Stefan Kapicic, Julian Dennison, and Leslie Uggams.
Deadpool 2 hits theaters on June 1, 2018.