Comic-Con 2017: Production Designers From Black Panther, Spider-Man: Homecoming & More
"How many of you love the movies because they look so goddamn cool?" Production designer John Muto (Home Alone, River's Edge) already knew the answer. "The audience doesn't pay money to sit in the dark and look at drab images."
Everyone loves movies because they look cool, and that was especially true of the people who came to Muto's panel on production design. "You know those images that get buried in your lizard brain," he asked. "How do those people do that?" The answer is "with imagination," of course, but also with skill, not just the skill to design a superhero hideout that looks "right" in some indefinable way, but one that tells us, intuitively and subconsciously about the character who inhabits it. Not to mention the skill to bring it all in on time and under budget. Muto is not shy about claiming credit. "There is no higher level of artist than what we do," he smiled. "So why aren't we in Hall H?"
That, of course, is Comic-Con's most legendary venue, the one the biggest box office stars and directors stop by to greet 6000 cheering fans. But the fans at Muto's panel were very happy to hear what he and the other production designers had to say and show.
Muto noted that very few film schools have production design departments, so most people in the field come from theater, art, or interior design backgrounds.
François Audouy talked about working with the same director and characters on two films with completely different looks and moods. The title character in The Wolverine and Logan is the same, and both featured road trips, but as the two different names suggest, the movies go in different directions. "There was no script when I came on for 'Logan.' It began with putting a map on the wall and figuring out what that trip could be." While The Wolverine was heightened and strongly influenced by the lacquered surfaces of its Japanese setting, for the dusty, gritty Logan, the director said, "I don't want anything shining at all!"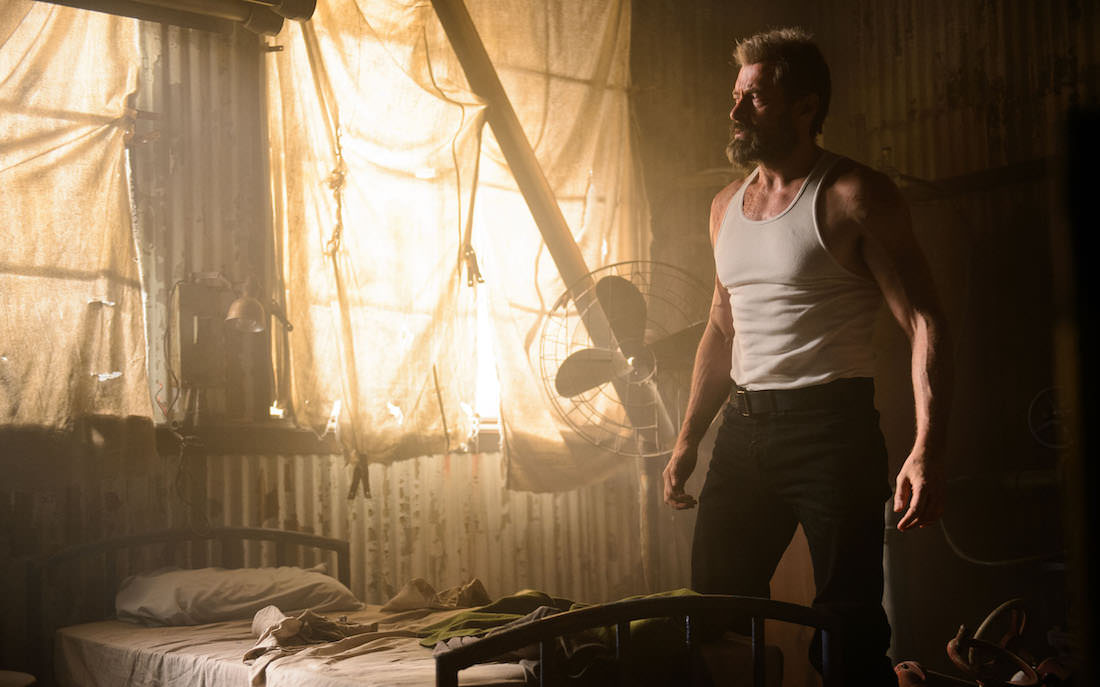 Hugh Jackman in Logan. Courtesy 20th Century Fox.
Hannah Beachler and Ryan Coogler were lucky enough to find each other early. They worked together on "Fruitvale Station," with a budget so small that Beachler was not only production designer but production builder, working as carpenter, set dresser, and painter. She also designed this year's Best Picture winner, Moonlight, where she had a staff of five. Coogler worked with her again on Creed, and then chose her to design one of the biggest profile films of 2018, Black Panther. This time, she has 300 on the crew and "a whole lot of money" to work with. "But that doesn't make it easier. There are a ton of characters. Everything had to be bigger; we are basically building a country, and one that has technology that has not been invented yet." She much prefers practical sets to CGI. "It is tactile. It is real."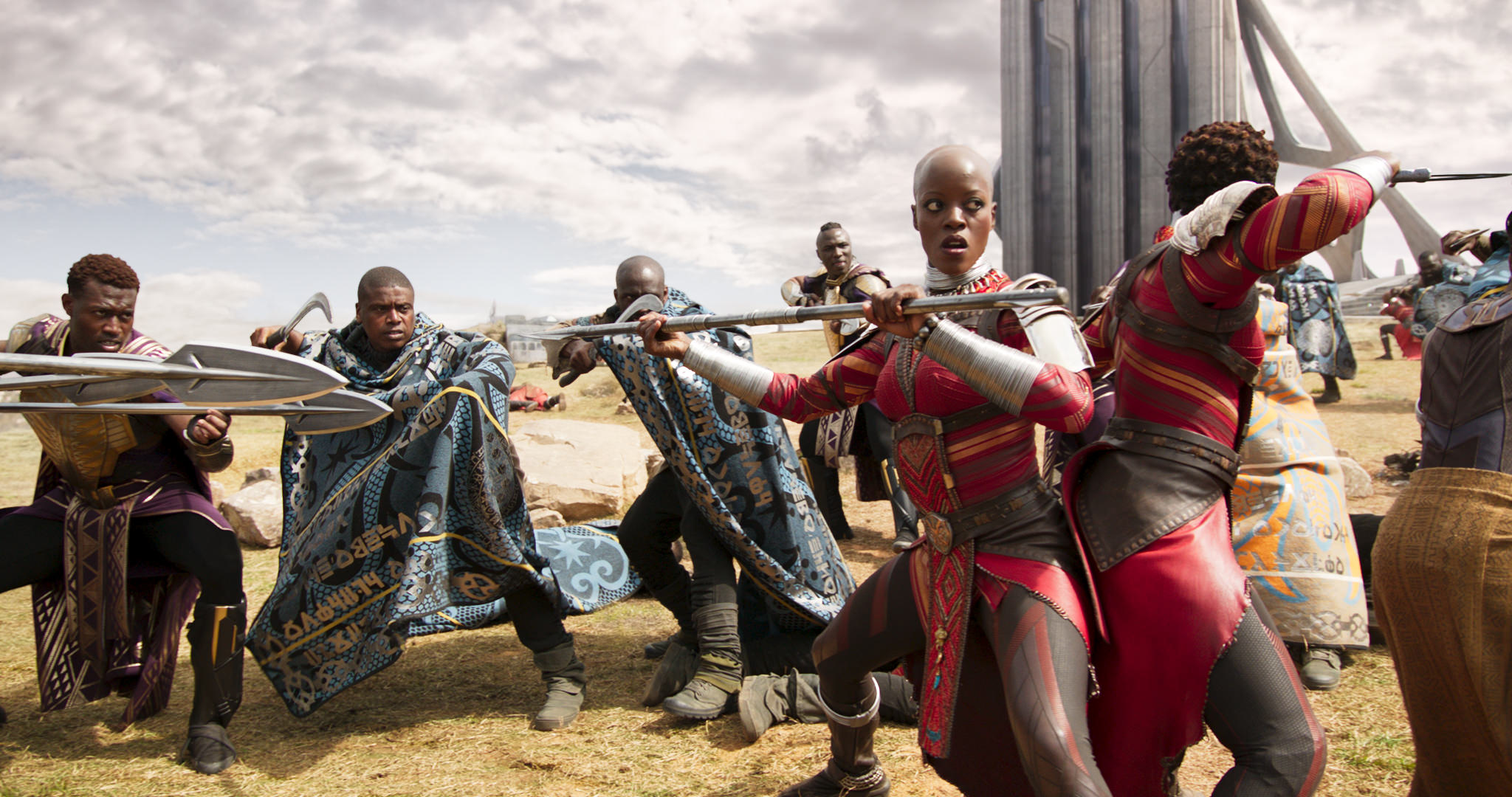 Florence Kasumba as Ayo in Black Panter. Courtesy Marvel/Disney.
Stefan Dechant had quite a challenge: to take one of the most iconic figures in the history of film, King Kong, and make him new again in King Kong: Skull Island. Director Jordan Vogt-Roberts told him, "we don't want 1930's Kong" or the Peter Jackson version, either. "Let's do Apocalypse Now meets Kong." Coming in at that stage meant that "we were going to influence the story. We needed a jungle, a primordial look." His inspiration included the famous quote from a US Major in Vietnam: "We had to destroy the village in order to save it." He told the group, "Rooting it in the Vietnam look was important to me," and that included "Vietnam creatures run through a Miyazaki machine, with a psychedelic sensibility. We wanted our wish fulfillment to come out of a natural landscape." And "we wanted to make sure it did not look like any other movie."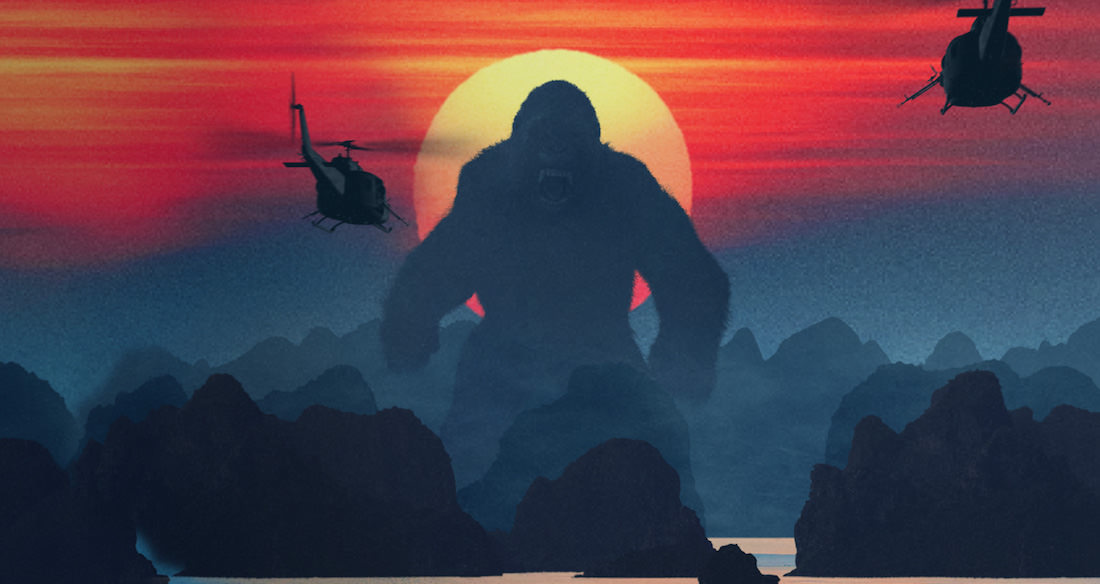 An image from Kong: Skull Ilsand. Courtesy Warner Bros.
Oliver Scholl is a rare Hollywood creative talent who has worked on both Marvel and DC films, Suicide Squad and Spider-Man: Homecoming. He said the most important thing to remember is that it is not just about making something that looks cool. "You need to be a storyteller in what you are creating."