Uncategorized
Below the Line Talent Agent Maureen Toth on Staffing Hollywood's Secret Heroes
Entertainment is a notoriously difficult industry to crack. Hollywood has long been fabled for its highs and lows as projects can be high risk and work inconsistent. There's a reason that Emmy and Academy Award winners often fit a "thanks" to their talent agent into their acceptance speech. Talent is key, but it's hard to get anywhere without good representation. That's where Maureen Toth of Eastern Talent Agency (ETA) comes in. Representing below the line talent including production designers, editors, costume designers, makeup artists and more, Toth has placed her clients on some of television's biggest sets from Mad Men to Breaking Bad. ETA talent participated in their very own WonderCon panel this April and the boutique agency currently boasts a client roster on hit shows like Notorious and The Mick.
We spoke with Toth about finding new clients, representing below the line talent, matching clients with the right projects, and more.
What led you to become a talent agent?
I got my degree from college in Psychology from Boston University. I dabbled in the Performing Arts. I like to sing, I play guitar, I did acting school for a little while in NYC. After college, I was living in San Francisco and I worked for a hotel doing sales. So I had these three things, sales, psychology, and entertainment. Moving down to Los Angeles I wasn't sure how they would converge, but being an agent really consolidated all of those things.
Who do you represent at Eastern Talent Agency?
When people think of agencies, they think of the bigger agents, like CAA, UTA, William Morris. Those companies are very big and have many divisions. But then you have a lot of specialty smaller companies like mine, who specialize in whatever it is that they represent. That includes everything from talent, like in front of the camera, to directors, writers, below the line talent, which is what I do.
How did you decide to represent below the line talent?
For me, below the line is a great fit because it is more much grounded and behind the scenes approach to what creatives do in the industry. I think where above the line talent, in terms of actors and directors, people who are more recognizable and are covered by the media, lends itself to a different kind of representation. I like representing artists who are interested in doing what they do and working on good projects. I would say that the below the line world, most people are super awesome, talented folks who just want to work good jobs that are creative. That's inspiring to me. I enjoy representation at that level and it suits my personality and that way I run and conduct my business.
ETA clients Elaine Montalvo (costume designer), Gary Kordan (production designer), Philip Harrison (editor), Tony Solomons (editor), Marc Pattavina (editor), and Maggie Fung (makeup artist) participate in WonderCon panel on below the line talent. Photo Credit: Impact24 PR
How do you decide to take on a new client?
For us as a company, first and foremost, we ask if these people fall into the categories that we represent. That's an easy one. There are a lot of different categories for people who work in film and television. If you represent too many as a small company, you dilute your ability to really do work for a certain group well. We only represent five or six categories of people. The second question is do they fall into our subcategory of mostly narratives? There's a lot of commercial work and reality work that we don't cover. We basically do story related narrative work, both for film and television. Documentaries fall under that category as well. If they fit into one of our categories and fit into the narrative world, then we ask where they are in their career. If someone is fresh out of school for instance, and they're really talented but don't have any credits yet, that may be too early for them to have representation be affective. Once they amass some credits that people might recognize, we bring them in. The final piece is meeting them. Not only do I want great working relationships with the people who work with and for me, but I want great relationships with my clients as well. I think the best way to potentially create that with the most potential, is that the people we are representing are people that we resonate with.
How do you match a client with the project that's right for their talents and sell them to the producers?
My feeling about selling is to not really sell, but to find the best fit for each project and each person. I feel more like a matchmaker than, "Hey, here's a great client, don't you love them and want them?" I want to help the producers and help my clients to find the thing that makes the most sense. That's not to say that there are not times where I am convinced my client is perfect for a job and the producers don't agree with me, because that happens of course. You do what you can to say that you think this person is amazing for them.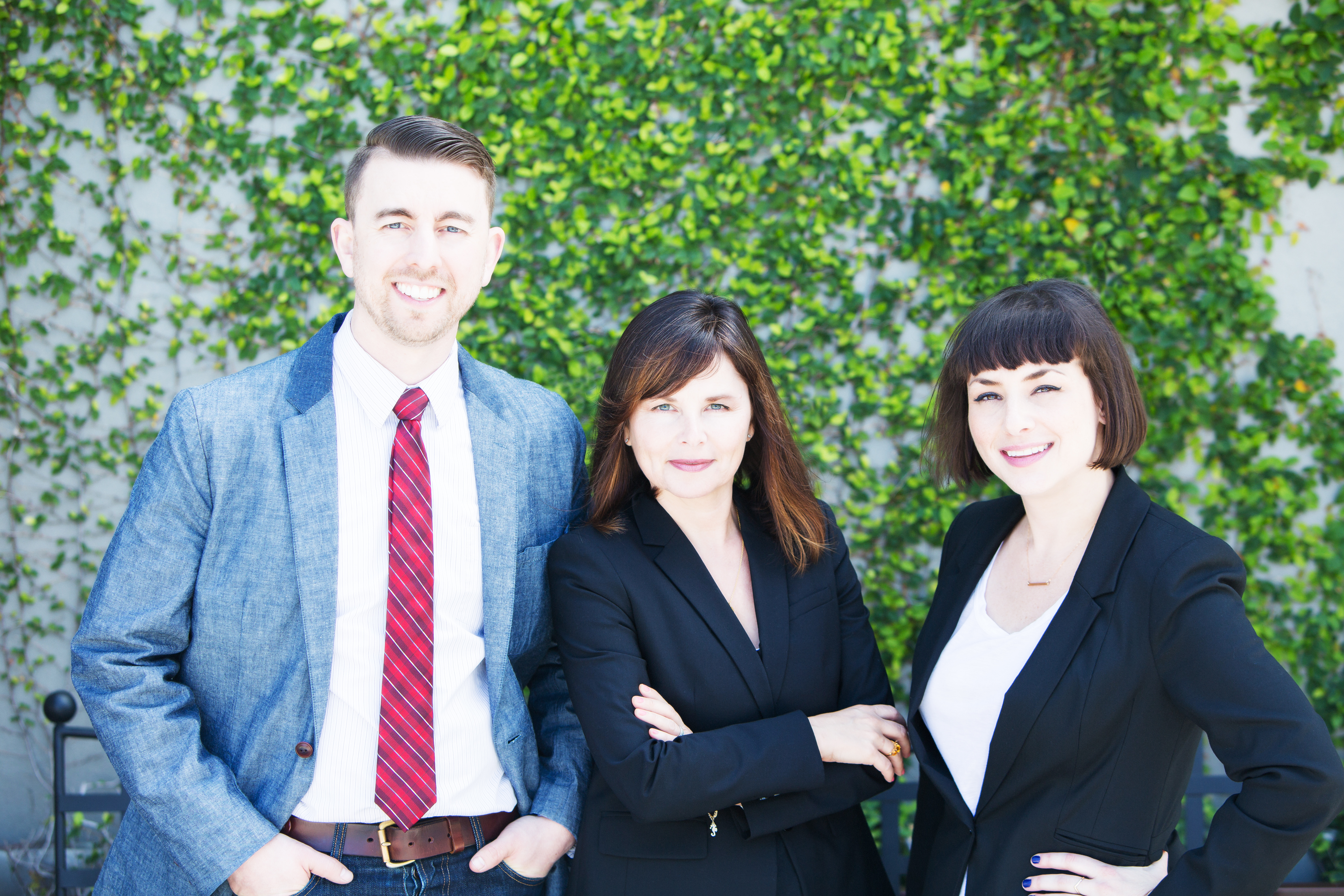 Maureen Toth (center) with staff, agents Scott Benson (left) and Jen Caprio (right.) Photo Credit: Kate Haus
What is the process of getting a client hired?
If [the producers[ choose to meet with [my client] I will support that process by setting it up, getting information and references and materials. After the meeting happens, I follow up and see where they are. If they say great we want your client, we start negotiating and if they say no we're passing because we're picking someone else or whatever reason, I say thanks for your consideration and good luck with the project. I would say that a lot of it is having a sensitivity to what the project is looking for and what your client is looking for, in a way to help you best select and push someone who you think is ready.
How much information are you given about a project that your client is being considered for?
Some are more secretive than others. They generally will give the agency a certain amount of information to help us figure out whether or not a client is a fit for something. A studio may call me and say they need help with editing for a big project. I know that if it's a big project, it's somewhere between $50-100 million. If they can't tell me any details like the name, they can tell me it is a comedy or drama or action or if the person needs heavy visual effects experience. They can tell me whether the person has to travel for a job, if someone is on a job for a duration and I know they can't travel, that's good information for me to have. They can tell me the length of job if they can't tell me the specific job. All of those things feed into who can potentially be a fit for this thing even if I don't have any more information on it. Sometimes they just tell me things and say it's confidential and not to pass it on.
What's the best part of your job?
Creating a good fit for your clients and your producers and having them have a great experience. I have had the honor with some great projects dealing with one of my clients. If the show does well and takes off, then you're really proud to have people involved in it as well. We had a DP who did Breaking Bad, and he eventually became a director on that show and his career just went from there. That was an amazing show that I really enjoyed and the whole experience was really neat. That's the kind of thing that makes you excited to do what I do.
Featured image: Talent Agent Maureen Toth Photo Credit: Kate Haus