Josh Brolin Reveals First Look at X-Force Leader Cable in Deadpool 2 Photo
Ryan Reynolds isn't the only member of the Deadpool 2 cast who can take to Instagram to whet our appetites about the film. Yesterday Reynolds shared this photo of him, in full Deadpool kit, and Hunt for the Wilderpeople breakout star Julian Dennison on the set, and now co-star Josh Brolin is joining the fun. Brolin is playing Cable, the time-traveling leader of the X-Force, the adult son of the X-Men's Scott Summers (Cyclops). Cable was raised in a dystopian future and returns to Deadpool's present day as a hardened soldier with some cybernetic improvements, telekinetic powers, and some very big guns. Here's Brolin giving us a glimpse at the make-up department's work turning him into the half cyborg Cable. Flanking Brolin are make-up artists Mike Smithson, on his right, and Bill Croso on his left.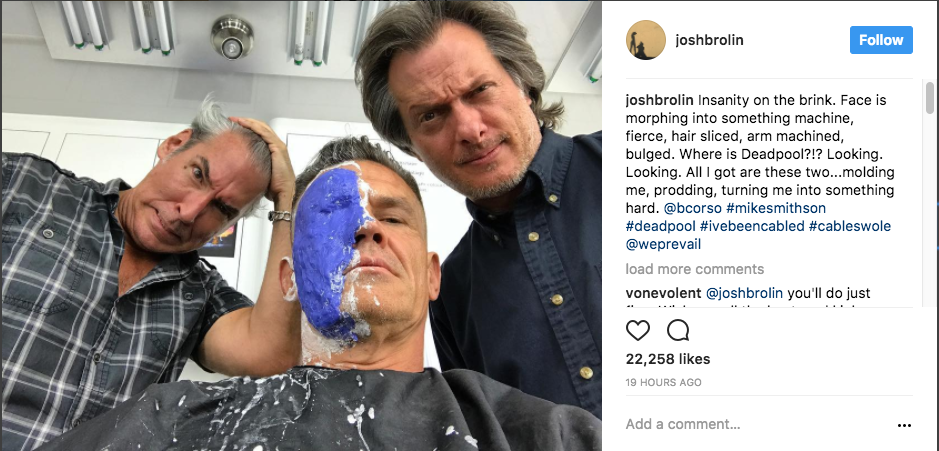 This shot gives you a sense of how half of Brolin's face will likely be covered in a prosthetic, giving him the requisite part man, part machine Cable requires. In the comics, Cable has a mechanical eye, and heavily scarred face, and a mechanical arm. Brolin himself teases these additions to his body, calling himself "machine fierce" and mentioning the "arm machined."
We're still waiting to catch a glimpse of Atlanta's Zazie Beetz, who plays Domino, the luck-changing mutant mercenary and another member of the X-Force.
John Wick and Atomic Blonde's David Leitch is directing ​Deadpool 2, and it's due in theaters on June 1, 2018.
Featured image: Cable, from Marvel Comics, and Josh Brolin as Cable, via his Instagram page.