John Waters Interviews Sofia Coppola at the Provincetown Film Festival
Sofia Coppola is Hollywood royalty, an Oscar winner for Lost in Translation, and she has a highly-anticipated new film, The Beguiled, ready to hit theaters. But the soft-spoken director is known for being reticent in interviews.
So it's no wonder that the Provincetown International Film Festival (PIFF) paired Coppola with renowned raconteur John Waters for a one-on-one conversation when Coppola was honored recently as the PIFF's 2017 Filmmaker on the Edge.
Waters, who was the first recipient of the award when PIFF began 19 years ago, was armed with not just an arsenal of quips but well-preprepared information about Coppola's body of work, from her first feature The Virgin Suicides to Marie Antoinette ("one of my favorites," said Waters) to The Bling Ring. He introduced Coppola, 46, to the stage by telling the crowd that "she just won the best director award at the Cannes Film Festival" for The Beguiled — only the second woman to do so.
"I'm just so glad she didn't bail on us. She should be too big for her britches but she's not. She's one of the few directors that I can say, I've really have loved every movie she's ever made," said Waters. "She's that rare combination who can take edge and put it together with incredible sympathy."
The PIFF screened The Beguiled, set to open wide at the end of June, the night before Coppola's appearance to accept the festival's highest honor. Waters opened the conversation by telling Coppola, "I loved the movie. To me, it's almost like a Shirley Jackson short story. I would have loved this movie as a kid so much. It has everything: handsome men, repressed sex, violence — everything I yearned for as a child."
Coppola credited her production designer Anne Ross for encouraging her to watch director Don Siegel's 1971 version of The Beguiled, about a wounded Civil War soldier taken in at an all-girls school, starring Clint Eastwood, Geraldine Page and Elizabeth Hartman. Still, Coppola had little interest in a remake.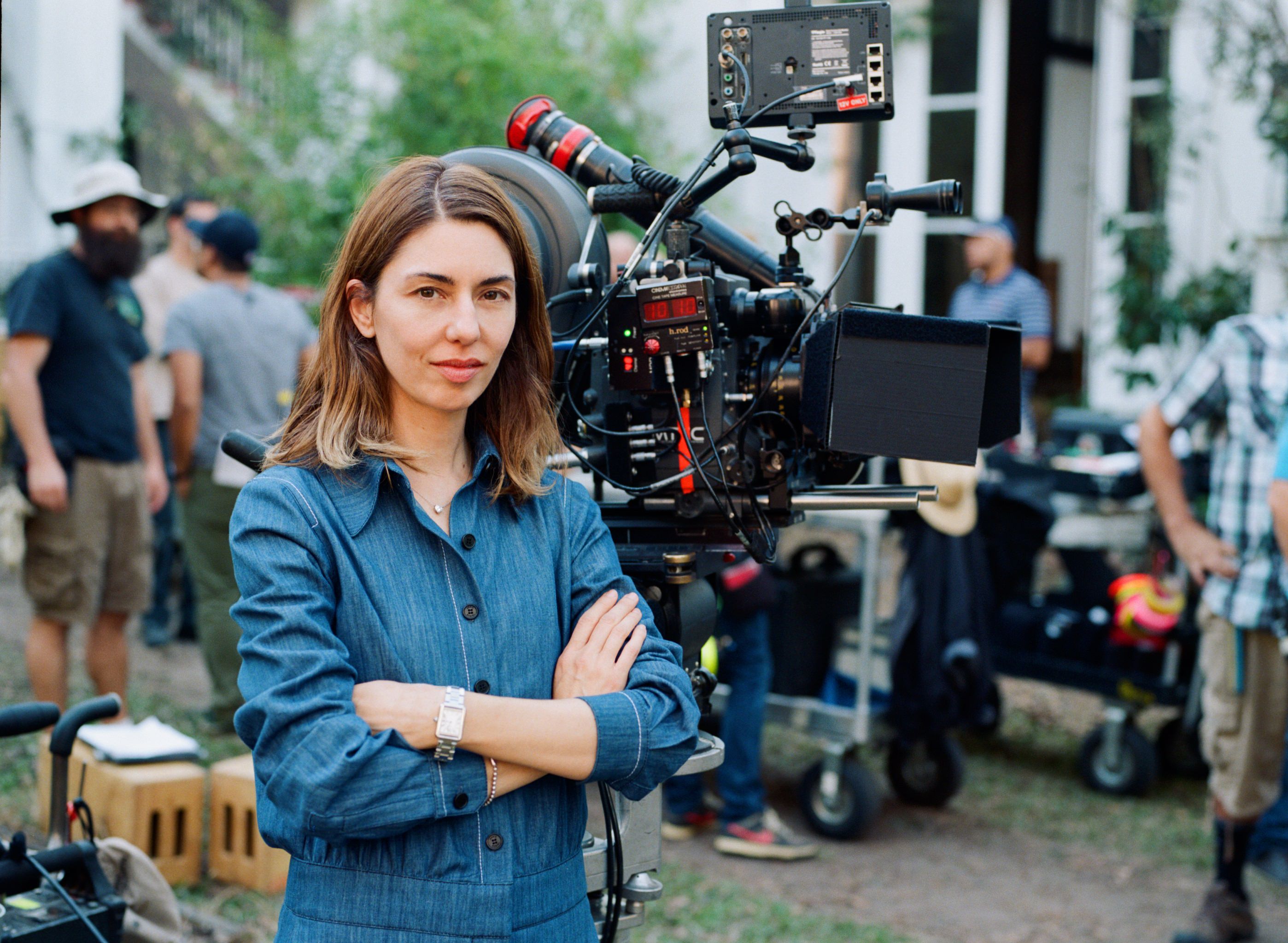 Screenwriter and director Sofia Coppola on the set of Focus Features' atmospheric thriller THE BEGUILED. Credit: Andrew Durham/CPi Syndication
Remake "is a bad word in my family," she said. "My dad says nobody remakes a movie unless it's to make money. There's no other reason to do it." The fun of retelling The Beguiled was to alter it so that the story is told from the perspective of the women, she said.
"I loved the story: so much sexual tension, repression, and the heat of the South." said Coppola. "Clint was obviously a bad guy in the Siegel film. Colin [Farrell] we wanted to make a little more mysterious and charming."
Based on Thomas P. Cullinan's 1966 novel of the same name, The Beguiled is set in 1864 Virginia as the Civil War drags on (Coppola shot the film on 35mm in New Orleans). Mixing Southern Gothic melodrama in a sumptuously-shot atmosphere, seven women of various ages are confined to a mansion that serves as a boarding school run by headmistress Martha Farnsworth (Nicole Kidman) and featuring Coppola favorites Kirsten Dunst and Elle Fanning. The cloistered world of these women is upended when they take in a wounded Union soldier named Corporal John McBurney (Farrell) whose presence exposes sexual tensions, rivalries and power struggles.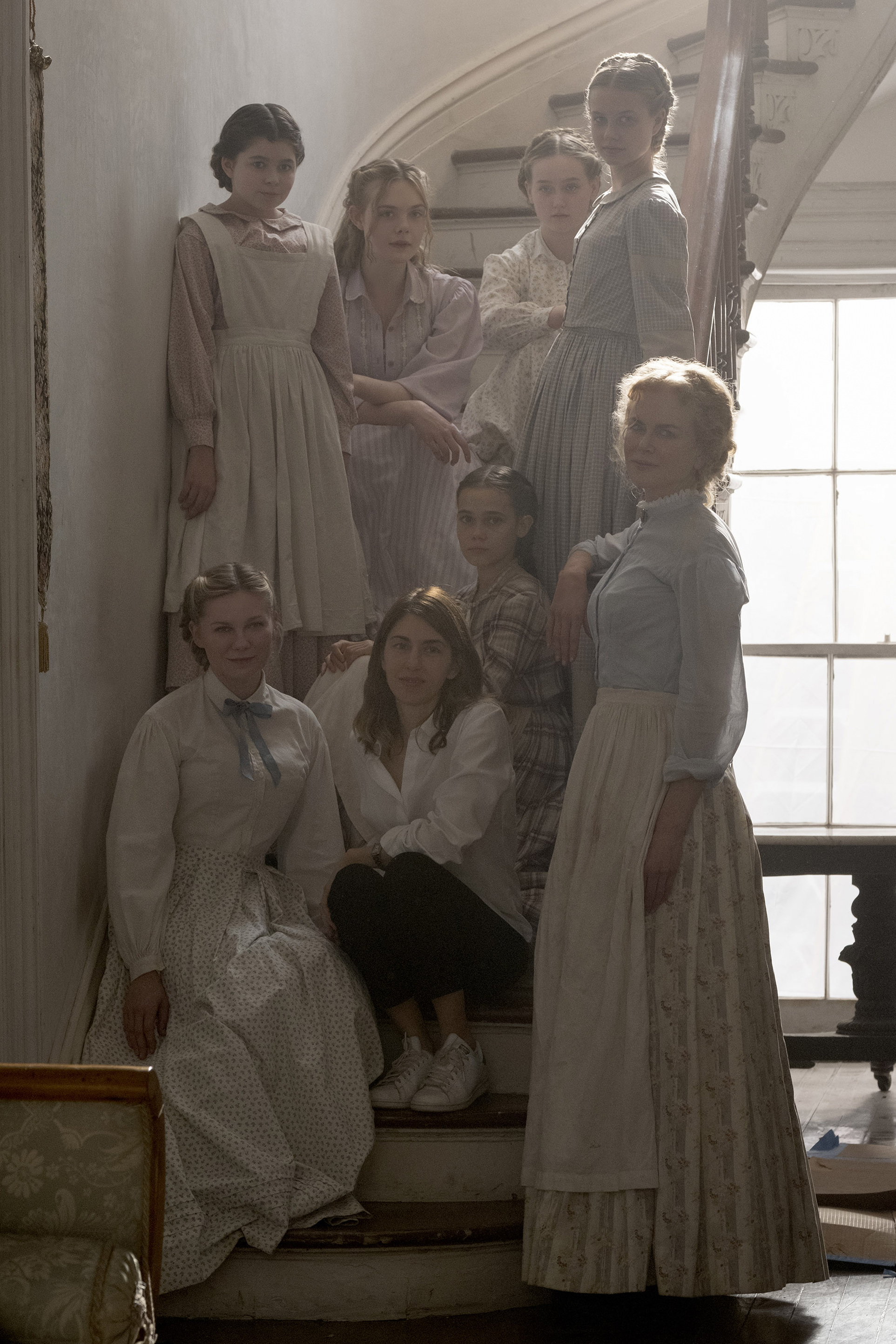 (l to r.) [Top Row:] Addison Riecke; Elle Fanning; Emma Howard; Angourie Rice; [Bottom Row:] Kirsten Dunst; Screenwriter and director Sofia Coppola; Oona Laurence; and Nicole Kidman on the set of Focus Features' atmospheric thriller THE BEGUILED Credit: Ben Rothstein / Focus Features
Coppola said the male lead was the hardest to cast. "The women I had in mind while I was writing the script. But how [would I] find a guy who can handle all these ladies? I met a bunch of people, and I spent a long time asking everyone I knew who they thought was the hottest actor. I wanted someone both women and gay men would love. And when I met Colin, he was charming and charismatic."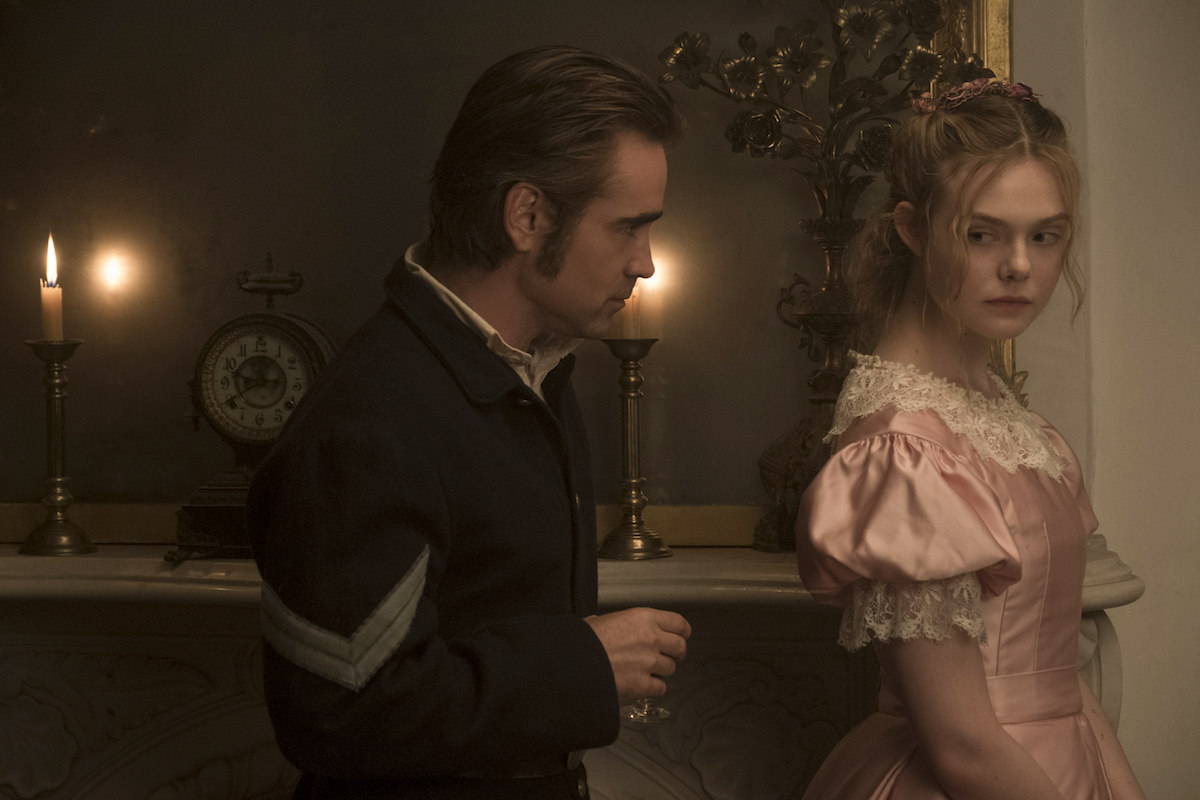 (l to r.) Colin Farrell as John McBurney and Elle Fanning as Alicia in Focus Features' atmospheric thriller THE BEGUILED; written for the screen and directed by Sofia Coppola. Credit: Ben Rothstein / Focus Features
She called Dunst, who has the pivotal role of Edwina in the film, her "alter ego."
"I met her during 'Virgin Suicides' when she was 16," said Coppola. "She struck me because she looks like a perky blonde cheerleader, this all- American girl, but she has something deep in her eyes. We got to know each other over the years [especially while] we were in France together with 'Marie Antoinette.'"
"Has anyone ever made a porn parody of any of your movies?" asked Waters (Coppola answered no). "This would be a good one!" Waters then complained that the trailer for The Beguiled "gave away too much" (Coppola and the crowd agreed) including one of the film's campiest lines: Kidman's order that someone fetch her "the anatomy book."
Despite his decades as a film director, Waters told Coppola that he had never met her father, Francis Ford Coppola, but is a "huge fan" of her mother, Eleanor Coppola, who just made her featuring directing debut at 81 with Paris Can Wait.
"Was she a big influence?" Waters asked.
"She pushed us and encouraged us to be artists … My mother is a genuine, down-to-earth person. We moved to Napa Valley because my parents didn't want us to grow up in Hollywood," Coppola said. "So I got a normal upbringing most of the time."
Leave it to Waters to somehow connect Lana Turner and her daughter Cheryl Crane to Sofia Coppola's conspicuous debut in her father's The Godfather Part III in 1990. Waters explained that Turner termed "The Paragraph" the obligatory references to Crane's infamous fatal stabbing in 1958 of Turner's abusive boyfriend Johnny Stompanato in every story about them.
"Do you feel you have that 'Godfather III' paragraph that constantly comes up? Is that something you've learned to deal with?" said Waters.
"I guess it can't get worse than that," laughed Coppola, referring to the largely negative reviews of her performance in the film. "It gives you a certain bravery. It wasn't devastating because I never planned to be an actress. I was just 19; I barely remember it. But it certainly toughened me up."
Featured image: Sofia Coppola, John Waters and Chloe Sevigny, who received PIFF's "Excellence in Acting Award." Photo courtesy of Mae Gammino / Provincetown International Film Festival