Dear White People Creator Justin Simien Talks Race and Comedy
In Netflix series Dear White People, sarcastic black radio host Samantha (Logan Browning), worn out after a long day of anti-racist activism at fictional Ivy League Winchester College, asks her best friend Joelle (Ashley Blaine Featherson) to "Say something funny and specific." Joelle obliges with a snappy one liner involving Drake and his ancient sitcom Degrassi High, propelling the show into its next scene on a buoyant comedic note.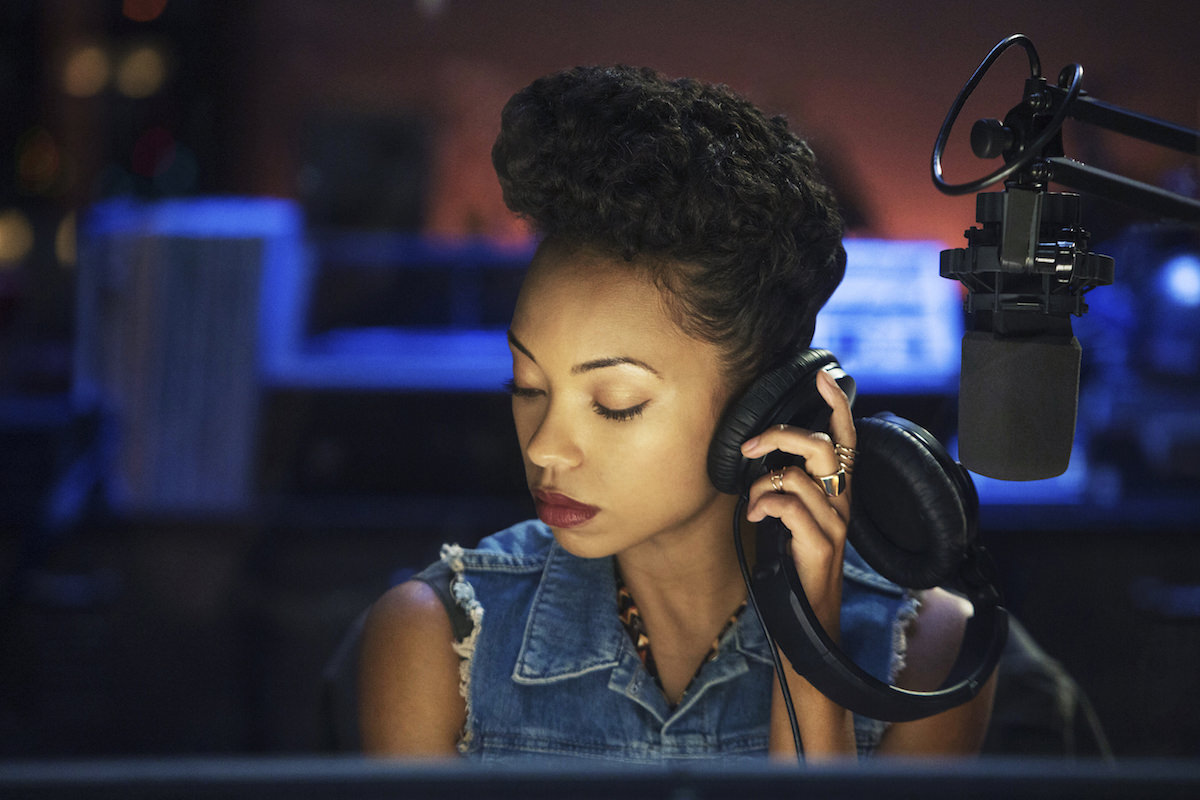 Logan Browning Photo by Adam Rose/Netflix.
Creator Justin Simien likes to pepper Dear White People dialogue with pop culture references as a kind of connective tissue between characters and the home viewer. "I'm kind of making fun of our own formula when I wrote that 'funny and specific' line. In this post-modern era, movies and TV shows can be totally transparent about their references." In the first few episodes alone, Sam and her witty classmates name-drop School Daze character "Dap," Game of Thrones, Ryan Gosling (as in "Don't Gosling-eye me"), My Fair Lady (used as a verb), a Scandal parody called Defamation, Miley Cyrus, Star Trek, Will Smith in Concussion, Pablo Neruda, Malcolm X and James Baldwin. "When these characters quip back and forth, it's almost like their love language," Simien explains. "Any time I can beef up the self-referential, even self-deprecating elements but also say something deeper about the people on the show, that's the sweet spot I'm looking for."
Simien knows exactly how his characters talk because he's been living with them for a long time. Inspired by his own experiences as a black student at southern California's Chapman University, he uploaded a concept trailer in 2012. He recalls, "I'd run out of ideas trying to get my 'Dear White People' script made, so I used my tax refund to shoot something for a few hundred bucks that would at least get across the vision of what I was going for as an unknown filmmaker."
The teaser did the trick. Simien attracted financing for the feature-length Dear White People, which earned the "Breakthrough Talent" award at Sundance ahead of its 2014 theatrical run. Last year Netflix and Lionsgate invited Simien to remake Dear White People as a 10-episode series. "When we sold the show," he says, "I knew where the first season needed to go but as a satirical drama, the big question was, 'What are we satirizing? What is it that we're attempting to blow up?' For me, 21st century activism was the most urgent thing to talk about. When is it effective? When is it not effective? From there, the challenge for each episode was to tell a personal story within this bigger world."
Dear White People Concept Trailer from Justin Simien on Vimeo.
Simien had no interest in delivering a conventional star-driven series. Taking a creative cue from the late director Robert Altman and his ensemble-driven masterpiece Nashville, Simien presents over-lapping points of view seven characters including Sam, gay nerd reporter Lionel (DeRon Horton), big man on campus Troy (Brandon P. Bell), mainstream Coco (Antoinette Robertson) and militant Reggie (Marque Richardson). Simien says, "For each person of color on our show, there's so much more going on that's not obvious on the surface. Telling these stories in a world where a lot of things are binge-watched, I realized I could take the Robert Altman approach with 'Dear White People.' I thought, 'Wow, let's parse out all these points of view in an episodic structure where the show becomes a series of little short films unified around this central event that affects all the students."
The inciting event in Dear White People is a "black face" party secretly hosted by a white fraternity. Would something like that actually happen in 2017 on an Ivy League campus? "My job is to observe and report," notes Simien, who spoke by phone about Dear White People the day after Harvard University discovered 10 future freshmen had secretly organized a Facebook page disparaging minority groups. "Setting 'Dear White People' in the Ivy League gave me a way to turn up the knob on all these deep traditions and put these ambitious, articulate characters in a difficult situation," Simien says. "It's a microcosm of America. For any person of color who's trying to make it in society, this is what the experience is like. You're with like-minded people, but the breaks are different."
Additional to the humor-tinged racial tension dramatized in Dear White People, Simien and showrunner Yvette Lee Bowser (Living Single) spike their campus protest storyline with unrequited crushes, sex, cliques, infighting and soap opera betrayals dreamed up by a team of diverse writers. Simien explains, "I didn't want a writers room full of people who had my exact same experience. I wanted a team of rivals who could bring their own points of view to the show, because my best ideas come from when someone disagrees with me and I have to either defend why I said something or else admit they have a point. For me, it was really important to have women in the room, straight people, gay people, white people, different skin tones. The way 'Dear White People' works, for every point, there's a counter-point."
Featured image: Justin Simien. Photo by Patrick Wymore/Netflix.