Austin Composers Use Old Synthesizers for New Stranger Things Music
Ever since they bonded over a shared obsession with electronic dance music as Texas fourteen-year olds, Kyle Dixon and Michael Stein spent every spare minute listening to techno artists like Aphex Twin and creating tracks on their laptops. But after college, Dixon and Stein shared an epiphany that would eventually lead to a break-through gig as co-composers for '80s-era Netflix hit thriller Stranger Things. "We didn't even knowing there had been these things called synthesizers in our teens," Dixon recalls. "I spent a lot of my first years trying to make music on the computer until I realized it would be a whole lot easier if I just bought a synthesizer and stopped trying to make everything out of samples or software."
Around the same time, Stein in 2004 found a vintage Roland SH-101 synthesizer on craigslist and fell in love with the tactile qualities offered by a hand-operated music machine. Speaking from the duo's temporary headquarters in east L.A., he says, "With an analog synth, you'll typically have a knob or button for every function so you can change whatever aspect or parameter of the sound you want immediately, rather than having to scroll through a menu and find that value in a list."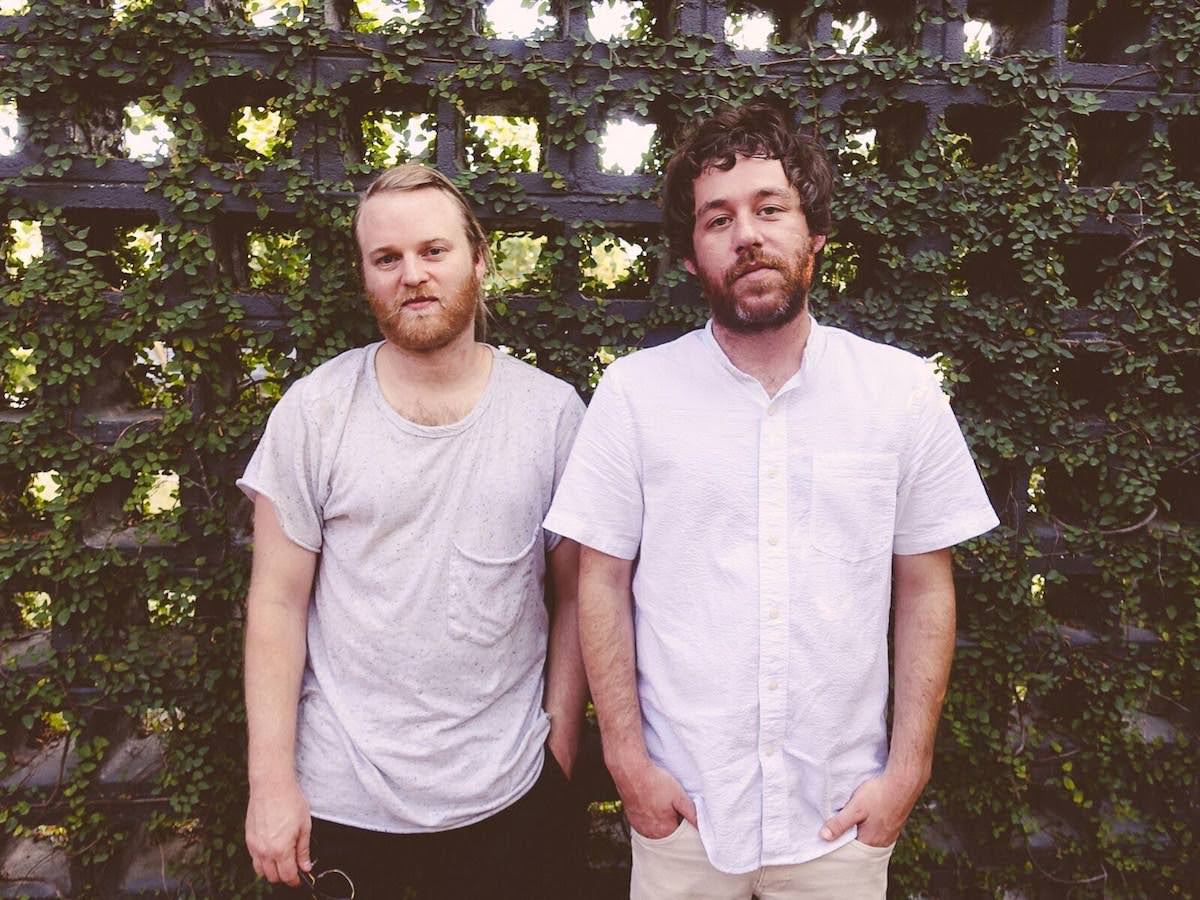 L-r: Michael Stein and Kyle Dixon. Photo by Jackie Lee Young​
Dixon and Stein brought their ever-growing collection of vintage keyboards to a big house in Austin and joined forces with Adam Jones and Mark Donica to form SURVIVE. The band uploaded its first batch of tracks to My Space in 2009, following up with a succession of cassette and vinyl releases. Two years ago, soon-to-be TV showrunners Matt and Ross Duffer came calling, out of the blue. Via email, the Duffer Brothers say "To help sell 'Stranger Things,' we edited a fake trailer composed of shots from movies that inspired us but we were struggling to find the right music for the final montage. That's when we stumbled across SURVIVE on Spotify. Even though Kyle and Michael had never scored to picture before, their music was somehow both nostalgic and cutting-edge." The Duffers used a song called 'Dirge' on the teaser. "It worked perfectly so when the show eventually sold to Netflix, we immediately reached out to Kyle and Michael."
From the get-go, Dixon and Stein embraced the show's retro-horror vibe. "There's always been an element of suspense in the music that we've done with Survive," says Dixon. "It's like a backdrop," Stein adds: "Low key drama."
Dixon and Stein ultimately produced more than 100 hours worth of atmospheric musical ideas for Stranger Things, learning along the way to pare down their compositions. "When we started working with the Duffers, we had to funnel the music down to be way more specific," Dixon explains. "We're trying to help someone else tell their story so one of the biggest difference for me is that with our own music, we fill in spaces with sounds and textures and try to make the tracks as melodic as possible. But when you score music to accompany a picture, it can be more minimal and less melody-driven. We figured out how to achieve suspense in a very different way with Stranger Things. Instead of note choices dictating emotion, it's more about the sounds."
Stranger Things music, including the instantly memorable title theme, builds on computer-programed sequences, the spooky repetition punctuated by ethereal whooshes, beeps, percussive blasts, booming beats and breathy choral incursions. Dixon says, "I might experiment for five hours until I go 'Oh my God this sound is great, I've got to record this!'" Stein, who studied audio engineering in college, says, "It's almost like you had a paint-by-numbers project but you had the colors before the outline and you go "This color is so beautiful. We have to use this color."
Most composers for film and television function as solo creators, but Dixon and Stein collectively swap, modify and layer their tracks with minimal friction. Stein says "We both have our own studios so we come up with ideas alone, or we'll get together and mess around, or one of us finds a set of chords and goes: 'Okay, maybe we can do something with that."
This summer, in between festival dates with SURVIVE, Dixon and Stein have been collaborating on fresh music cues for Stranger Things' second season, slated to begin October 31. Any new sounds in mind? Stein says "I think hair metal got popular in '84, so we're starting to… no I'm kidding!" Dixon "So far it's pretty similar in tone and style. We'll see what we can do to make it as exciting as possible."
Featured image: Key art for Stranger Things. Courtesy Netflix.