Upfronts: Watch Trailers for NBC's Upcoming Slate of new TV Shows
Now that it's upfronts week, we turn our attention to the small screen. This is the week that the networks gather in New York to celebrate, and promote, their upcoming seasons, introducing us to the new shows they'll be airing. Let's start with NBC.
You've got revivals, spin-offs, and fresh shows all joining the network's schedule. The big ticket revival is the return of Will & Grace, while Law & Order is back with a new spin-off, an anthology series no less, Law & Order True Crime.
https://www.youtube.com/watch?v=TY10pANm4eM
We need WIll & Grace right now. A decade after their iconic eight-season run, Debra Messing, Eric McCormack, Sean Hayes and Megan Mullally reprise their roles as Will, Grace, Jack and Karen in NBC's 12-episode event. Director James Burrows returns, the man who shot every single Will & Grace episode, and we're thrilled that in this age of Trump, the brilliant Max Mutchnick and David Kohan are back writing fresh episodes.
https://www.youtube.com/watch?v=bWa1SN0MNwY
If you're looking to give your show the best possible shot at critical acclaim, you can't do much better than casting Emmy and Golden Globe Award winner Edie Falco (The Sopranos, Nurse Jackie) in the lead. In this eight-episode true-crime installment of the deathless Law & Order franchise, we're gettingan in-depth dramatization, The People Vs. Oj Simpson-style, of the infamous murder case that shocked America. The Menendez brothers were tried, again, OJ-like, on national TV for butchering their parents in Beverly Hills. The show tracks the entire case, from the crime itself to the media circus that surrounded it, uncovering fresh details about the crazy things that were going on behind-the-scenes.
https://www.youtube.com/watch?v=ZvKsk_N0Cko
The executive producer of Homeland is bringing The Brave to the network, a look at the dangerous world of America's elite undercover military heroes. Starring Anne Heche as D.I.A. Deputy Director Patricia Campbell, The Brave follows her and her team of analysts, based in D.C., who use high-tech surveillance technology to help their team in the field do their dangerous work. Those folks are the Special Ops squad, the men and women who Campbell helps guide as they embark on missions in some of the most world's most dangerous places.
Other notable shows:
A.P. Bio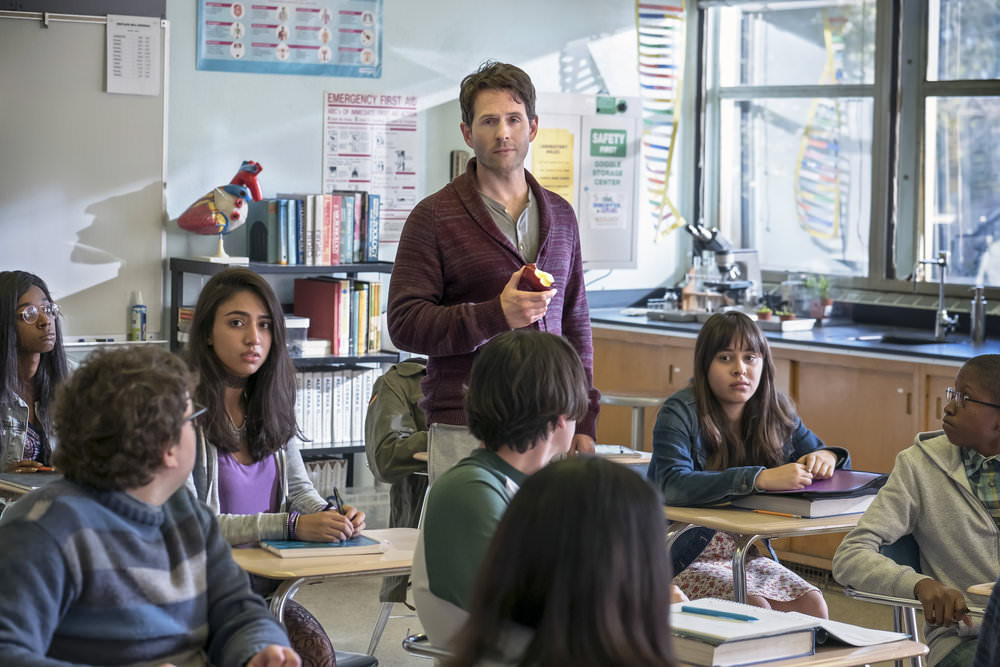 Pictured: Glenn Howerton as Jack — (Photo by: Ron Batzdorff/NBC)​
This comedy has a LOT of funny people in it. The show revolves around a philosophy scholar who loses his dream job and goes to work as a high school Advanced Placement biology teacher, something he's not terribly excited about. In fact, he makes it clear he has no intention of teaching the kids any biology. Instead, he decides to use these honor roll students to help his own plans instead. Starring Glenn Howerton, Patton Oswalt, Lyric Lewis, Mary Sohn, Aparna Brielle, Jacob McCarthy, Nick Peine and guest star Vanessa Bayer (pilot only).
Reverie
Pictured: (l-r) Sarah Shahi as Mara Kint, Dennis Haysbert as Charlie Ventana — (Photo by: Sergei Bachlakov/NBC)​
Mickey Fisher, the creator of Extant, brings this thriller about a former hostage negotiator and human behavior expert who has left her work, due to a tragedy in her life, for a less intense job as a college professor. Naturally, Mara Kint (Sarah Shahi) can't stay removed from the action for long, and so she's brought in to deal with an extraordinary situation; to save people who have lost themselves in a virtual-reality program that allows you to live out your dreams. Mickey Fisher is writing and producing, while The Shallows director Jaume Collet-Serra will direct and executive produce the pilot. Along with Shahi, the cast includes Dennis Haysbert, Jessica Lu, Sendhil Ramamurthy and Kathryn Morris.
Rise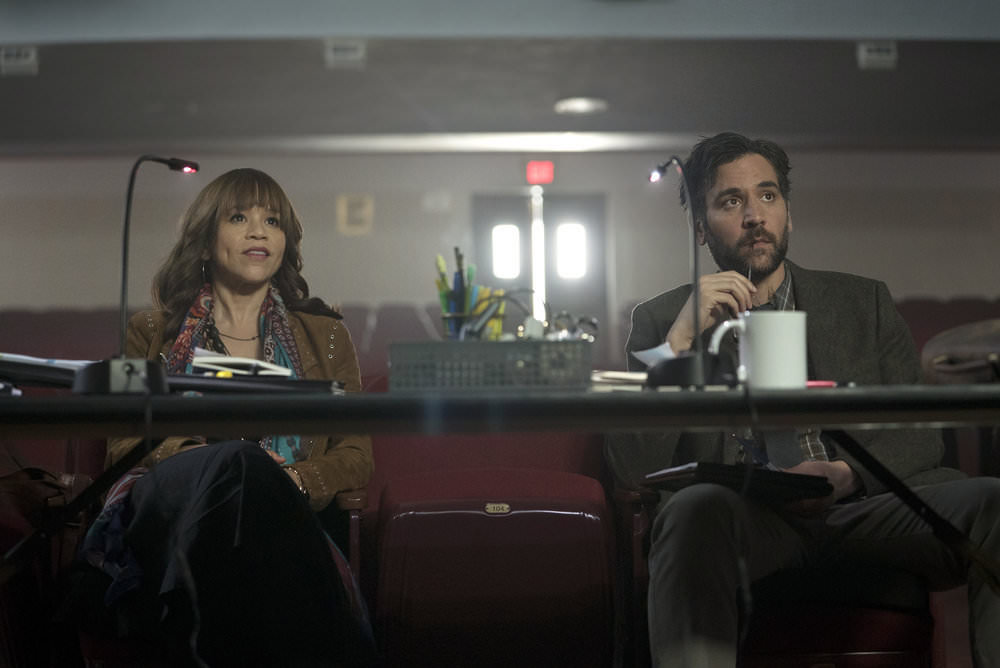 Pictured: (l-r) Rosie Perez as Tracey Wolfe, Josh Radnor as Lou Mazzuchelli — (Photo by: Peter Kramer/NBC)
Hamilton producer Jeffrey Seller and Friday Night Lights and Parenthood writer/producer Jason Katims bring Rise, a heartening new drama about family man and teacher Lou Mazzuchelli (Josh Radnor) talking over the school's subpar theater department, getting a rise out of not only his students, but the town the school is in as well. The show's inspired by a true story, and along with Radnor, the cast includes Rosie Perez, Marley Shelton, Auli'i Cravalho, Damon J. Gillespie, Amy Forsyth, Rarmian Newton, Ted Sutherland, Casey Johnson, Taylor Richardson, Joe Tippett and Shirley Rumierk.
Here's the full NBC fall schedule:
MONDAY
8-10 P.M. — The Voice
10-11 P.M. — THE BRAVE
TUESDAY
8-9 P.M. — The Voice
9-9:30 P.M. — Superstore
9:30-10 P.M. — The Good Place
10-11 P.M. — Chicago Fire
WEDNESDAY
8-9 P.M. — The Blacklist
9-10 P.M. — Law & Order: SVU
10-11 P.M. — Chicago P.D.
THURSDAY
8-8:30 P.M. — WILL & GRACE
8:30-9 P.M. — Great News
9-10 P.M. — This Is Us
10-11 P.M. — LAW & ORDER TRUE CRIME: THE MENENDEZ MURDERS
FRIDAY
8-9 P.M. — Blindspot
9-10 P.M. — Taken
10-11 P.M — Dateline NBC
SATURDAY
8-10 P.M. —Dateline Saturday Night Mystery
10-11 P.M. — Saturday Night Live (encores)
SUNDAY
7-8:20 P.M. — Football Night in America
8:20-11 P.M. — NBC Sunday Night Football
Featured image: (l-r) Eric McCormack as Will Truman, Debra Messing as Grace Adler, Sean Hayes as Jack McFarland, Megan Mullally as Karen Walker– (Photo by: Chris Haston/NBC)