Talking to Eleanor Coppola on her Feature Directorial Debut Paris Can Wait
You know a first-time narrative-feature director and writer has chutzpah when they include a Hitchcock-style cameo in their debut effort. Yes, that lady quietly reading a magazine in a hotel lobby as Paris Can Wait star Diane Lane exits an elevator is indeed Eleanor Coppola. You might not know the face, but you definitely recognize the surname of this matriarch who presides over a tight-knit cinematic dynasty. Members include two Oscar-winning filmmakers, Francis, the Don of The Godfather trilogy and husband of 54 years, and daughter Sofia of Lost in Translation fame; producer/writer son Roman, a frequent Wes Anderson collaborator; and actors Nicolas Cage and Jason Schwartzman, both nephews. Coppola herself is a veteran documentary maker who earned an Emmy for co-directing 1991's Hearts of Darkness: A Filmmaker's Apocalypse, a harrowing account of her and her spouse's travails while shooting his 1979 Vietnam war epic Apocalypse Now.
With the opening of Paris Can Wait on May 12, Coppola — who just turned 81 — transforms her 2009 road trip with her husband's French colleague that grew from a seven-hour drive from Cannes to the Paris airport into a nearly three-day ramble with stops for food, wine and sightseeing into a flirtatiously fictionalized version of their journey. Here, she discusses why it took her so long to do a feature and about working with Lane as well as Alec Baldwin as a neglectful producer husband.
Not only is Paris Can Wait a feast for the tummy and the heart, but also the eyes. I enjoyed how you open the film out of focus, almost like a watercolor with a water skier and a boat speeding by with Diane watching through the window. Then we hear Alec's character talking work on the phone and the transporting effect vaporizes.
"I love my cinematographer, Crystel Fournier (2015's Girlhood)," Copolla says. "She understood my aesthetic and decided on that opening shot. It set the mood perfectly."
Congrats on writing, directing and producing your first feature film. What took so long?
Well, I have done seven or eight documentaries. I am a natural observer and I never thought about a fiction feature. You have to decide every single thing, whether the wine glass goes here or there. You have to constantly create things, and I didn't know if I would be good at that . But then I happened upon an idea for a story. At a certain age, you are more willing to try anything. It became just a roller-coaster ride, six years spent getting the financing, finding the right cast, dealing with false starts and hopes. But it managed to be a great thrill, too.
Even though Paris Can Wait is partly invented, it was inspired by real life — like the docs you've done.
That is true. But I had the freedom to embroider, the freedom to just add anything – a place to stop at after looking it up on the internet. When Sofia did Lost in Translation, she had gone to Japan and had experiences there that she somehow wove together into a fiction. That made me think that I could take bits of my own life and weave them together. But I would never go out and buy the rights for book to turn into a script.
I would have thought you would have picked up tips on how to make a feature film through osmosis from your family members. But you took classes and watched other road movies to prepare – I can see the influence of Two for the Road, my favorite, and perhaps It Happened One Night .
Classes? Absolutely. I didn't feel at all qualified. I have written books but never a script. I took a screenplay class and wrote the script with a consultant. I took a class in acting, a class in directing to get little bit of craft. I had mixed feelings about watching other movies. I wanted it to be as fresh as I could make it. It's good to explore films by people whose films inspire you, such as Jane Campion for me. But I am not a big movie buff. I'm more experiential and enjoy reading. Still, I am of a generation that enjoys actually going to a theater to see a film. We have a wonderful one in the Napa Valley just five miles from our home. It is the oldest theater in the U.S. that has been in continual use.
What details did you borrow from your own trip And what did you embellish or add?
When we were in this Cannes film festival world, I set off on the road with this gentleman who really enjoyed showing off France and his expertise on food and wine. As we went from south to north, it was like stepping out of normal life and getting a guided tour. He took great delight in showing an American woman the special pleasures of France while stopping to smell the roses.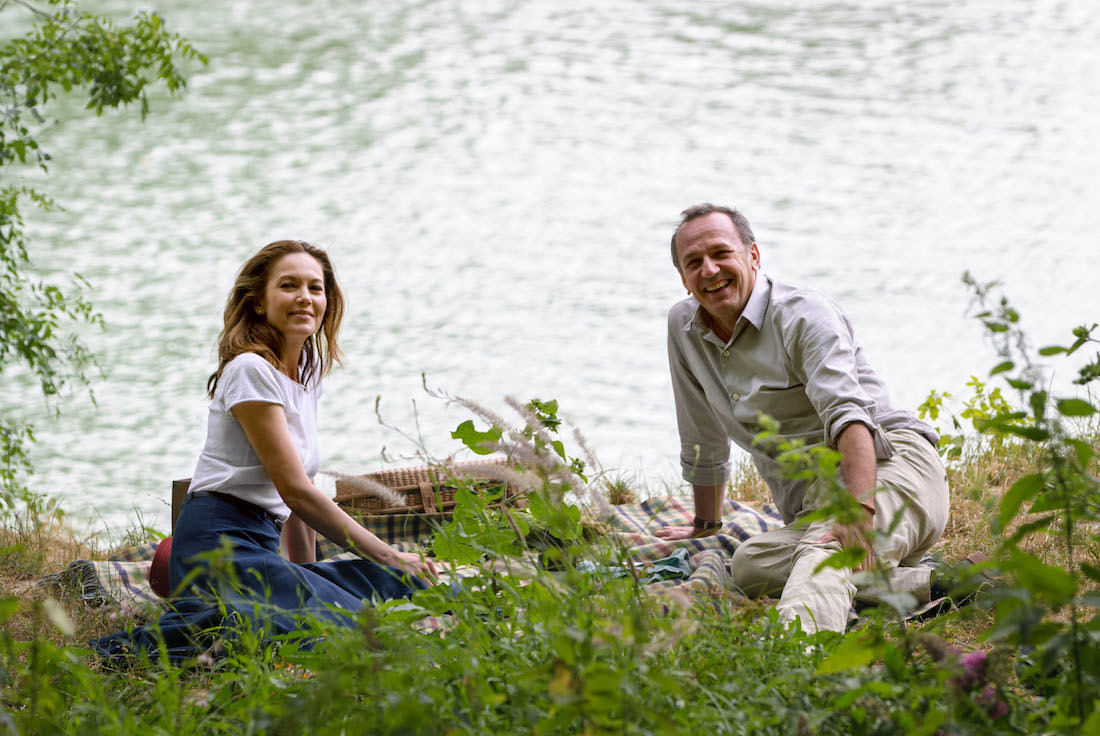 Left to right: Diane Lane as Anne Lockwood and Arnaud Viard as Jacques Clement
Photo by Eric Caro, Courtesy of Sony Pictures Classics
Did he try to romance you like Arnaud Viard's Jacques does with Diane's Anne?
He was my husband's business associate, after all, but I had fun fantasizing about it while writing the script. We did make a stop in Lyon, and visited a textile exhibit and the museum devoted to the Lumiere brothers (considered the inventors of cinematography). I gave Anne some of my habits. I like taking photos of details that catch my eye, like a croissant on a plate. I also have taken a beautiful robe and placed it on a terrible flowered hotel bedspread as a decoration.
Besides the opening and the closing shot of Diane directly looking into the camera, you do some interesting things with a rear-view mirror and jump cuts.
The ending summarizes one of the themes of the film for me. Here is a 50-year-old woman whose marriage is not providing total satisfaction. Being with this Frenchman who is not perfect and smokes all the time gets her thinking. The next chapter in her life is up to her. She has been a mother for a while, but her daughter is now 18 and doesn't need her as much. Anne is stepping out into next chapter of mature womanhood.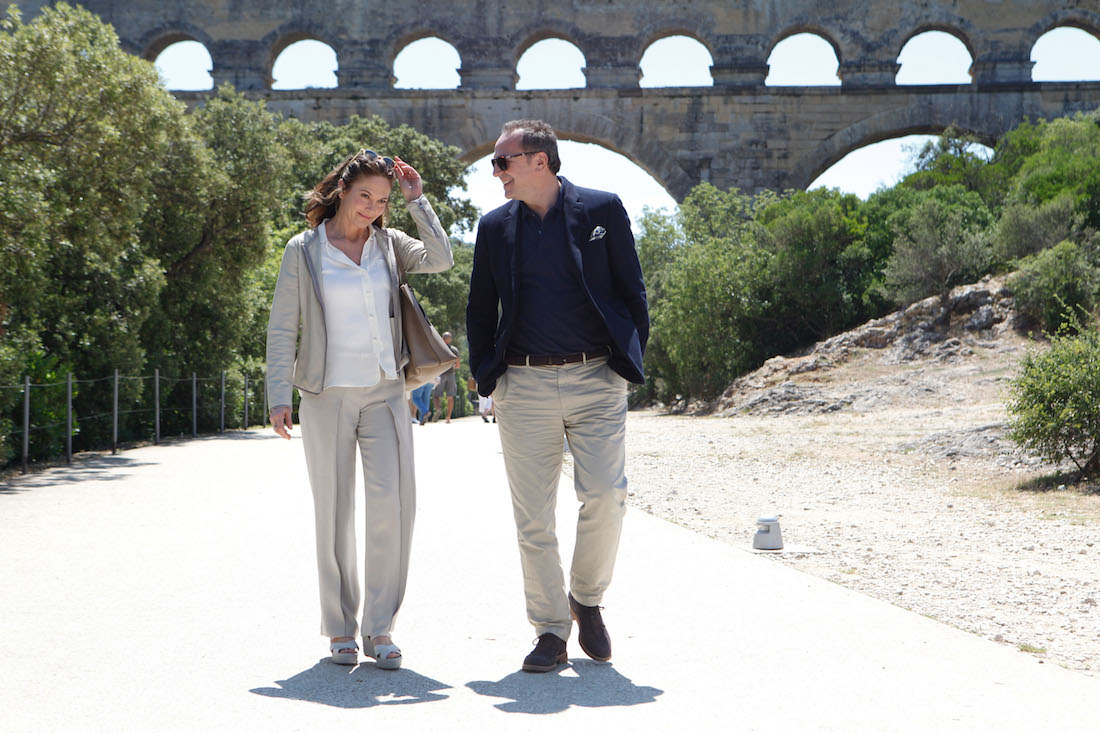 Left to right: Diane Lane as Anne Lockwood and Arnaud Viard as Jacques Clement
Photo by Roger Arpajou, Courtesy of Sony Pictures Classics
Having been married to an Italian man for more than half a century, how are French men different?
I don't know French men well enough to make a comparison.
Did Francis worry that audiences might think that the way Alec's Michael treats his wife more as an assistant than a loving spouse reflects the way he is with you?
Yeah, he would have preferred that the role of the husband was more flattering. But he understands fiction exaggerates things. You can't tell a whole life in 90 minutes. I definitely wanted people to understand that they love each other. If he were a monster, of course, she would go off with the Frenchman. But they have been married 20 years, they have a busy daily life and simply have not taken time out to be with one another.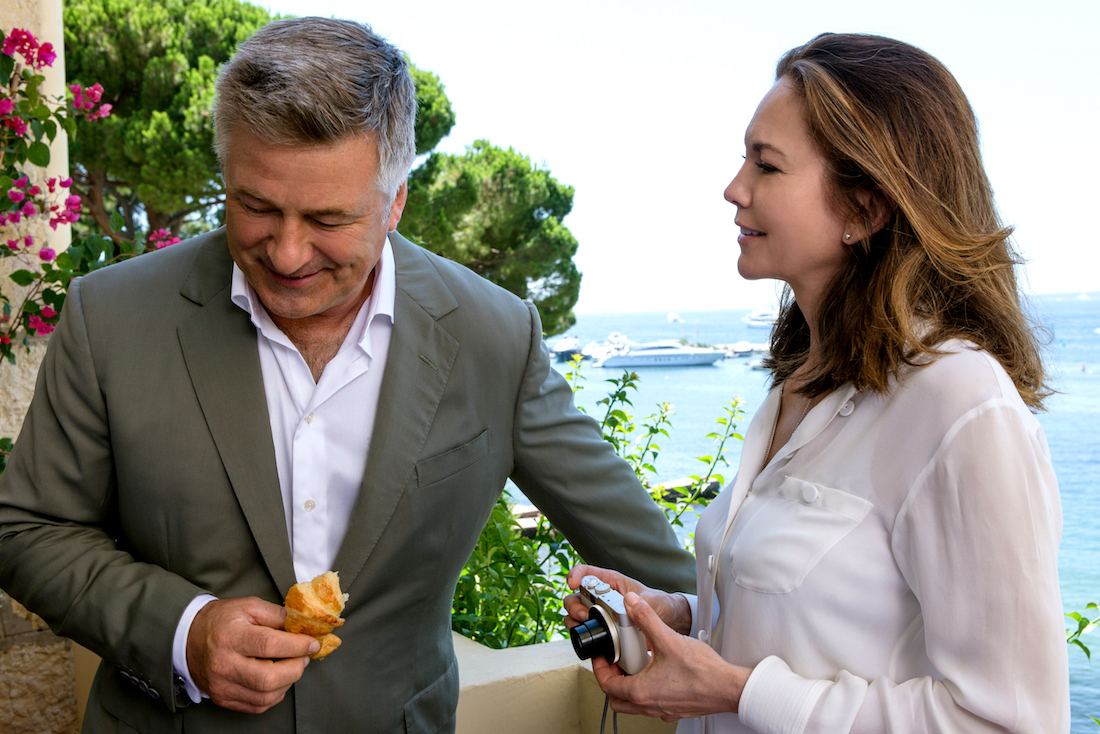 Left to right: Alec Baldwin as Michael Lockwood and Diane Lane as Anne Lockwood
Photo by Eric Caro, Courtesy of Sony Pictures Classics
Diane has been in four of your husband's films (The Outsiders, Rumble Fish, Jack and The Cotton Club). Was she your first choice?
I had my heart set on hiring someone in their early 50s and when I started working on doing the film years ago, she was 44. I was interviewing other actresses and a couple who were interested are now approaching 60. Look, this film doesn't have sex or violence, no robots or car races, no guns. No one dies of cancer. No one was that enthusiastic about putting money into it. But then Diane's name came up. I had not befriended her previously when she worked with Francis. A director and actress is a special relationship. But she seemed perfect for this. She is such a professional who has been acting since she was 7. She really carried me at certain times. She was just a trouper, always giving her best, including helping a French actor doing his part in English. Lately, she hasn't been getting the parts that she should. Most recently, she has been Superman's mother.
Although he was a last-minute replacement (The Hollywood Reporter has said that nephew Cage dropped out two weeks before shooting), Alec being in your movie right now is not a bad thing. Between playing Trump on Saturday Night Live and his animated hit The Boss Baby, he is superhot. The only other time he and Diane acted together was a 1995 TV version of A Streetcar Named Desire as Stanley and Stella.
It totally worked out well. Alec was so perfect and professional. I heard bad-boy stories about him but he was super helpful and right on point. Diane pleased, too.
What was your family's reaction to Paris Can Wait? Will you make another feature? Have any ideas?
My daughter said, "Mom, you made a movie . You really made a movie. I always think you are Mom." I've done a couple short films, short stories that are 22 minutes. A couple involve issues that would please a 50-plus audience. I have some ideas that focus on underserved women voices. We will see what fate will be like. I would like to continue working but not having to wait six years again.