Production on James Wan's Aquaman has Begun
Warner Bros. has taken the first plunge into production for Aquaman. Just a couple days ago, director James Wan tweeted a picture from their first day of production.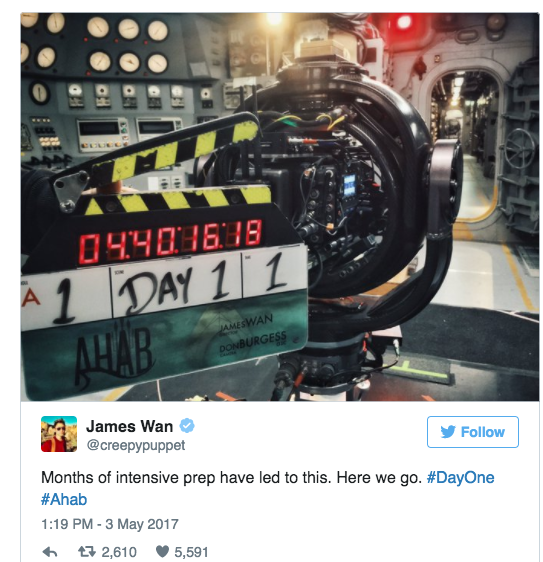 This will be the first solo-feature for Aquaman's character, who is also set to appear in Zack Snyder's upcoming Justice League film, where he joins Batman (Ben Affleck), Cyborg (Ray Fisher), the Flash (Ezra Miller) and Wonder Woman (Gal Gadot) in a battle against the super villain Steppenwolf.
Aquaman has a ton of potential, both because the character is one of the odder, more compelling figures in all of comics, and because horror maestro James Wan and star Jason Mamoa seem like such a good duo. Arthur Curry/Aquaman's abilities offer Wan a ton of room for invention. He obviously can breathe underwater, he can swim at tremendous speeds, and, perhaps the ability with the most potential for mischief and fun, he can telepathically communicate with sea life. Add to that his superhuman strength, enhanced senses, and nearly impenetrable skin, and you've got a seriously ferocious new addition to DC's expanding superhero univere.
Momoa is joined by co-stars Amber Heard, Willem Dafoe, Temuera Morrison, Dolph Lungren, Yahya Abdul-Mateen II, Patrick Wilson, and Nicole Kidman.
The majority of the film will be shot on the Gold Coast of Queensland, Australia, with some filming also taking part in Newfoundland, Sicily, and Tunisia.
The film is set for a 2018 release and we'll be eagerly waiting for more updates as the release date approaches.
Featured image: Jason Momoa in Aquaman theatrical poster. Courtesy Warner Bros.