Matt Smith on Playing Petulant Royalty in Netflix's The Crown
One of television's priciest shows to date, the first season of The Crown offers a faithfully detailed portrait of Elizabeth II's early years as sovereign. Claire Foy plays the graceful if young queen; the difficult glory faced by her husband, Prince Philip, is portrayed equally well by the British actor Matt Smith (previously one of the doctors on Dr. Who). A lauded naval officer during World War II, Philip had to give up his career as he transitioned into being, first and foremost, a royal consort. Much of season one of The Crown is focused on the unusual, and sometimes fraught, dynamic of a wedded queen and a prince in post-war England. Smith spoke to us about representing royalty and how he gets his sulky notes just right.
First, we have to ask: how do you approach petulant? You do a good job of subtly conveying the frustration of carrying a different rank to one's wife, in a period where men typically ruled the family home.
In any sort of character you play, you isolate the most intricate things about them. One of the most striking things about Philip, of course, is that he's essentially emasculated by his wife. It was a very unique situation, and added to that he was a man of the military, had had a wonderful naval career, and had to give up his family name. Petulant was something I identified with because if I had lived in that time, I'd probably find it hard to kneel before my wife, too, because in the 40s' it was a really big thing. He was a man of great pride and it made him react in the way it did.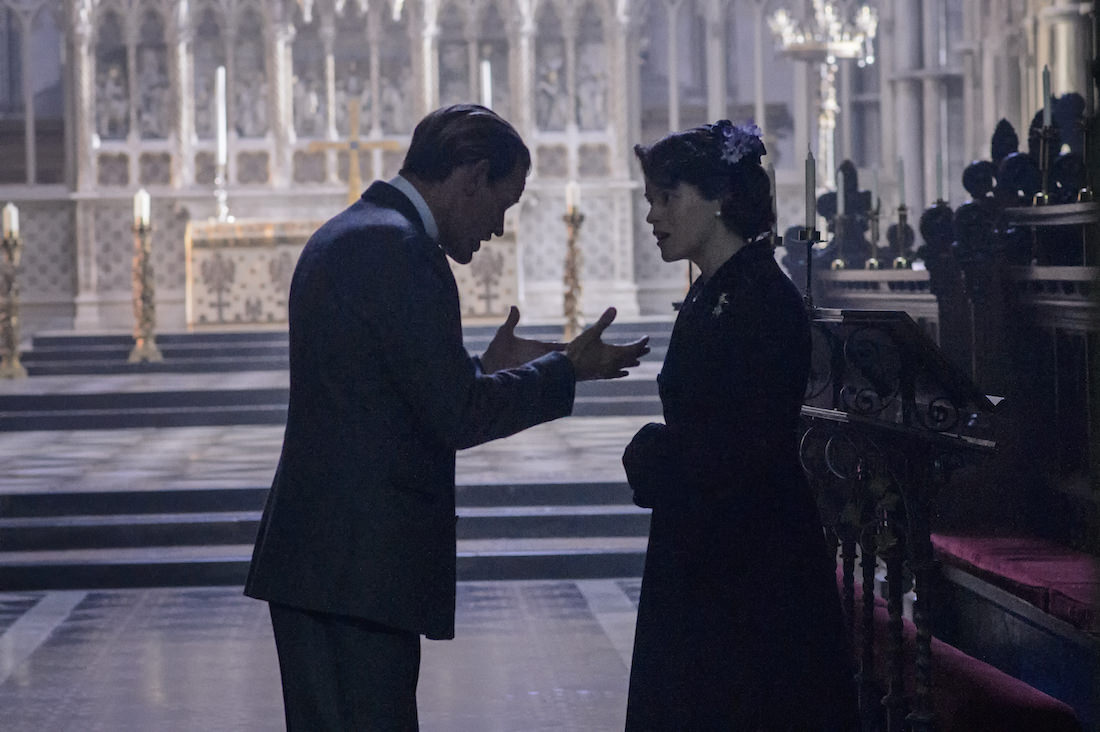 Matt Smith and Claire Foy in The Crown. Courtesy Netflix.
Have you met the real Duke of Edinburgh? What sort of royal archives did you get into to prepare for the role?
I haven't met Prince Philip. Of course I'd love to met him. You find what you can on the internet, [for example] there are a couple films of the family, from Australia and their world tour. You immerse yourself in the world of it as much as you can. I read Young Prince Philip: His Turbulent Early Life by Philip Eades. You try to immerse yourself as much in the context and the culture as you can, really.
Can you tell us about working with Claire Foy? She's a wonderful Elizabeth, and you two deliver great on-screen chemistry.
She's just a brilliant actress and an equally brilliant person. Fortuitously, we get on very well, so that allows us to do good work on screen. I think she's turned in a brilliant, spellbinding performance, as the queen, and it was really a pleasure to work with her every day.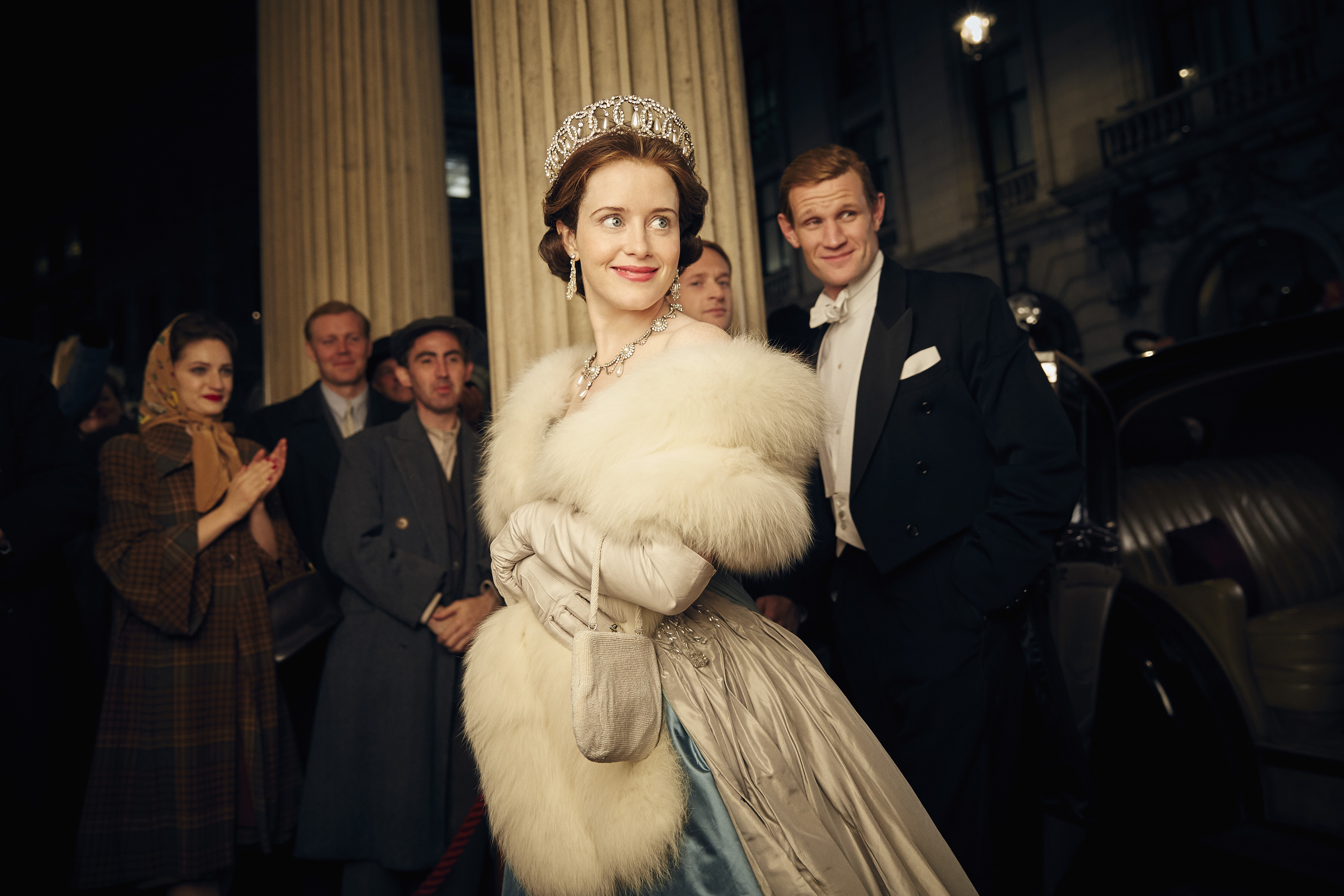 Claire Foy is Elizabeth in The Crown. Courtesy Netflix.
Given you're shooting in an approximation of Buckingham Palace, has there been any set that's made it particularly tough to get into character?
We have such a brilliant production designer, who manages to create precisely a world around you which feels very real. Any day it's five in the morning and you're out in the middle of the road and you're not feeling very royal, sitting in a plane and the back of the plane's not there, driving into a palace and it's just the front of the palace [it can be difficult]. One has to go on one's imagination, but we've been quite lucky with the quality of the design. The sets are tremendous.
Where's your favorite place to shoot? We'd guess all those fancy-pants cars, but you tell us.
We were lucky enough to go to South Africa, which was lovely. We went up into the bush there, and we were amongst the wildlife, it was rather brilliant. One of the great virtues of this job is it's shot largely in London, so we get to live at home. That felt quite nice, actually. So, somewhere between London and South Africa, I'd say.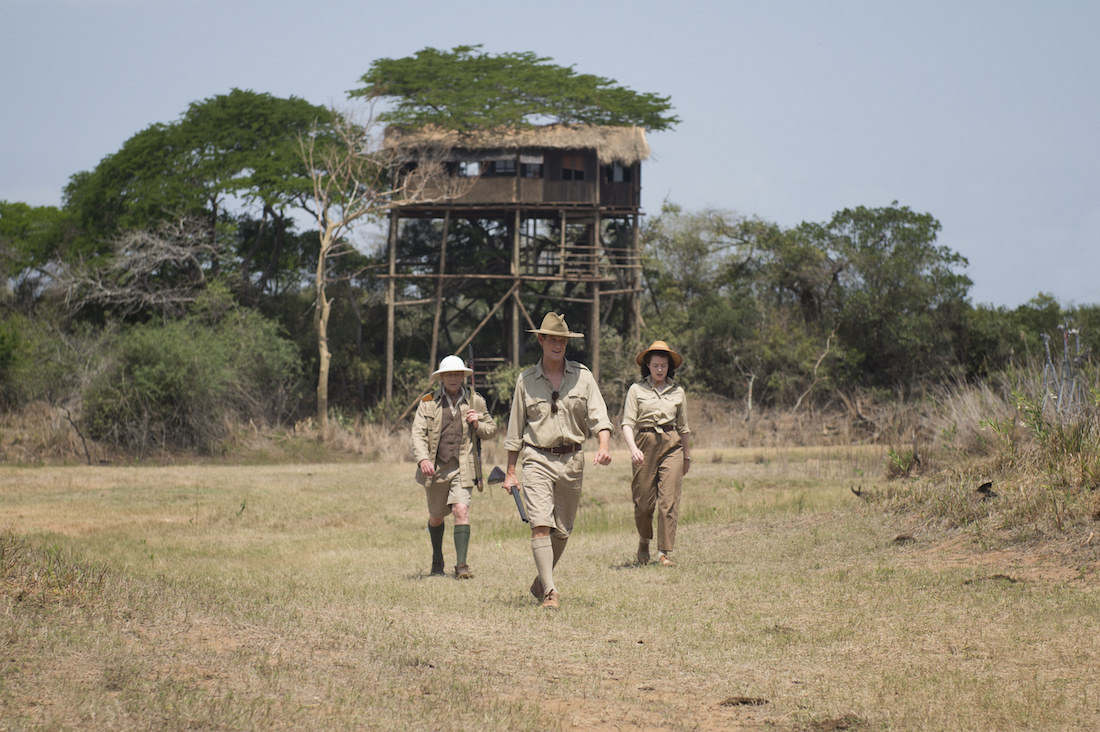 Matt Smith and Claire Foy. Courtesy Netflix.
What's happening with Philip in the next season? He's been very boyish, and we're looking forward to watching him mature a little.
He goes on a world tour so he goes to Congo, all these places, and [the royal couple] obviously have their children, and they enter the 1960s, which is a new era for them, really. It was a new time for the royal family, and I think they way people treated the royal family changes in the Sixties. So there's a lot to look forward to.
Featured image: Claire Foy and Matt Smith in The Crown. Courtesy Netflix.