Let's Discuss J.K. Rowling's History of Harry Potter Death Apologies
Spoiler alert: the entirety of this article is exploring deaths in Harry Potter. If you're one of the few people left in the world who hasn't completed the series yet, you've been warned.
For anyone not keeping diligent tabs on anniversaries within the Harry Potter universe, this past May 2 marked 19 years since the Battle of Hogwarts, the climactic war at the end of book seven, in which more than a handful of series favorites didn't make it out alive.
As per tradition within the past few years, author J.K. Rowling took to Twitter to publicly apologize for one of those deaths. This year, the apology was for Severus Snape: the terrifying, bullying professor no child would want to learn from, the man who loved Harry's mom, and the complex double-agent who died at the hands of Lord Voldemort.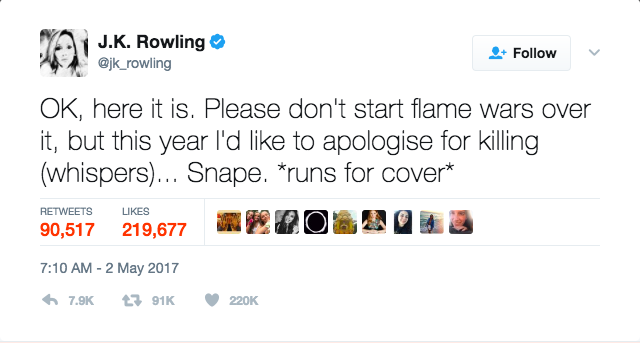 Last year's big apology was for the death of Remus Lupin: Harry's former professor-turned-mentor, who died alongside his wife, Nymphadora Tonks and left their newborn son, Teddy, an orphan.
"In the interest of total honesty I'd also like to confess that I didn't decide to kill Lupin until I wrote Order if [sic] the Phoenix," she added in a series of tweets. "Arthur [Weasley] lived, so Lupin had to die. I'm sorry. I didn't enjoy doing it. The only time my editor ever saw me cry was over the fate of Teddy."
2015's apology was dedicated to twin prankster Fred Weasley:
And in maybe the strangest character death apology, considering we're still not over the deaths of, oh, Tonks, Dobby and Hedwig to name just a few, Rowling wrote a lengthy post on Pottermore explaining why she ended up killing Florean Fortescue, noted Diagon Alley ice cream man.
She's also celebrated other famous Hogwarts dates, like the first day of school, character birthdays, and sorting.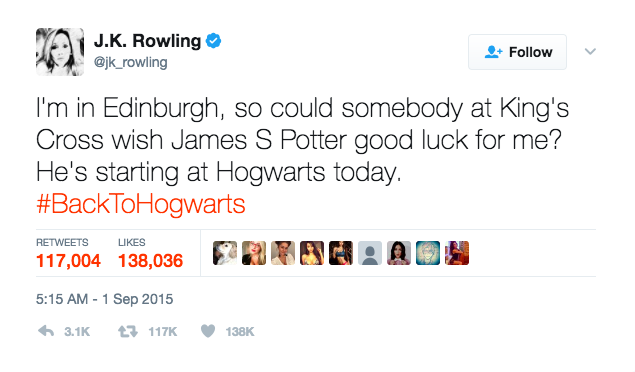 It's been almost exactly 10 years since Harry Potter and the Deathly Hallows was released and Potter fans mourned the end of an era. But through Rowling's Twitter account, we can continue to remember the characters and moments of the stories we love best.