From Italian Disco to Tupac Shakur, Master of None Music Supervisor Explains Tonal Twists &Turns
Aziz Ansari fans probably have no idea who "Mina" is, but they'll hear plenty from the famous-in-Italy pop singer when Master of None season 2 begins streaming on today. "Mina was an Italian pop star in the late sixties, very much in the Phil Spector / Dusty Springfield vein," says deejay-turned-music supervisor Zach Cowie. "Aziz found out about her when he was in Italy and now she's kind of become the guiding voice for the season."
The Italian influence permeates Master of None's opening black-and-white episode, shot in Modena, Italy as homage to 1948 neo-realist classic The Bicycle Thief. "Aziz came up with the idea of repurposing Italian film score music for the episode," says Cowie. "Eighty percent of what you'll hear was composed by Ennio Morricone for in the late sixties and early seventies."
In collaboration with Ansari, Master co-creator Alan Yang and co-supervisor Kerri Drootin, Cowie has compiled the show's music cues into a soundtrack album, also available Friday, which includes a generous sampling of Italian disco. "We do the full color version of Italy in episode 2 with club tracks from the late '70s and early '80s," Cowie says. Pulsating over the closing credits, for example, is "Bite the Apple" by Rainbow Team. "I get to expose viewers to the Italian dance underground whether people know it or not."
By design, Master of None dispenses with a recurring theme song. "We think of each episode as a little film," Cowie explains. "On Netflix, people are going to sit down and binge so what's the point of forcing someone to hear the same song ten times in a row? It was very much a conscious decision to have fun with this streaming realm where there aren't really any rules"
Master of None episode 3 sets up its religion-meets-bacon theme with solemn church music before kicking into Tupac Shakur's "Only God Can Judge Me" rap. Cowie says, "We added the church music intro later because we didn't want to take any steam away from Tupac by having another regular song before it," Cowie says. "Ultimately, the show's comedy so pacing is really important. As a comic timing move, we had to put some space in front the Tupac thing for it to hit right and be funny."
Cowie began collecting records at age of 14. For the next 15 years he haunted used record stores while working at indie labels including Sub-Pop and Drag City. He became a vinyl-only deejay, met Ansari and Yang at one of his gigs and now has 10,000 old-school analog albums lined up against one wall of his downtown L.A. work space, sorted alphabetically by artist and genre. The man just can't quit vinyl. "I'm grateful for how the Internet enables music research, but it's so easy to get things online that you don't always take a real journey to find something great," Cowie says. "My style comes from having to work for the knowledge in that crate digging sense because I've always been a really curious listener."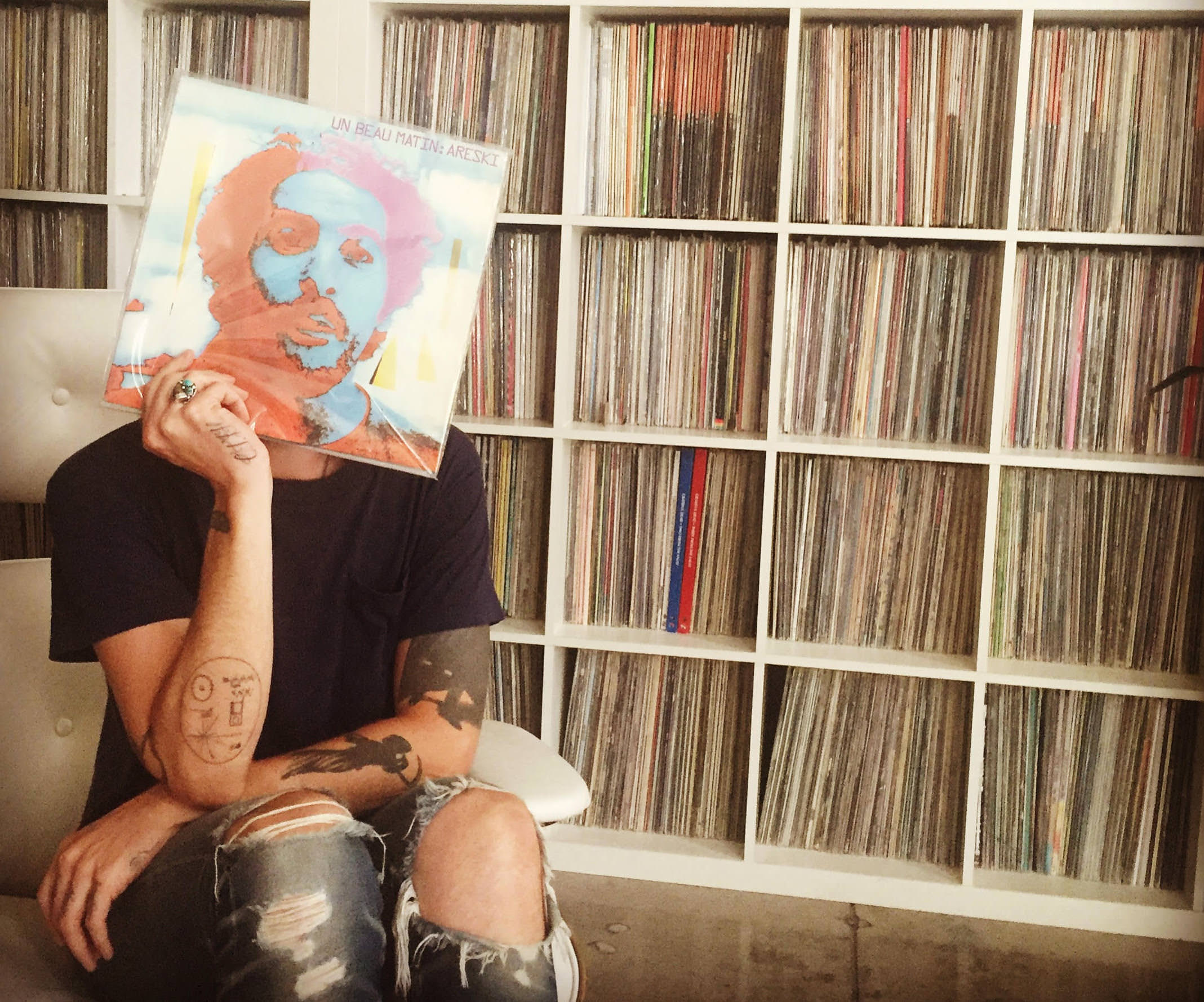 Cowie in front of his wall of vinyl.
Constantly on the prowl for new sounds, Cowie became obsessed with Indian music a few years ago. "I went to India on this crazy record buying trip to and learned so much," he says. "Then Master of None showed up and Aziz says 'We need Indian music for this episode about my parents.' I was like: 'I got you. I just spent weeks in India."
For Master of None , Cowie's song quests get prompted in a variety of ways. Sometimes he'll generate song suggestions after reading a script. Sometimes he riffs on a one-word theme and loads up DropBox and Spotify folders he shares with Aznari and Yang in New York with anything that comes to mind. And sometimes, Cowie watches a rough cut over and over on his lap top until he finds a song that fits.
"In Episode nine, there's this huge sequence with beautiful wide shots of an outdoor sculpture garden in the fall," Cowie recalls. "I tried to make the music as big as the scene but when Aziz sent me the dailies, I said 'S— , this doesn't work.'" Instead of competing with the visuals, Cowie took inspiration from the quiet score for Paris, Texas and picked a track by acoustic guitar master John Fahey. "There's a certain feeling you get when something works, but you can only get there through trial and error," he says. The end game? "I just want to get the scene to float. Sometimes, the smallest little gesture from an actor lines up with the music at just the right moment and everything sparkles. I could sit for days trying stuff out. And that's why I love this job."