Dwayne Johnson Bringing Rampage From Classic 80s Video Game to the Big Screen
What do you get when you cross Dwayne Johnson and colossal monsters in the forms of a mutant ape, wolf and lizard hell-bent on destroying a major city? You get Rampage, an adaptation of the classic 1980s video game that you never knew until very recently you were desperate to see. Johnson is re-teaming with his San Andreas director Brad Peyton to bring Rampage to the big screen, and it sounds as ludicrous, and potentially fun, as you could possibly hope.
New Line Cinema has released an official synopsis about the apes and monsters film:
Primatologist Davis Okoye (Johnson), a man who keeps people at a distance, shares an unshakable bond with George, the extraordinarily intelligent, silverback gorilla who has been in his care since birth. But a rogue genetic experiment gone awry transforms this gentle ape into a raging monster. To make matters worse, it's soon discovered there are other similarly altered alpha predators. As these newly created monsters tear across North America, destroying everything in their path, Okoye teams with a discredited genetic engineer to secure an antidote, fighting his way through an ever-changing battlefield, not only to halt a global catastrophe but to save the fearsome creature that was once his friend.
Johnson has also taken to his Facebook page to share this image from the production of the film, which shows him working with Jason Liles, the 6'9" actor who plays George, the silverback gorilla who is transformed into the mutant beast. Like Andy Serkis before him, Liles is using performance capture gear to be transformed from man to ape: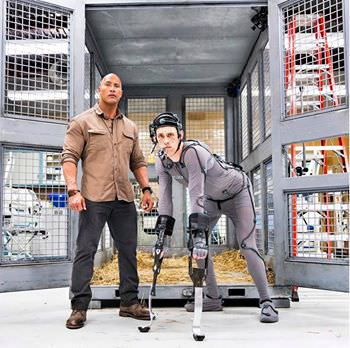 Here's what Johnson has to say about the film thus far:
Day 1. Kicking off production. #RAMPAGE.
In our story we have three animals who fall victim to evil genetic editing, rapidly changing every strand of their DNA so they grow, evolve and mutate. Everything becomes amplified.. their size, strength, speed, agility.. and violent aggression.
One of the animals infected – a rare Albino gorilla named, George, is my best friend.
George, is played by 6'9 Jason Liles, pictured here. Jason has been studying gorillas for months now preparing for this motion capture role. Gorillas movements, body language, and all emotions – joy, pain, sadness, love, aggression etc. It's insane when you get around this man and how he's able to embody a gorilla. This is the most fascinating advanced VFX/motion cap process I've ever worked with in my career.
We have the best mo-cap team in the world (WETA Digital) working on our RAMPAGE MONSTERS and you'll get a taste of this new technology in the upcoming WAR FOR THE PLANET OF THE APES as well as James Cameron's AVATARS.
With all the cool advanced technology in our movie, the #1 thing you're gonna experience when you watch it, is FUN. Because when my best friend, George no happy, then me no happy. And when me no happy.. bad people become our lunch.
Rampage is due in theaters in April, 2018.