Why this Small, Rustbelt City Still Loves Lucy
This past August, thousands descended upon the Lucille Ball Comedy Festival or "Lucy Fest," in Jamestown, New York, to laugh through sold-out performances from Trevor Noah, Lewis Black, Brian Regan, and the Farrelly brothers. The successful three-day festival, which drew attendees from 41 states this year, has previously featured performers like Jay Leno, Joan Rivers, Jerry Seinfeld, Ellen DeGeneres, and Ray Romano – just to name a few.
However, the main reason the Festival has endured and grown for over two decades is because of the namesake it celebrates: Lucille Désirée Ball, comedian, actress, producer, and American icon best known for her pioneering sitcoms like I Love Lucy, The Lucy Show, and Here's Lucy, among others.
An entertainment event like Lucy Fest, with a crowd that Trevor Noah said "was absolutely phenomenal," might sound like the right fit for Hollywood, New York City, or maybe even a city like Chicago, home to legendary comedy clubs. But no, the thousands of fans and Lucy-lovers trek to this annual comedy pilgrimage in Jamestown, a small rustbelt city in Western New York that was once dubbed the "Furniture Capital of the World" before the industry slowly dispersed.
The Festival's presence about two-hours northeast of Cleveland and 90 minutes south of Buffalo isn't just happenstance. The roots go back more than a century to August 6, 1911 when Lucille Ball was born in Jamestown. Ball's life and career took her around the country and world, as she became a household name and profoundly shaped the art of television that we all enjoy today. And yet, Lucy's hometown is perhaps where a collective memory of her lives the strongest.
Beyond the Festival, Ball's name, face and style fill Jamestown in a wide array of ways – ranging from the entertaining and traditional to a quirky statue that was so ugly it needed to be replaced. Through it all, the city continues to celebrate and prosper from her legacy, with an eye toward the future.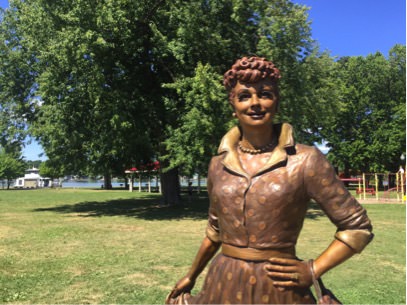 The new statue of Lucille Ball in Celoron Park that replaced the infamous "Scary Lucy" statue.
The Lucy-Desi Museum, created in 1996, lures in Lucy fans with "original costumes, portraits, never-before-seen footage, Lucy's car, and more." The museum also honors actor and producer Desi Arnaz, who was born in Jamestown and well-known for starring alongside Lucy in I Love Lucy as Ricky Ricardo.
After the museum, visitors can stop by Desilu Studios to check out a host of "original props, costumes, memorabilia" and exact replicas of sets that served as the backdrop for some of Lucy's more popular shows. They can also grab a bite to eat at the charming, Lucy-themed Babalu Café right next to the Lucille Ball Little Theater.
In the neighboring village of Celoron, you can visit "59 Lucy Lane" to discover Lucy's childhood home and learn gems about the breadth and depth of her career, such as the fact that she became the first woman president of a major Hollywood studio in 1962. Also in Celoron, is a much-visited statue of Lucy, which actually gained notoriety for its particularly bad portrayal, being dubbed "Scary Lucy" before a new and happier statue replaced it this summer. Lucy's final resting spot is even visited in Jamestown's Lake View Cemetery, where her gravestone is marked with the iconic I Love Lucy heart.
Whether it's a visit to the Field of Dreams in Iowa, a Breaking Bad RV tour in Albuquerque or a Walking Dead themed vacation in Georgia, film-inspired tourism is a well-documented phenomena that gives fans a chance to deepen their connection to a favorite movie or TV series. But while Upstate New York has seen an uptick in local production due to a competitive film tax incentive, Jamestown is making the case through these numerous Lucy-themed hotspots that even just serving as the hometown to a major star is enough to make yourself a destination for the millions of eyes around the world that can't get enough of all things Hollywood.
With a chance to really cement Jamestown's future as a comedy destination beyond its link to Lucille Ball, the development of a new National Comedy Center is underway. The development is taking place where the city's defunct Jamestown Erie Railroad Station, which was constructed in the early 1930s, still sits as an emblematic reminder of Jamestown's industrial decline.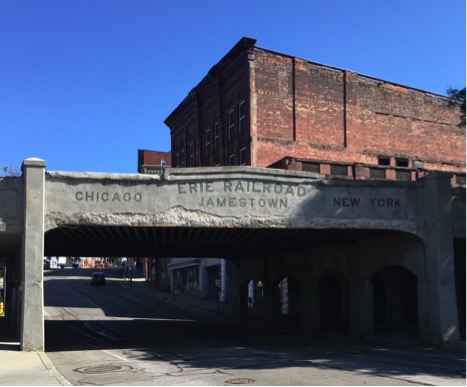 A bridge leading to the now nonoperation Jamestown Erie Railroad Station, which is being transformed into the National Comedy Center
Todd J. Tranum, President and CEO of the Chautauqua County Chamber of Commerce, said, "Tourism has been a major economic driver in Chautauqua County for decades, and the opening of the National Comedy Center will expand that role as we welcome even more guests seeking a unique experience that incorporates learning, recreation and entertainment all within the natural beauty of our region of New York state."
The Comedy Center bills itself as the future home of a "world-class visitor experience entirely dedicated to comedy" and seeks to embody Ball's "original vision for her hometown of Jamestown to become a destination for the celebration all of the comedic arts, not just a celebration of her own legacy."
Just after this year's Festival, Journey Gunderson, National Comedy Center Executive Director said, "If there's any question whether people will come to Jamestown for the National Comedy Center, the fact that we had people from nearly all 50 states over just four days speaks volumes. Jamestown is already a destination for great comedy."
While still under construction, the Center recently announced that it will be partnering with CNN for a national comedy tour called "Stand-Up Live!"
Frank Besse, Co-Owner of Labyrinth Press Company and Brazil Craft Beer and Wine Lounge, two local hotspots for Jamestown residents and visitors, described Jamestown's link to Lucille Ball as a "net positive."
"The Festival I think really helps put Jamestown on the map," said Besse. "This past year for Lucy Fest, both businesses saw a good uptick in traffic."
While discussing how Lucille Ball has helped shaped the city's identity, Besse added, "We're not the manufacturing hub that we used to be." However, the year-round programming and development of the National Comedy Center are showing that Jamestown "can be this place for comedy" and has the ability to "diversify our economy in a way that gives us sustainability and stability," continued Besse.
As an example of year-round programming, the city hosted its fourth annual Lucy Town Half Marathon, 5K, and Universa Kids 2K race this October, attracting runners from over 25 states and five countries, including Australia and Guatemala. Linking back to Jamestown's comedy roots, this year's race featured comedian Tammy Pescatelli, while some runners dressed in the style of Lucy Ricardo from I Love Lucy.
Besse noted that during this year's Lucy Fest, Lewis Black even stopped into his coffee shop for a latte. That type of celebrity sighting might not be so rare if Jamestown continues to let Lucy's legacy lead the way.
Featured image: Lucille Ball's legacy is guiding her hometown's transition from a former manufacturing hub to a comedy destination.