The Legendary Werner Herzog on Craft, Opening two Films Today & More
"Have you ever experienced the desert?"
Nicole Kidman, playing real-life early-20th-century British adventurer Gertrude Bell in Queen of the Desert, directs that question to the desk-bound bureaucrats who try to stop her from exploring the Arabian peninsula. But the question could be posed just as naturally by the man who wrote that line, Werner Herzog.
The German-bred, L.A.-based writer-director is known for movies that brave deserts, jungles, and volcanoes. In fact, April 7 sees the release of not one but two Herzog features set in arid wastes: Queen of the Desert is a historical biopic that may be the filmmaker's most conventional effort. Salt and Fire is more typical of Herzog's poetic, enigmatic work. As a bonus, it also includes a volcano, rumbling off-screen.
It's been exactly 40 years since Herzog made La Souferie, his first lava-tempting documentary, and just one since Into the Volcano, his latest. But in an interview with The Credits devoted mostly to Salt and Fire, he dismissed the importance of the potential eruption that looms over Laura, a scientist played by German actress Veronica Ferres.
"In Salt and Fire the volcano plays a minor role," he says of the ominous subterranean sounds Laura hears while marooned amid 12,000-foot-high Bolivian salt flats with two near-blind boys.
It was a roundabout trip that led Laura, and Herzog, to Bolivia. Salt and Fire was inspired by Tom Bissell's story, "Aral," which is about the vast dry lake in central Asia. Herzog visited, but "it proved to be very boring. I said to myself, 'I have to move somewhere else. It should look really like someplace not from our planet. Like science fiction.'"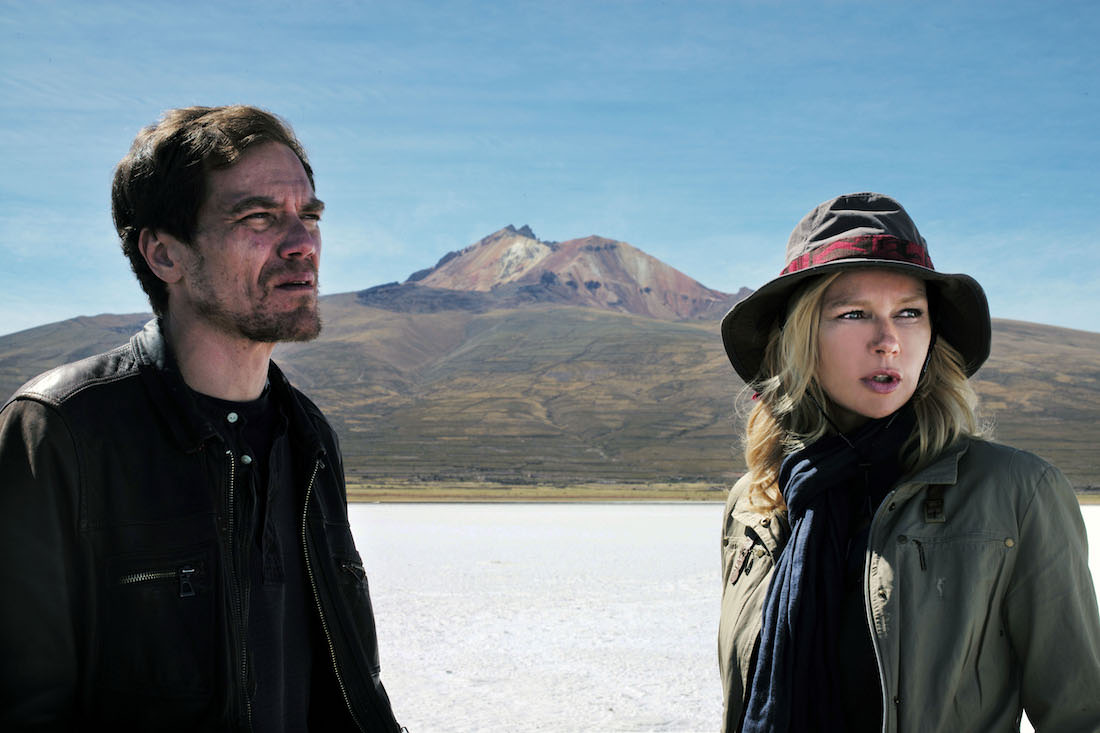 Michael Shannon as Matt Riley and Veronica Ferres as Laura Sommerfeld in the thriller film "SALT AND FIRE" an XLrator Media release. Photo courtesy of XLrator Media.
Although he's known for exotic and remote scenery, the director says he doesn't maintain a file on potential locations. "I had no list at all. I just knew Aral was not the right place. So where else do you go? I had never heard or seen anything of the Bolivian salt flats. But in 10 minutes I knew where I should go. Just look for 'salt flats,' and you inevitably come across the Uyuni salt flats."
Shooting in such a place is arduous and potentially risky, yet Herzog says he's not attracted to danger. "I go to remote places only because they're so beautiful. Had it been in Death Valley, I would have shot there. I contemplated for a while shooting at the Bonneville Salt Flats in Utah, where they do the speed trials for cars and motorcycles. But it's a little too small. It looks like you could walk out of it. In Bolivia, you have a place where you have, I don't know, 12,000 square kilometers of salt flats."
(It's actually a little smaller than that, but still the world's biggest.)
Another Herzog hallmark is working very quickly. In 2005, he told me that Grizzly Man took him just 29 days "from the moment I started to film until the delivery of the cut of the film, that included the commentary and the recording of the commentary. Before anyone realized I was gone for shooting, I had already delivered the film."
Salt and Fire wasn't completed that quickly, but it was shot in just 16 days. That "was not because I want to reduce my time of shooting to a minimum," Herzog cautioned. "It's because of circumstances. Veronica Ferres' father passed away a few days before we started shooting. I said to her, " 'There are more important things than doing a movie. You have to bury your father first.' "
"In a way, it was not so bad for the film because everything that was unnecessary was left out," he added. "It was very, very focused."
Nominally a thriller, Salt and Fire sends three scientists (including Ferres and Gael Garcia Bernal) to Bolivia, where they're kidnapped by thugs led by Michael Shannon, making his third appearance in a Herzog movie. The script came easily, but then that part of the process it usually does for him, Herzog said.
"Writing always goes pretty fast, because I write a screenplay only when I see an entire film as if it were in a projection in my head. Almost as if you were to see it on a screen. Editing depends on what sort of project it is. There's no general rule."
From an opening sequence shot in Germany, Salt and Fire goes further and further into isolation, a theme Herzog has pursued in both fiction and documentary. Finally, Laura finds herself alone with two local boys, young brothers who can barely see and don't speak English, the principal language of both of the director's new dramas.
"They are local boys," Herzog noted. "They are natives who speak Spanish and Quechua. It was interesting to have them in such a way that Veronica could not communicate with them. She had to find a way to communicate."
The brothers are so ideal for their roles that it seems they must have been found first and their parts conceived second. But "it all was written," Herzog said. "Strangely, they were the first set of brothers that I found. I immediately knew they were the ones. Then people told me I had to meet others, so for the sake of professionalism I looked at all the other boys they had selected. But the first set of brothers was the best."
One other odd bit of casting is the presence of Lawrence Krauss, a noted American physicist and cosmologist who plays one of Shannon's thugs. 'We met something like 10 years ago, and became friends,' Herzog explained."
"I said to him, 'Oh, you look like a villain. You should play one in one of my films,' and he was quite delighted. In a way, he's a natural. He fit very well into the chemistry of the others."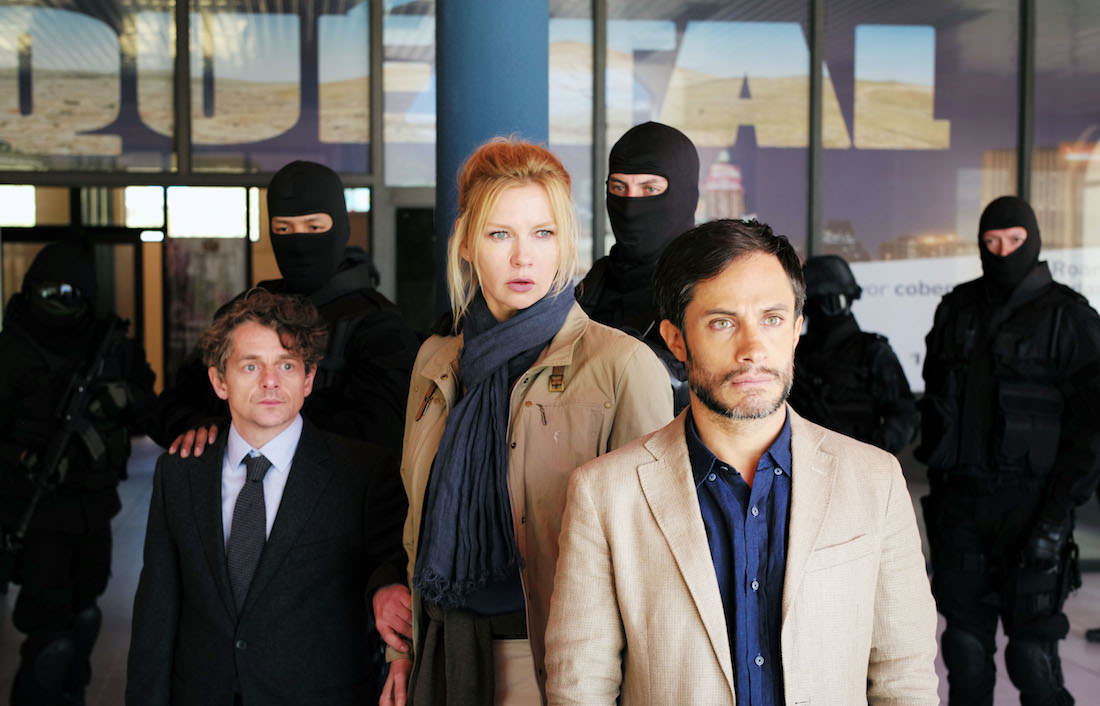 (L-R) Volker Michalowski as Dr. Arnold Meier, Veronica Ferres as Laura Sommerfeld, and Gael García Bernal as Dr. Fabio Cavani in the thriller film "SALT AND FIRE" an XLrator Media release. Photo courtesy of XLrator Media.
Queen of the Desert features a more mainstream cast, including James Franco, Damian Lewis, and (as Lawrence of Arabia) Robert Pattinson. It shares something with Salt and Fire besides dry, empty panoramas: These are the first two Herzog films whose heroes are heroines.
"I think I'm good with female protagonists," Herzog mused. "Why did I always have men as leading characters? I don't really know."
Despite the two movies' similarities, having them both open on the same day may be a bit too much overlap. "It's kind of crazy," the director said. "Queen of the Desert should have been released a year and a half ago. And now it coincides! I couldn't keep the two different distributors apart. It's very odd."
Herzog turns accepting for a moment. "I think I shouldn't lose any sleep. It is as it is."
But his flair for the cataclysmic quickly reasserts itself. "I don't know what's going to happen. The films might obliterate each other!"