The Leftovers Production Designer on Season 3's Mind-Bending Finish
"It's really hard to create Gary Busey as a blow-up doll," says production designer John Paino, and he should know. For HBO's third and final season of The Leftovers (debuting April 16), Paino oversaw the creation of a 35-foot inflated figure of the toothy celebrity, a major attraction for the Texas spiritual mecca-turned-tourist trap known as Jarden. "The blow-up doll is about this mix of a pop culture sensibility with the beginnings perhaps of some spiritual movement," Paino explains. "It seems like such a non sequitur at first glance, but in the chaos that is Jarden, it's actually all too believable."
Paino, who previously worked on Dallas Buyer's Club and Wild, applied surreal touches to the real-life town of Lockhart, Texas when he designed The Leftovers' second season. "To me production design is creating atmosphere, and atmosphere is place," says Paino, citing Key West, Yellowstone National Park and Disneyland as inspiration for the town's colorful vibe. "Locations and production design go hand in hand because we're building a world and it has to feel cohesive."
According to The Leftovers' spiritually tinged mythology, Jarden, formerly known as "Miracle," became renown as the one place in the world where nobody vanished during "Departure" that claimed two percent of the world's population. "It's set up like a big festival, where people sell miracle water and give tours," Paino says. "And when you go to a national park: you have to get a permit, you pay a fee, you get a sticker for the car, so we emulated all of that. We created graphics based on National Park Service posters from the 1950s, we designed a logo, made our own decals, fabricated wrist bands for the visitors like the kind you'd get at a rock festival or DisneyWorld. We constructed this whole world right down to a religious symbol that combined the rising sun and the traditional five-pointed Texas Ranger star."
As Season 3 progresses, the action shifts from Jarden, Texas to the stark interior of Australia. Paino, who creates collages and mood boards for all his projects, spent ten days down under, scouting locations, soaking up the culture and preparing a new palette. "The design had to transition from the lurid colors we find in this semi-frontier town in Texas to the earth colors of this really remote, apocalyptic world of Australia," he says. "There's a real vividness to this frontier landscape, which is more about the saturation and the vibrancy of the colors. At the same time, there's a bleaching out effect that we tried to capture. It's a land of extremes, so we wanted to push that."
https://www.youtube.com/watch?v=L9w0sz5y83k
Twelve weeks before filming began, Paino and his team began building. They constructed an ark modeled after the Millerites' 19th-century religious cult. The crew also built an entire Victorian-style ranch near the region where filmmakers shot the original Mad Max. Paino says, "It was a bit of a rush to build a fully functioning house in the middle of nowhere, from scratch, but the crews were amazing. Two of our set designers were architects very well versed in period building styles, so they knew how things were built in the 1860's. We did a ton of research about what they called the "Queenslander," which has a corrugated iron roof but a very Victorian interior."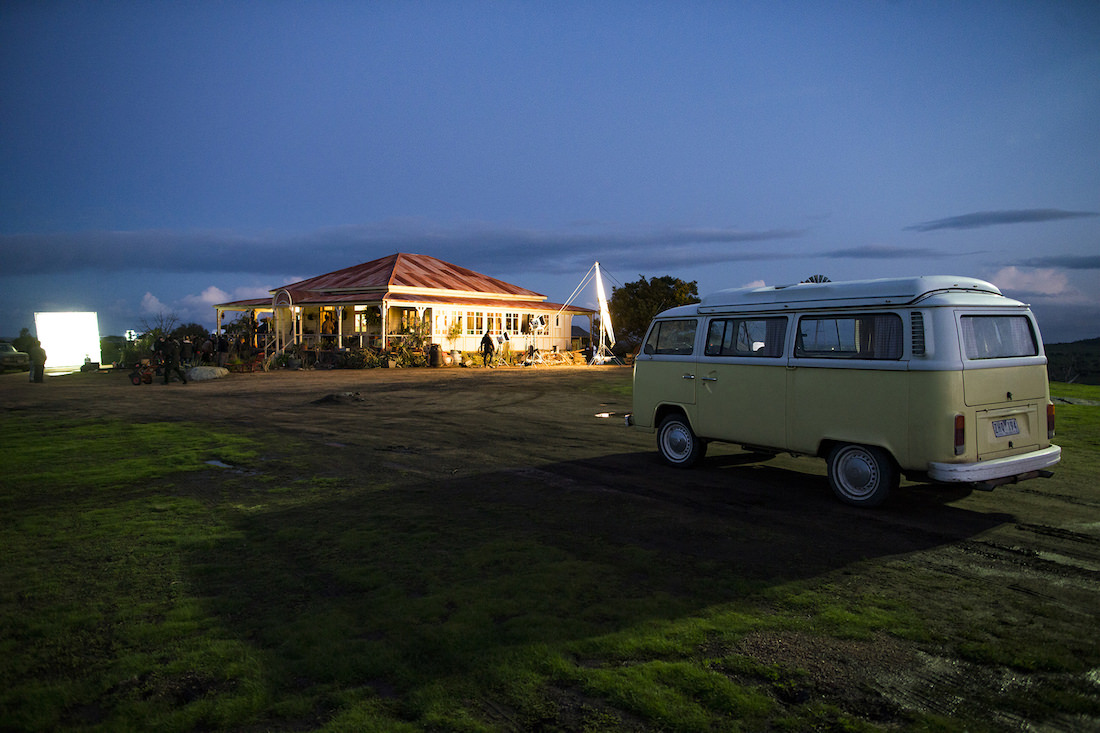 Grace's Ranch. Photo: Ben King/HBO.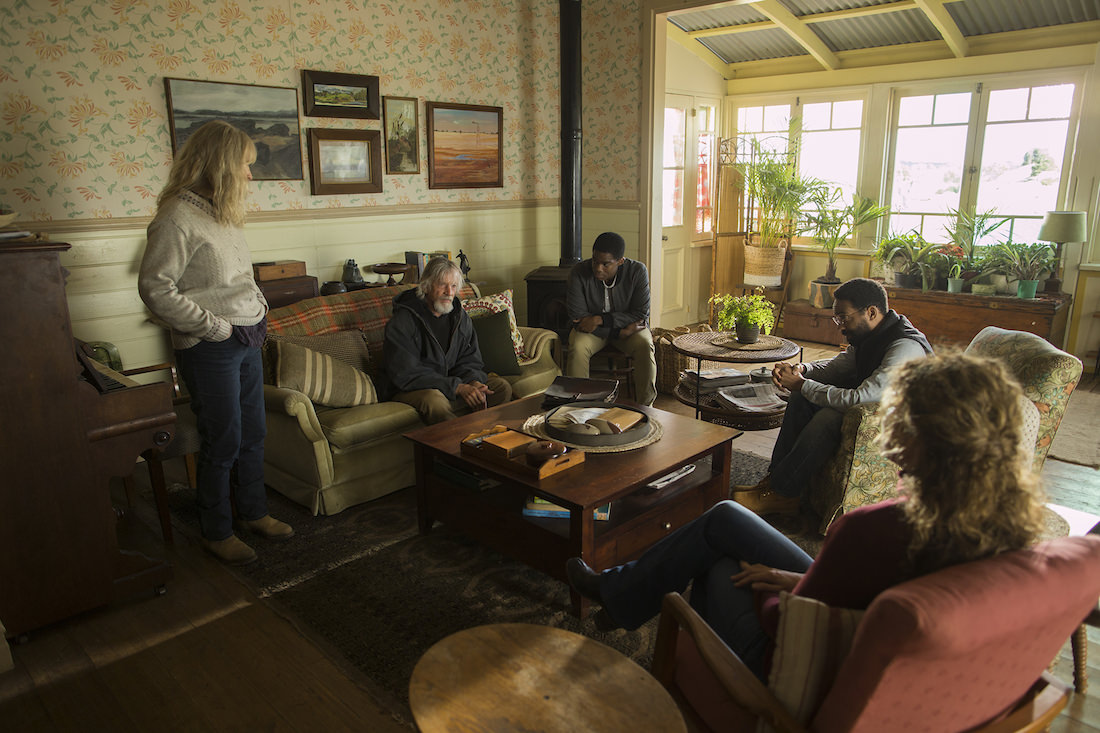 Lindsay Duncan as Grace, Scott Glenn as Kevin Garvey Senior, Jovan Adepo as Michael Murphy, Kevin Carroll as John Murphy, Amy Brenneman as Laurie Garvey. Photo: Ben King/HBO.
Aborigine culture also figures into the Leftovers mythology through the misadventures of Scott Glenn's eccentric Kevin character. His son (Justin Theroux) apparently rose from the dead at the end of Season Two and now Kevin seeks spiritual guidance from Australia's indigenous people. To surround the possibly deranged seeker with authentic detail, Paino built ramshackle community centers from corrugated steel and scrap wood. "The structures we made were a bit more stylized, but basically we stayed true to these hardscrabble, ingeniously designed buildings that use what little material can be found in the interior."
Paino enlisted Aborigine artists to decorate the walls of the community centers. He says, "They came up with the drawings, we talked about colors and then they painted these murals, because that's how it would be done for real. All the art at Australia's indigenous centers would be painted by indigenous people. The Leftovers strives for realism – – a heightened realism – – but a realism none the less."
How heightened? Paino promises increasing levels of weirdness as the final season progresses, but in deference to the show's famously spoilers-averse co-creator Damon Lindelof (Lost), he declines to spill details. "All I can say is, I've never designed so many completely out of left field things," notes Paino. "It's kind of on the order of the Gary Busey doll because the idea of people fetishizing pop stars gets repeated later on in the season. And there's all these different storylines related to how the characters come to Australia and how their arcs end. It's the most mind-bending stuff I've ever done."
Featured image: Justin Theroux as Kevin Garvey. Photo: Ben King/HBO.