Here's How VFX Artists Turned Neil Gaiman's American Gods Into a Visual Feast
Starz takes a big swing starting April 30 with its eye-popping adaptation of Neil Gaiman's fantastical novel American Gods. The eight-episode spectacle follows fresh-out-of-prison "Shadow Moon" (Ricky Little) as he partners up with ancient trickster Mr. Wednesday (Ian McShane) as he preps for battle against "New Gods" including the bratty "Technical Boy" (Bruce Langley).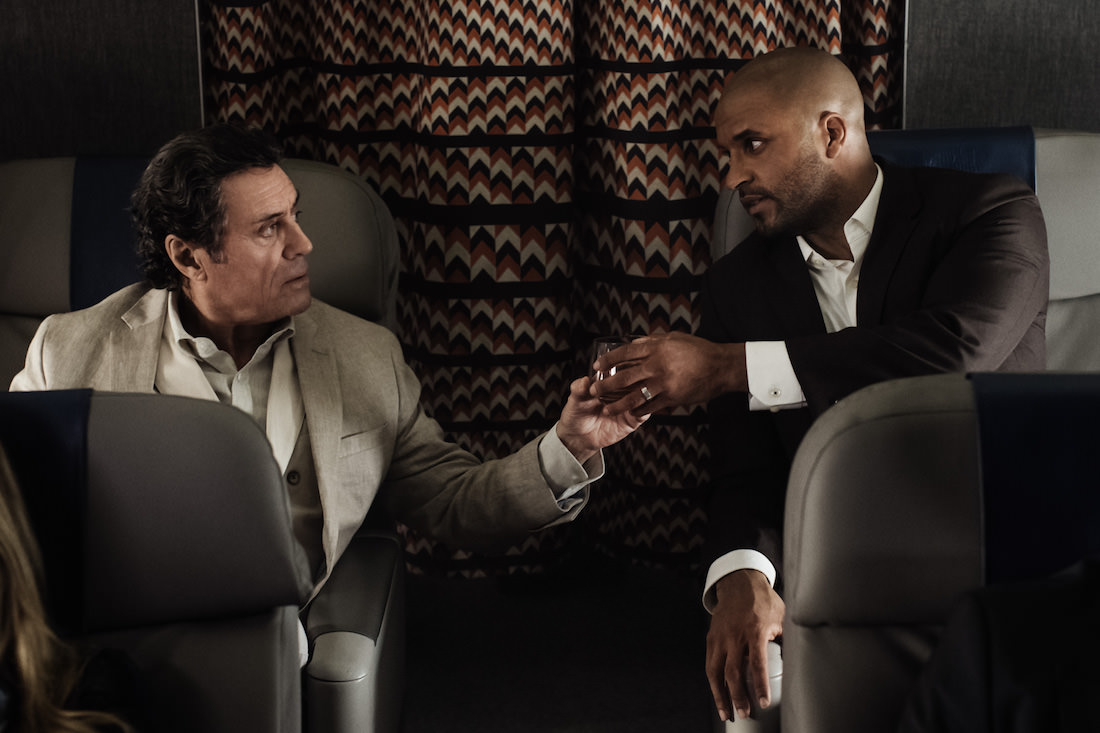 Ricky Whittle (Shadow Moon), Ian McShane (Mr Wednesday). Courtesy Starz.
Shot in the hyper-crisp 4K resolution, the series opens with slo-mo Viking carnage featuring gobs of blood flying through the air. An exercise in CGI gone wild? Not at all. In fact, visual effects designer Kevin Todd Haug, on the phone with VFX supervisors Jeremy Ball (The Twilight Saga: Eclipse) and David Stump (X-Men), says the crimson spillage is real liquid, just the way they like it. "We three kind of believe if it's possible to do something as a practical effect, you should," explains Haug, whose credits include Kingsman: The Secret Service and Quantum of Solace. "Even if you can do a tiny piece physically, it helps the actor. There's so many things having to do with physics and light and the way things move, it takes a lot of time for an artist to dial that in digitally. If you have something real to start with, it'll get you most of the way there."
Performance Capture and Creepy Beasts
Filming in Canada, executive producer/director David Slade championed the keep-it-real aesthetic by shooting motion capture sequences on location. "Traditionally for performance capture, you take actors to a very antiseptic environment where they try recreate what they did earlier," Huag says. "But David wanted to shoot the motion capture on set, on the day, as they've done in the Planet of the Apes movie."
Stump tested 20 different cameras before choosing the Magic Ursa Mini 4.6 K system. "Besides the two 'taking' cameras, we had four to six additional cameras hard-synchronized to each other," Stump explains. "We used very short shutter times and polarized light, so that allowed us to see the same exact slice of time from each camera." Digital artists at the Montreal-based BUF outfit later mapped surface textures on top of these "volumetric capture" figures. The results included Technical Boy's mummy-like thugs nicknamed "Droogs," after the similar-looking goons from Clock Work Orange.
Strange beasts also pop up periodically in American Gods. The water buffalo whose eyes shoot flames came together as a CGI creation in Russia. And the creepy hairless sphynx cat is real, but the background is fake. "We pretty quickly learned that hairless cats are not great performers on camera," laughs Stump. "Apparently they don't do well in deserts, let alone inside a movie set. So, every hairless cat you see in American Gods was shot against a blue screen."
Immortals on the Road
While fantastical elements provide periodic shock value, American Gods more often takes place in naturalistic settings as Wednesday and Shadow travel cross country. "One of thing that makes American Gods different is that so much of it takes place on the road," Haug says. "We thought long and hard about the amount of time characters spend in cars on television and 90 percent of the time, you get very bad blue screen. That was completely unacceptable for this series."
Instead, the VFX team infused car dialogue scenes with cinematic luster by using a variation of "projection" technology dating back to the silent film era. "Since then," Stump says, "Projection has gone through a whole paradigm shift to the point where it's now the bleeding edge. You can now shoot pieces of background video separately and put them together in-camera as opposed to doing it in a compositing suite."
For one Manhattan sequence featuring Mr. Wednesday and Little, McShane and Little tayed in Canada while Stump traveled to Manhattan with a couple of technicians and a nine-camera rig. "I drove around New York City, photographing backgrounds that could be used in nine directions so we could have reflections in wind shields if we needed them. We did the same kind of thing where we had three actors at the side of the road with the sun peeking over the horizon. We went out and harvested shots at sunrise on a country road in eight or nine directions, shot the actors against blue screen and composited the whole scene together."
Between stealthy effects and supernatural scenarios, American Gods boasts nearly 3,000 VFX shots, about twice the number seen in most sci-fi feature films. "Other than a few repeated gags, nearly everything in this show is unique," Haug says. "In a typical movie you get three or four ideas and work them to death. Not in American Gods. There's a new idea every single episode."
Featured image: White Buffalo. Courtesy Starz