Harold and Lillian: A Hollywood Love Story Doc Writer/Director on Unsung Film Heroes
The work of storyboard artist Harold Michelson and researcher Lillian Michelson was integral to some of the most iconic films in Hollywood history: The Ten Commandments, The Apartment, The Birds, Who's Afraid Of Virginia Woolf?, The Graduate and Rosemary's Baby, to name just a few.
But you won't find their names in most of the credits.
The couple, married for 60 years, worked their way, separately, into the creative ranks of the studio system starting in the post-war years. After a bumpy start when he struggled to find work as a studio illustrator, Harold, who'd been a bombardier navigator in World War II, eventually found work on several productions as an uncredited illustrator. He was hired as the storyboard artist (again, uncredited) for Cecil B. DeMille's The Ten Commandments. His success led to work on other Biblical epics (Spartacus, Ben-Hur) and his career took off.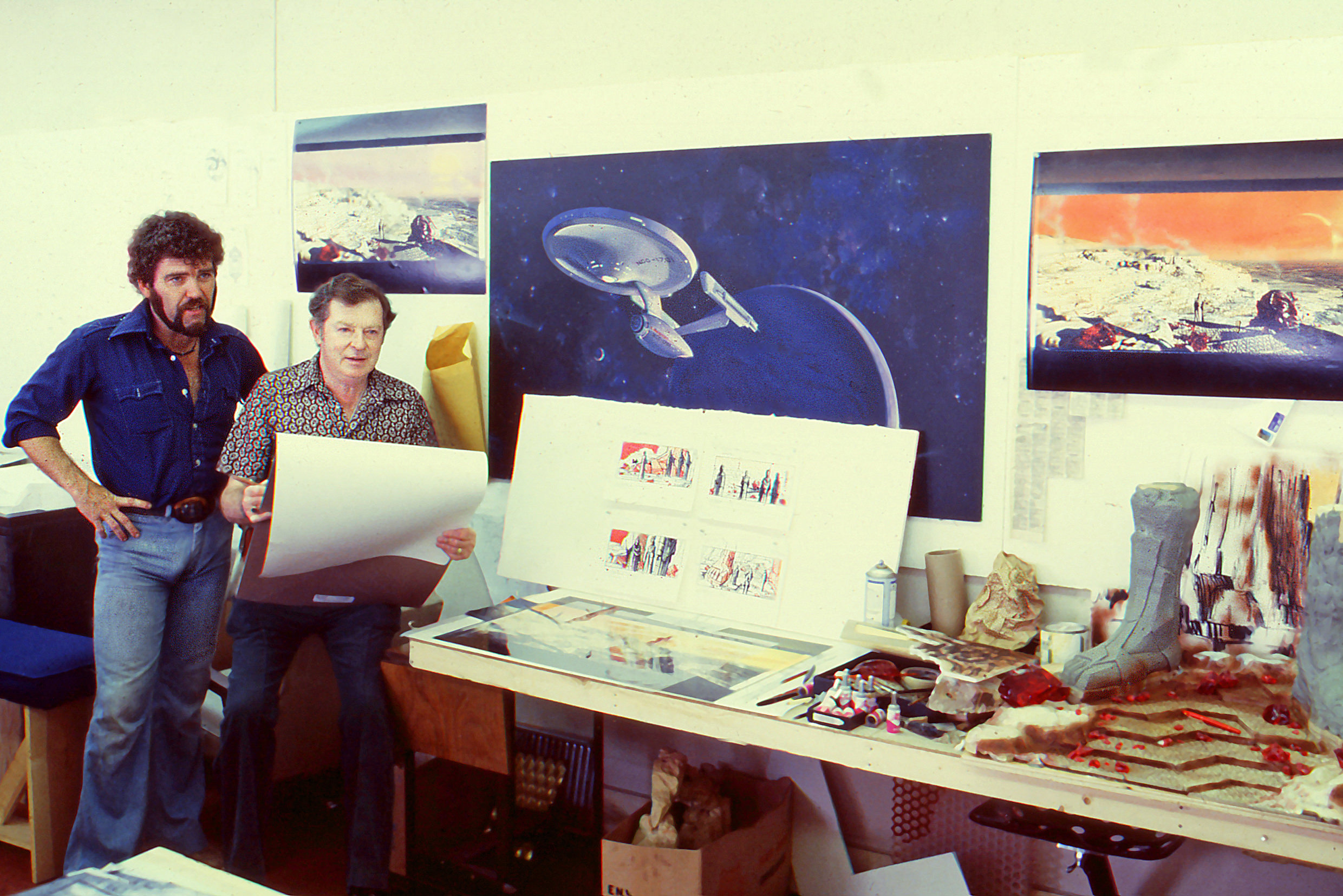 Harold Michelson (right) in the Art Department at Paramount Studios in 1978 working on Star Trek: The Motion Picture in Daniel Raim's HAROLD AND LILLIAN: A HOLLYWOOD LOVE STORY. A Zeitgeist Films release. For hi-res downloadPhoto: Adama Films / Zeitgeist Films.
Lillian, meanwhile, was busy raising their three sons but volunteered at the research library located at Samuel Goldwyn Studios. Under the tutelage of librarian Lelia Alexander, Lillian eventually bought the library and became known as "the dean of film research" in Hollywood. Her contacts, tenacity and wealth of idiosyncratic information contributed to numerous classic American movies; she researched everything from satanic cults for Rosemary's Baby to period underwear for Fiddler on the Roof.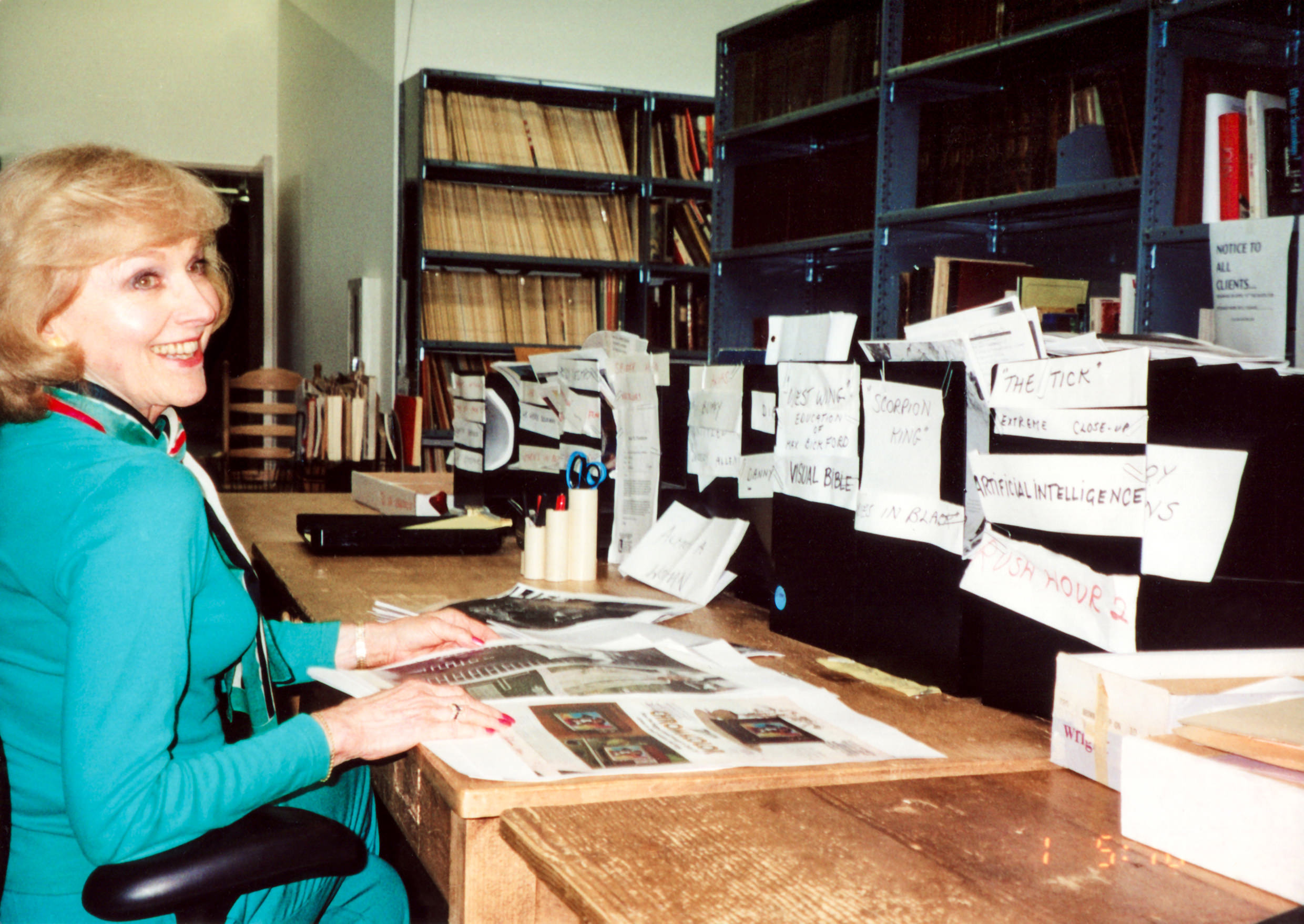 Lillian Michelson in the Lillian Michelson Research Library at Paramount Studios in 1996 in Daniel Raim's HAROLD AND LILLIAN: A HOLLYWOOD LOVE STORY. A Zeitgeist Films release. Photo: Adama Films / Zeitgeist Films​
But more than their unsung individual contributions to hundreds of films, the couple's charm and generosity nurtured generation of younger filmmakers. While their solid and supportive marriage was itself an inspiration, it was their vast scope of knowledge that they freely and happily passed on that made them beloved in the eyes of their peers as well as younger artists.
One of these is writer/director Daniel Raim. Bringing Harold and Lillian's story to the attention of modern audiences and honoring their legacy is one of the missions of his new documentary Harold and Lillian: A Hollywood Love Story which opens April 287 in New York (a wider released follows).
Harold and Lillian: A Hollywood Love Story – Trailer from Daniel Raim on Vimeo.
Harold and Lillian is the third and most ambitious of what has become Raim's trilogy about the lives and careers of studio craftsmen. His first short, The Man on Lincoln's Nose (2000), about production designer Robert Boyle, one of Alfred Hitchcock's most esteemed collaborators, was nominated for the 2000 Academy Award for Best Documentary Short Subject. His follow-up, Something's Gonna Live (2010), profiled Doyle and his colleagues, the legendary art directors Henry Bumstead and Albert Nozaki along with frequent collaborator and friend Harold Michelson. All were elderly at the time and all have since died. So this film isn't just a poignant remembrance; it preserves an important piece of cinema history.
Raim met both Boyle and Michelson while he was studying at the American Film Institute. He began filming Michelson during the process of shooting his first two films. By 2013 (Harold died in 2007), he'd begun his documentary about Harold and Lillian.
"My initial thought was to make two short films, 10 minutes each, about Harold and Lillian to honor them at an evening [dedicated to them]. As soon as I started interviewing their colleagues and friends like Danny DeVito, it became clear that they were inseparable and you could not talk about their careers without talking about how much they influenced and inspired and supported one another in their work," says Raim. His decision to make a feature documentary that explored both their careers and their marriage "was a big decision because it required a tremendous amount of additional material that I didn't know if we had at the time."
But what did have proved invaluable. He had Lillian, still spry and loquacious at 88, to recount on camera the story of their courtship and marriage; raising three boys, one of whom is autistic; their breaking into Hollywood while it was still in its golden age; and fascinating details about the many films they worked on, together and separately.
Raim said he had no idea how forthcoming and entertaining Lillian would be.
"When I saw a rough cut, I changed course and decided it wasn't going to be just a profile of their amazing contributions to cinema, but also beautiful love story," he says.
One of the most compelling aspects of the film is detailing Harold Michelson's uncredited but invaluable contributions as a storyboard artist. Raim includes several examples of iconic shots in movies that Michelson rendered in his storyboards, such as the blackbirds gathered on the jungle gym in The Birds; and Dustin Hoffman framed by Anne Bancroft's bended leg in The Graduate. Cinematographer Robert Surtees set up this shot and just about every other shot in The Graduate in according to Harold's innovative storyboards.
Harold and Lillian contains interviews with several contemporary storyboard artists such as Gabriel Hardman (Inception, The Dark Knight Rises, Interstellar) who explain what Harold's work meant to these films.
"The storyboards are a working document that the crew can look at, but really they are a visual screenplay," Hardman says.
"It was a revelation to me to see Harold's storyboards for The Graduate and to see to what degree he fundamentally devised these key montage sequences that really came out of his mind," says Raim. "He was working for a director [Mike Nichols] who was a talented Broadway director but not a film director and here was Harold getting hired after two Hitchcock movies and given carte blanche to this talking heads drama. It was a revelation to see how he took this potentially mundane 'people talking in a room' movie and created these really exciting concepts for visualization."
Other directors interviewed in the film, such as DeVito (who co-produced Harold and Lillian), Francis Ford Coppola and Mel Brooks describe how Harold's skill and vision transformed numerous films. Brooks recounts how Harold suggested that the white helmets Brooks had devised for Spaceballs be changed to look like actual balls. Coppola explains that after Lillian's vast personal library, which had bounced from Goldwyn to AFI then to Paramount, needed another home; he invited her to move it to his Zoetrope Studios. There, Lillian and her eclectic research library became a social club for rising young directors.
"Most were young men who worked in art departments. They looked on her as a den mother dispensing not only research but advice," says Anahid Nazarian, who was then a student researcher.
After Zoetrope shuttered, the Lillian Michelson Research Library, the largest private motion picture library in Hollywood, found a home at DreamWorks Animation Studios in Glendale. As a fitting tribute, Princess Fiona's parents in DreamWorks' Shrek 2 are named King Harold and Queen Lillian.
Raim says that his film, above all, "is definitely an intention to set the record straight and here's why: Harold and Lillian weren't credited on these American masterworks. Harold's contributions to The Birds and The Graduate are so important yet his name never appears. Lillian, too, made significant contributions. They're storytellers and I would go so far to say that Harold is one of the greatest cinema minds of the 20th Century and should be acknowledged because the guy created some of the most iconic images we know and love and has imbued these movies with the emotion we connect to."
Featured image: Lillian and Harold Michelson in Toronto in November 1994 on the set of Intersection in Daniel Raim's HAROLD AND LILLIAN: A HOLLYWOOD LOVE STORY. A Zeitgeist Films release. Photo: Adama Films / Zeitgeist Films.​