Cynthia Nixon on Channeling Emily Dickinson in A Quiet Passion
The ads won't scream 'Cynthia Nixon IS Emily Dickinson!' but they might have if A Quiet Passion was a lavish '50s biopic. The actress's uncanny portrayal of the 19th-century American poet in Terence Davies' latest film rivals that of Julie Harris; until now, the best-known interpreter of Dickinson on stage and film.
Nixon says she was influenced as a child by Harris' performance as Dickinson in a television version of The Belle of Amherst. "My mother was a big fan of both Emily Dickinson and Julie Harris. … We had a record of Julie Harris reading some of the poems and most famous letters so it really got in my head very early. I inadvertently memorized sections of it. That's the thing about Emily Dickinson: when she she reaches you, you really feel like she's speaking to you directly. Her vocabulary is large and her poems are dense and subjects very weighty but they're so spare that children can get the gist of many of them," she says.
A Quiet Passion is the latest of many projects that allows Nixon, a Tony-winning stage actress who shot to fame as Miranda on HBO's Sex and the City, to showcase her considerable acting chops. Last year, she played a woman dying of cancer in the heartbreaking indie James White and also starred as Nancy Reagan in the National Geographic Channel's Killing Reagan. She's currently starring on Broadway with Laura Linney in in a new revival of Lillian Hellman's The Little Foxes.
"I turned 50 this year. There is something that happens, if you're lucky, when you age-out of playing mothers of young children that it gets to be more about you. [Characters] are not just there in service to children or husband," says Nixon in an interview at last year's Toronto International Film Festival. "I mean, look, I have a five-year-old, but it's a time of life when it can really be more about you. So there are these juicy female characters coming my way which is wonderful."
In A Quiet Passion, Nixon portrays Dickinson as a witty, intelligent but prickly firebrand who, at least in her younger years, led an active social life. The film is unexpectedly funny, as Dickinson often shocks genteel relatives and visitors with her candor.
"She's completely ferocious. She has an enormous amount of delicacy and artistry but the fact of the matter is, she's just blunt," says Nixon. "Not blunt like primitive, but completely direct. Her poetry is like that, too: so direct, even for now, in a modernist sense. … She rejects being ornamental; she rejects it as a woman and she rejects it as a writer. Poems that are ornamental, she thinks, are pointless and vulgar. If you're writing poetry, why aren't you writing poetry to say something … to be understood."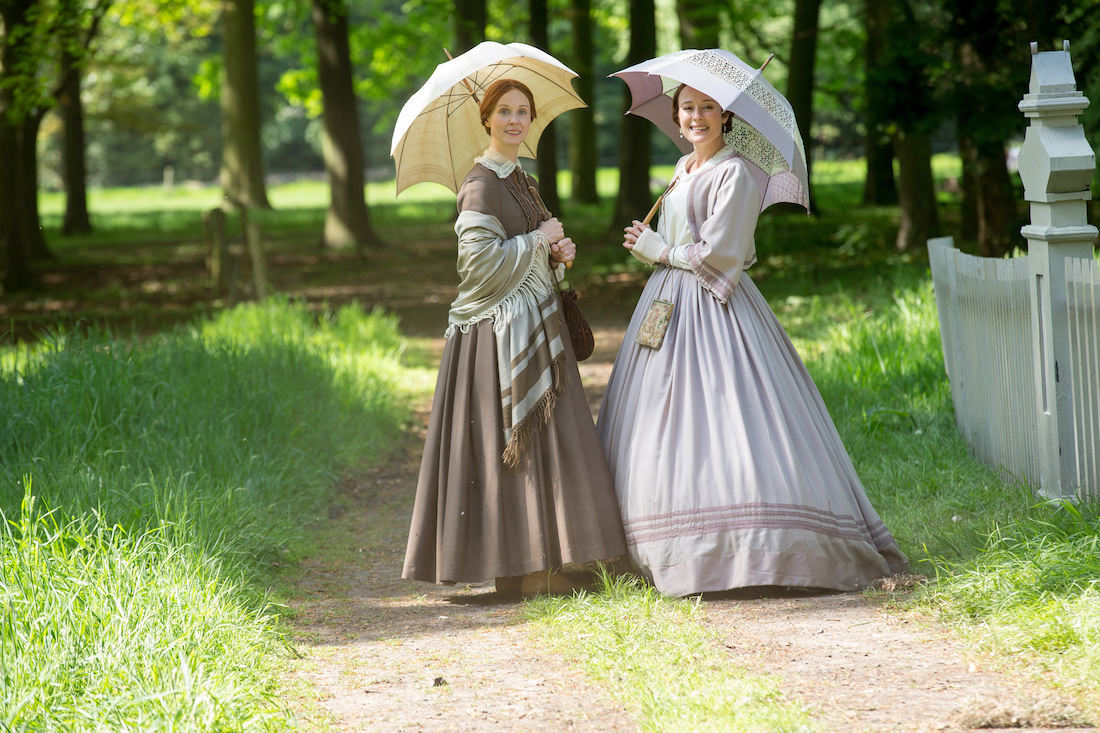 Cynthia Nixon and Jennifer Ehle in A Quiet Passion. © A Quiet Passion/Hurricane Films/Courtesy of Music Box Films.
Creating "juicy female characters" is one of writer-director Davies' trademarks. A Quiet Passion is the latest in a career full of films about unconventional women who defy by social mores, including The Neon Bible (1995); The House of Mirth (2000); The Deep Blue Sea (2011); and Sunset Song (2015).
"I think that there are some things like women and their — for lack of better term — 'artistic sensibility' that Terence identifies with quite a lot," says Nixon. "But there are so many things that a film about Emily Dickinson could be about…. her struggles as an artist [to find her] individual voice; her struggles with religion; with intimacy; with coming from such an intense, close knit family. She didn't know if she wanted a family of her own, was that a betrayal of her first family? Those are all themes Terence feels in his own life."
Nixon, who recites many of Dickinson's poems in the film, said Davies offered the role to her and "reportedly wrote it with me in mind.
"I have identified with Emily Dickinson since I was a kid," she says. "She and I have a lot in common: we're both so much about connection; we're kind of anti-presentational, both of us. We have a love-hate relationship with attention. We can be emotionally volatile. She is so strong; I don't think I'm as disciplined to live the kind of life she lived. She's not graceful. I'm not graceful and I don't have much interest in being graceful. It just seems disingenuous to me. I am interested in conveying what I think, not looking lovely while I do it."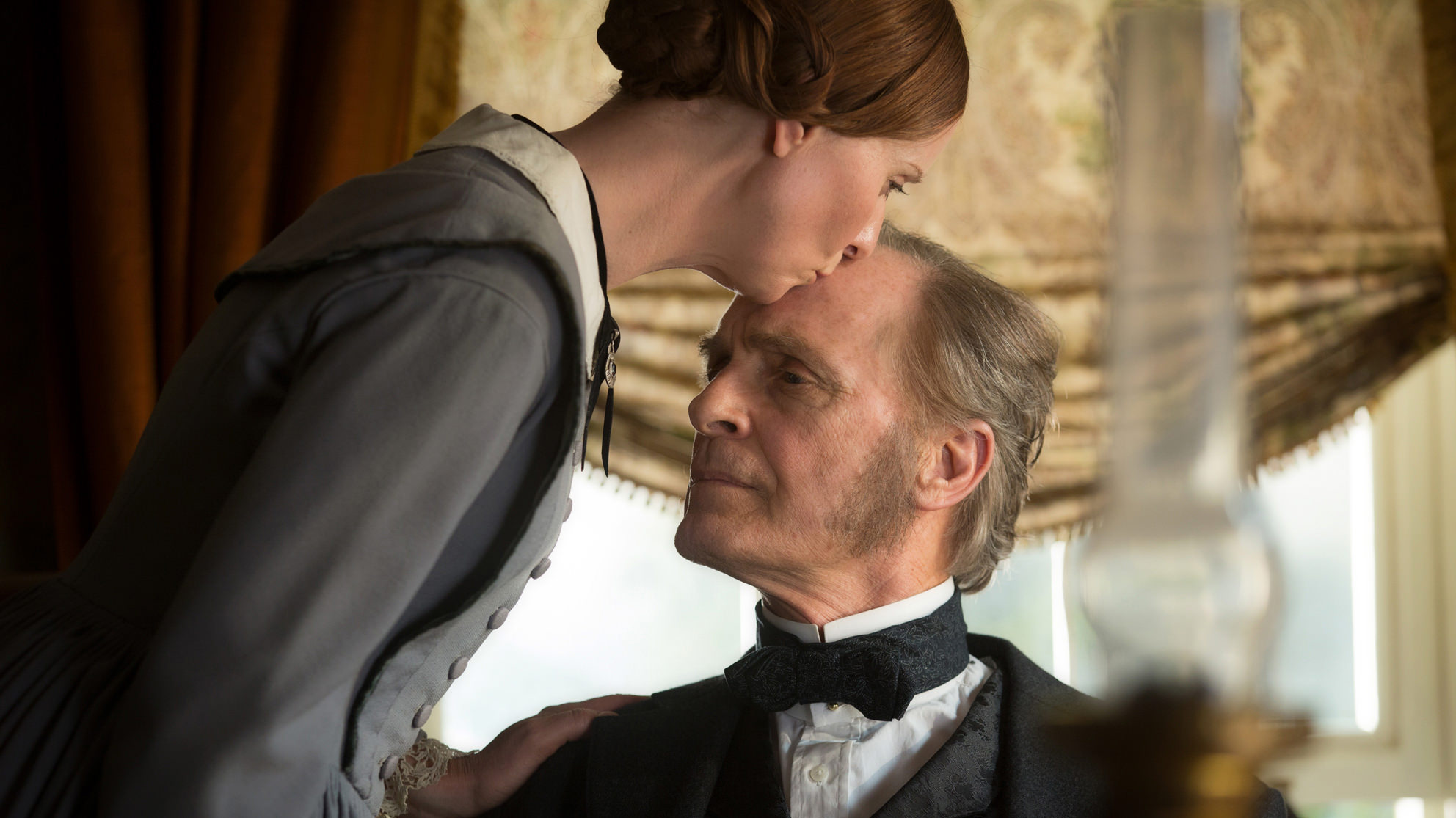 Cynthia Nixon and Keith Carradine. Passion/Hurricane Films/Courtesy of Music Box Films.
Shot largely in Belgium, with some location shooting in Dickinson's hometown of Amherst, Mass., Nixon says she was moved to see Dickinson's house and bedroom when the cast and crew went to Amherst.
"I was struck with how lovely her house is and touched that her father would have created such a nice room for her, rather than a back bedroom for an unmarried daughter. That spoke volumes about the way he viewed his daughters, that no matter what the life choice was, she'd have a really nice room with enormous beautiful windows."
This is the first time that the openly gay Davies has worked with an out actor, but Nixon says that didn't create common ground between them.
"We are totally different. Our sensibilities are totally different. I'm an extremely emotional person, too, but not in public. In a way, Terence's emotionality was something he probably had to fight for, as a man. I feel the opposite is true for me. I have to fight to be taken seriously," she says. Davies's tortured childhood and adolescence, which the director blames for his painful relationship to his homosexuality, is also unlike Nixon's balanced life.
"That's far from my experience and it's not just generational. The people I came from, they don't care," says Nixon, a passionate LGBT rights advocate who in 2012 married Christine Marinoni, her partner since 2004.
Although Dickinson did withdraw later in her life (she died in 1886 at just 55) owing perhaps to depression, illness or thwarted ambition, the film depicts her neither as isolated nor a recluse. She remained close to her family and kept up a lively correspondence with friends and colleagues, in addition to continuing to write poetry. Only 10 of the 1,800 poems Dickinson wrote were published (all anonymously) in her lifetime.
"One of the amazing things about Emily Dickinson is she wrote so specifically from her vantage point and she didn't compromise anything. I always think of something that Quentin Crisp said: even if society views you as a pariah, an outcast, a freak, wallflower, whatever, if you stand your ground and remain true to yourself, society will come to see, in time, what you were talking about," says Nixon. "That certainly has happened to Emily Dickinson."