How the Girlfriends' Guide to Divorce Costume Designer Keeps the Fashions Coming
Cynthia Summers knows how to make women look their best. She's crafted the looks for trendy shows including UnREAL, The L Word, and now Girlfriends' Guide to Divorce. The Bravo show just wrapped up season three and is already slated to air two more thanks to fan fervor. Audiences immediately fell in love with the show's women who are seemingly able to do it all while wearing four-inch heels. The characters run through high-end fashion at an unbelievable rate forcing Summers to find creative sources for the clothing. Adding to the challenge, she's a sustainable fashion advocate who is always on the lookout for vegan clothing and bags. Lucky for fans, she hasn't run out of magnificent ensembles yet.
We spoke with Summers about LA vs. New York fashion, designing a never ending closet, striving to stay eco-friendly on set, and more.
The fashions of Girlfriends' Guide to Divorce are so iconic. How did each of the characters inspire the wardrobe you created for them?
Right from the beginning, they were all written very well. That's super helpful for me because it gives me a really distinctive starting point for each character. Based on what they do for a living, where they live in the city of Los Angeles, who their friends are, and then of course who was cast as those characters, gives me a lot of insight into how they would be dressing. After that, I just go crazy and start pulling ideas and looks and references and put a storyboard together for the characters. Early on we found the silhouettes and the looks that worked for the characters and the actresses. Some things have changed, but we've stayed close to the silhouettes, which I think will give the audience familiarity with the characters. I think that's important. It's not often that a person will go out and do a complete makeover. There's always a silhouette that you're more comfortable in, so it's sort of stayed like that with the characters to some degree.
Lisa Edelstein's character, Abby, is full of contradictions. What did you want her clothing to say about her character?
I think her wardrobe really wanted to be beautiful and be aspirational for what she does. It would be too easy to say at the beginning she's a mom who works from home, therefore that should dictate her wardrobe. It does to some extent when we first meet Abby in the beginning seasons. At the same time though, she wears really great tight jeans, she wears killer heels, a graphic tee or a great blouse or something that flows underneath, and put an amazing jacket over the top and have the "it" bag of the moment. That says, well I can do all of this. I can be the mom who gets up with the kids in the morning, make lunch, drop them off at school, meet my editor at a café somewhere, and then do something savvy at night which she would change for. We are saying that these women are the kinds of women, they accomplish a lot of things but they look fabulous while doing it. I would say her wardrobe started there in a utilitarian way, but still looking really hot.
How has Abby's wardrobe evolved over the first 3 seasons?
As her job involves things like dating for writing, that broadens our scope for what she looks like. Once we took her out of the home to go to work and into an office, we turned to dresses with figure-flattering but A-line bottoms. This character is on the move all the time and it gives her freedom of movement as opposed to wearing a pencil skirt, which Delia wears a lot. We wanted to veer away from them being too similar in silhouette. We really found that the fit and flare silhouette gave her a lot of range. She could put a dress on in the morning, do the breakfast for the kids, she could drop them off at school, and then go to the office. It sounds like a lot, but our girls do all this! And then meet the friends for lunch, or meet the editor, or meet an investor, or even transition into dinner and upscale all the looks. Of course, there's also the eveningwear which is always fun. At lot of times it's the four or five girls getting together for dinner or drinks or going somewhere to do something interesting. And that's where we get to have fun with them and dress everybody up.
Girlfriends' Guide to Divorce is often compared to famous fashion show Sex and the City. How does LA fashion compare to New York?
The look of the two cities is so different and that really dictates the style of what people wear every day. The West Coast is definitely a lot more casual, easier going. The light is different. It's a warm beautifying light. The best time of day to be outside is magic hour when the sun is almost setting. It's such a beautiful golden light. In New York it's kind of the reverse. It's a great city, but the colors and light are grayer. It's also beautiful, but it's different and lends a different aesthetic. I would say the two big differences are that in LA the colors are light and the fabrics are light. It's a lot more casual. New York is maybe more stylish in a sense with darker, more serious colors. One thing that LA's got is freedom of movement. Anywhere that's got a warmer and more inviting climate, you can stand up straighter and flow through the day.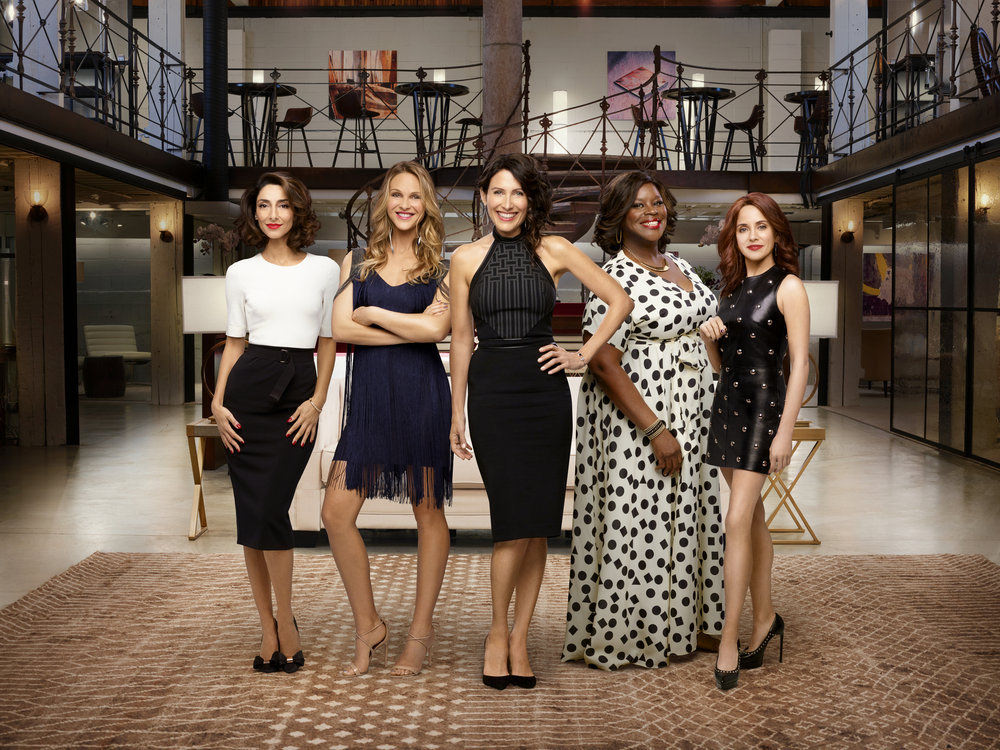 (l-r) Necar Zadegan as Delia, Beau Garrett as Phoebe, Lisa Edelstein as Abby McCarthy, Retta as Barbara, Alanna Ubach as Jo — (Photo by: Andrew Eccles/Bravo)​
Do you have a favorite outfit you've created so far on the show?
There are so many! One of my favorite looks in Season 3 is Abby's first outfit she wears in the first episode. She's coming back to the office to try and up her game and save her job. It was that beautiful Dolce & Gabbana dress, with the silver belt and the really amazing Burberry coat and the beautiful Prada zigzag shoes. I love that outfit. Everything in that outfit had a purpose and just came together really well. It travels through the scenes amazingly, because she goes to a lot of places in this dress. Her whole world falls apart in this outfit. She thinks she's going to go in and save the day and up her game and up her whole meaning at this office, but of course she gets fired. It changes absolutely everything. It was a monumental outfit for me.
Where do your source the show's clothing?
We shoot the show in Vancouver, Canada. Early on, late in season one, I ran out of resources here. I knew right away that we had to be shopping globally. I have two full time assistants in LA, while we're in Vancouver. I'll go to the big three: Barney's, Neiman's, and Sachs. Because we're LA centric, we do a lot of boutique shopping in LA, which really helps us stay true to where we are. I shop a lot on the internet. Because we have these five ladies and we have so many changes per episode, I run out of fashion so fast. It's crazy. One of my favorite places to shop online is Matches Fashion. I love it. I'm able to find off season pieces that are really interesting and classic that can be worn forever.
I understand that you try to be eco-friendly and vegan with your costumes. Is that difficult to achieve?
On a show like this it's tough. Fur is easy these days because so many designers are doing faux fur. Also we're set in LA so we don't wear fur that often. There are so many great vegan bag companies right now. Lisa Edelstein is vegan so it is important to her that we try and do the best we can. It is hard being a fashion forward show. Vegan fashion houses are so small and their productivity is low, so it's hard for us to keep up with them and vice versa. We're doing our best and we try all the time. One of my go-to vegan bag companies is Gunas. They work so well for Delia, so many of her bags are Gunas bags. You can find anything online now. Thank god for that.
Do you think the fashion industry is coming up with more vegan options?
It's new and it's going to be hard. There are going to be certain fashion houses that are maybe never going to change. It's the way of the future, in so many ways. There are so many companies going this way, especially with fur and bags. I worked on Bones and Emily Deschanel is also vegan. She's one actress who won't wear any leather, fur, silk, or wool. Just cotton. I applaud her. It makes it hard for the costume designers but they've done it this long! Her character is easier, though, since she's more of a utilitarian character and less of a fashion character. I think as long as we keep trying and building on it. It won't come fast enough but at least we're moving that way.
What are you working on next?
We're half way through [filming] season five, so that means we're almost done. It's kind of crazy. It evokes a lot of different kind of emotions. My next project coming up is completely different. It's on the other end of the spectrum. It's the second season of A Series of Unfortunate Events. I'm super excited for that. After that I'll try to find my next fashion show. I like to keep it different and fresh.
Catch up now on seasons 1-3 of Girlfriends' Guide to Divorce.
Featured image: (l-r) Alanna Ubach as Jo, Paul Adelstein as Jake Novak, Lisa Edelstein as Abby McCarthy, Beau Garrett as Phoebe, Necar Zadegan as Delia — (Photo by: Andrew Eccles/Bravo)​