Director Olivier Assayas on Tailoring Personal Shopper for Kristen Stewart
French director Olivier Assayas may have tailored Personal Shopper to its star, Kristen Stewart, but Assayas doesn't take credit for Stewart's career boom in acclaimed indies like Kelly Reichardt's Certain Women and in more mainstream fare such as Woody Allen's Cafe Society and Ang Lee's Billy Lynn's Long Halftime Walk, all released in 2016.
"I was the right person at the right time," says Assayas, who also directed Stewart in 2014's Clouds of Sils Maria. "I always had a sense, with these two films we've done, that I was just privileged to be a witness."
Assayas wrote Personal Shopper for Stewart after working with her on Clouds of Sils Maria, the film that turned the Twilight franchise star into a critical darling and earned her a César — France's equivalent of the Oscar — as best supporting actress for playing the personal assistant to an internationally famous actress (Juliette Binoche) and for nearly stealing the film from her formidable co-star.
"When making 'Clouds of Sils Maria,' I saw how unique Kristen was. I was extremely impressed by her precision, her awareness, the smarts of her acting, and it gave me the desire to try to make a film that would have a character [who is] more complex, with more layers, and see how far we could go."
Stewart is onscreen for nearly the entire film as Maureen, a young American in Paris who works as a personal shopper and assistant to Kyra (Nora Von Waltstätten), a German supermodel. But Maureen has other reasons for staying in Paris. She's also a medium, and is waiting for a sign from her twin brother Lewis who died in the ghostly house she's now living in. The twins shared, among other bonds, a congenital heart condition. Maureen is convinced that Lewis will, as agreed, signal to her from the beyond.
Even though Personal Shopper plays with Stewart's glam onscreen and cool hipster off-screen personas, particularly in scenes where Maureen coolly buys thousands of dollars worth of clothes and jewelry at high-end fashion stores then, alone in Nora's apartment, tries on the designer duds that her boss has forbidden her to wear, Assayas says he wasn't that interested in Stewart's "movie-star dimension." Instead, he says, he used both Binoche in Clouds of Sils Maria and Von Waltstätten in Personal Shopper to "refract [Stewart's] celebrity dimension."
"The real-life Kristen is simple, straightforward, funny, smart," he says."I don't write scripts that are locked; they are open and I use the personality of the actor to be able to emphasize this or that element. If I made 'Personal Shopper' with another actress, that dimension maybe would not be that present. With Kristen, I'm obviously going to channel her own energy, her complexities, into the film. And she's willing to do that because she's creating it with me. We're creating this film together. It's a collaboration; a common creation."
Even though Personal Shopper could fairly be called a ghost story, Assayas sees it more as a young woman's coming of age.
"It's a portrait of the character at a crucial moment in her life. She is reinventing herself. Maureen is not just mourning the loss of her brother — a twin brother, meaning she lost half of herself — she's questioning everything she's been about up to that point including her own gender. It's like she lost the masculine half of herself and she's trying to come to terms with own femininity," he says.
"In a certain way, the movie has to do with inner lives, the subconscious, mourning. I'm OK with the word 'ghost' as long as what is meant by 'ghost' is clear. I think, for me, 'ghost' is a code word for something that's happening in that gray zone between our conscious and subconscious. I think what drives individuals has to do with the subconscious and in 'Personal Shopper' I'm being quite literal about it," he says. Personal Shopper, Assayas says, "turned into a fable of a woman who's a psychic and is trying to connect with another world but really, it's just about relating with the inner self and dealing with loss and grief."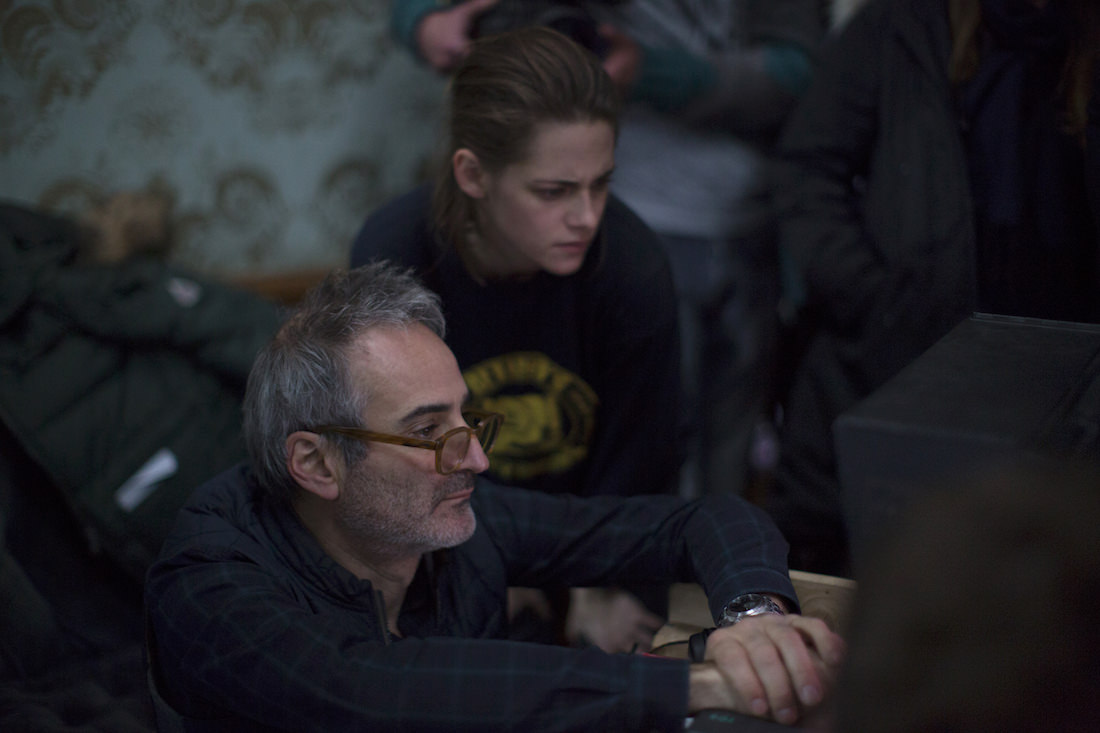 Kristen Stewart and Olivier Assayas on the set of Olivier Assayas's PERSONAL SHOPPER. Courtesy of IFC Films. An IFC Films release.
Besides Personal Shopper and Clouds of Sils Maria, which both center on women, Assayas also directed Binoche in Summer Hours (2008) and Late August, Early September (1998) which also featured his future wife, Mia Hansen-Love, who wrote and directed directed this year's critical hit Things to Come starring Isabelle Huppert. Add to his credits Irma Vep (1996) and Clean (2004), both featuring commanding performances by Maggie Cheung who also happens to be Assayas's former wife. Certainly actresses relish such complex roles, but does Assayas consider himself a "woman's director"?
"I'm more connected to the energy of strong female leads because it has to do with my hate of macho culture," he says. "I think all the evil in the world today is defined by the anger of masculinity gaining its power by being derogatory of women. I'm terrified of the anger of male identity … women [are] the best muse[s] of the world."
Personal Shopper is in select theaters now. Click HERE to find out where.
Featured image: Kristen Stewart as Maureen Cartwright in Olivier Assayas's PERSONAL SHOPPER. Photo by Carole Bethuel. Courtesy of IFC Films. An IFC Films release. ​