Talking With David Oyelowo About A United Kingdom, Acting & More
For actor David Oyelowo, "different and more diverse perspectives behind the camera" are necessary "for audiences not to be malnourished."
Oyelowo certainly backs up those words with his film choices. Best known for playing Dr. Martin Luther King in Ava DuVernay's Selma, Oyelowo last year played a sensitive chess coach who recognizes a young African girl's unique skills in Mira Nair's Queen of Katwe. He also produced and starred in British director Amma Asante's recently released A United Kingdom.
Oyelowo worked to get the film off the ground from the time he read historian Susan Williams' nonfiction book Colour Bar, about the political crisis triggered by the 1947 interracial marriage between Seretse Khama, heir to the throne of Bechuanaland (now known as Botswana), and British office clerk Ruth Williams. He began developing a script with Guy Hibbert (Eye in the Sky) in 2010.
Once a script was in shape, Oyelowo says he considered several directors before settling on Asante. Although he worked with Asante back in 1998 on the British drama Brothers and Sisters, he knew her work best from Belle, her breakout 2013 film about the real-life daughter of a Royal Navy Admiral and an enslaved African woman raised by her aristocratic great-uncle in late-18th century England.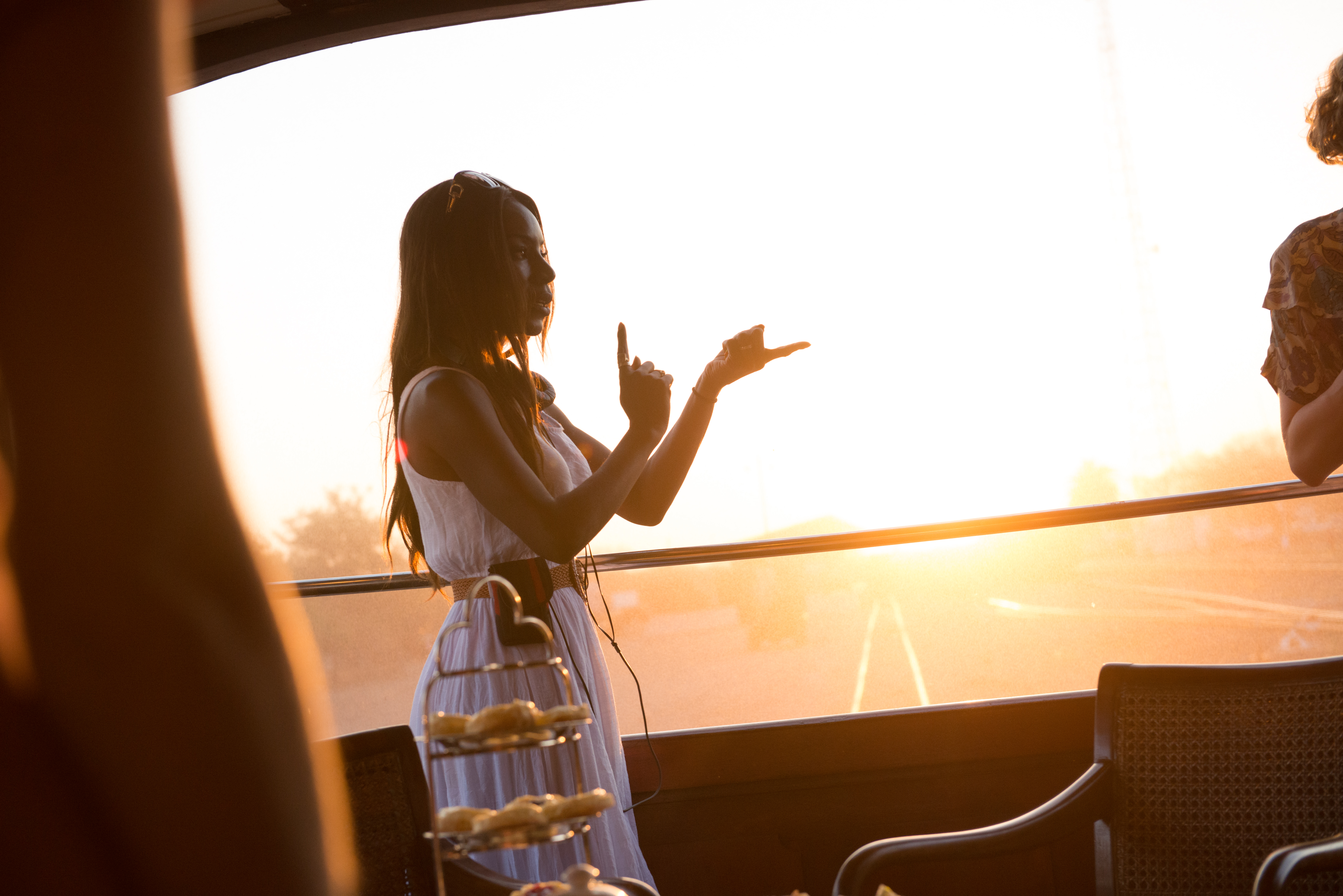 Director Amma Asante on the set of A UNITED KINGDOM. Photo by Stanislav Honzik. © 2017 Twentieth Century Fox Film Corporation All Rights Reserved
"She did an amazing job juggling the love story with politics and making sure that the politics didn't overwhelm the love story," says Oyelowo.
There were other reasons that made Asante, whose parents were born in Ghana, "the perfect candidate" to helm A United Kingdom.
"Amma is a kindred spirit in terms of us both having a similar cultural background. We're both Brits but we're of African descent and proudly so," says Oyelowo whose own parents emigrated to England from Nigeria. "To have a film like this that traverses both the U.K. and Botswana, that's a perspective we so rarely get to see with movies like this. So often films set in Africa are told with an outsider perspective … To have this film directed by someone who both understands the U.K. but has a real love and understanding of Africa as a continent is a perspective that is pertinent to this story."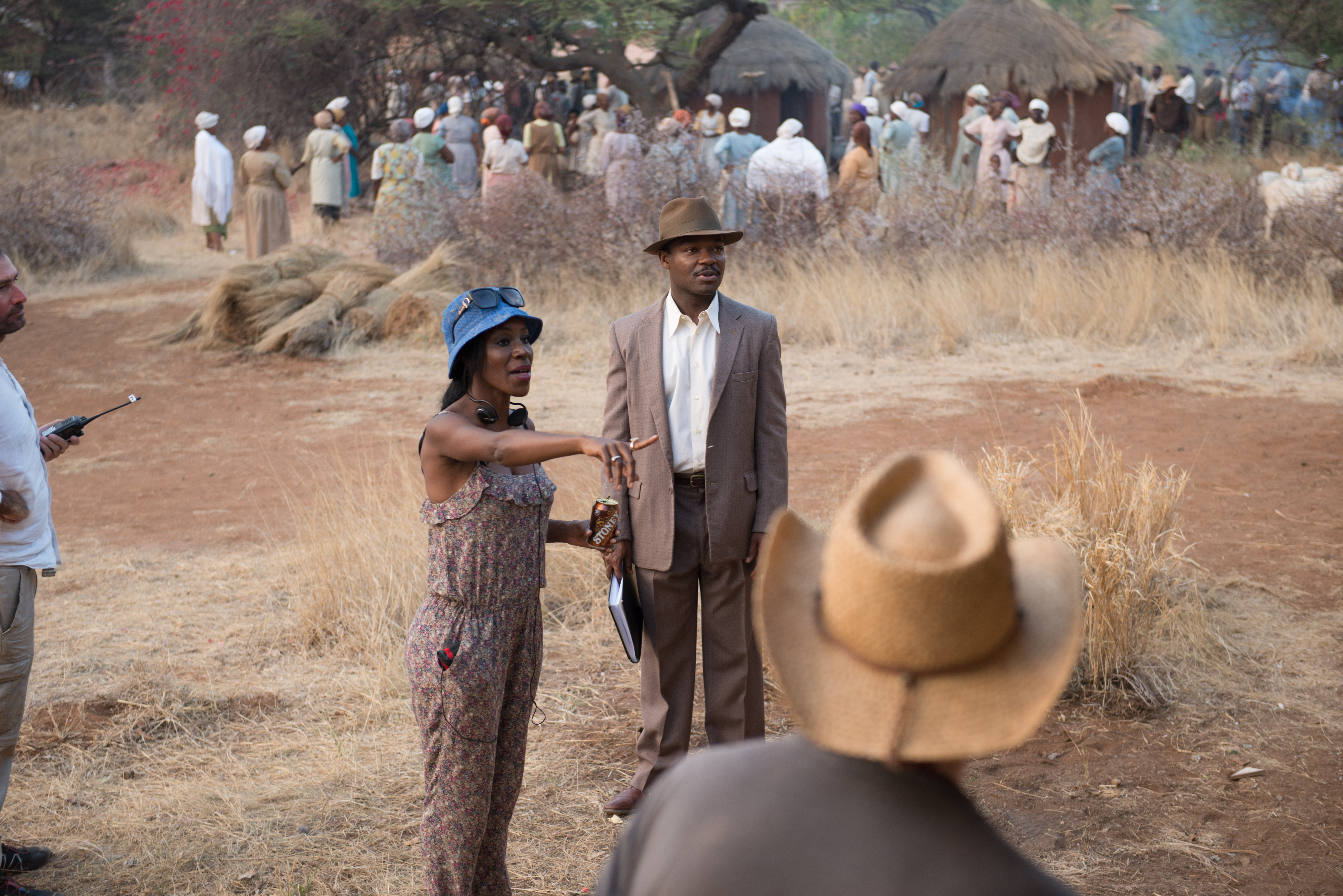 Director Amma Asante and David Oyelowo on the set of A UNITED KINGDOM. Photo by Stanislav Honzik. © 2017 Twentieth Century Fox Film Corporation All Rights Reserved
A United Kingdom opens in post-war London where the sophisticated and charming Seretse Khama (Oyelowo) is studying law. He's the crown prince of Botswana – then known as Bechuanaland, when it was a British territory. Khama falls unexpectedly in love with the spirited Ruth Williams (Rosamund Pike) after they meet at a dance. Their subsequent marriage not only scandalizes Britain, it's met with resistance from the Bechuanaland tribes people when Khama and his bride return so Khama can begin his rule. An international crisis erupts when neighboring South Africa institutes new apartheid laws that prohibit interracial marriage. The British government, struggling to rebuild its post-war economy, doesn't want to alienate uranium and diamond-rich South Africa. Khama was exiled from Bechuanaland in 1951 for seven years; he would become the first president of Botswana when it gained independence in 1966.
If that sounds like a complicated history lesson, Oyelowo and the rest of the creative team made sure that A United Kingdom is equal parts timeless epic and relevant to modern audiences. "There is no point to doing an historical film unless it speaks to the point of time we are in," he says. "Look, there's no way we could have predicted that a scene [in which the hero is] banned from his own nation because of who he's married to would feel so relevant to today. But it shows that the obstacles and prejudice we face keep coming back around, just in different packaging. It would be disingenuous to say we have not made strides. I am in an interracial marriage myself and I've not faced anything like what Seretse and Ruth suffered. … [But] the fear and distrust between us as people continues to come around as reasons for governments and societies to keep us apart and that's an unfortunate thing.
"I'm proud that this film shows how love can overcome these agendas to keep us as people apart. It may sound corny but love helped Seretse and Ruth to conquer all."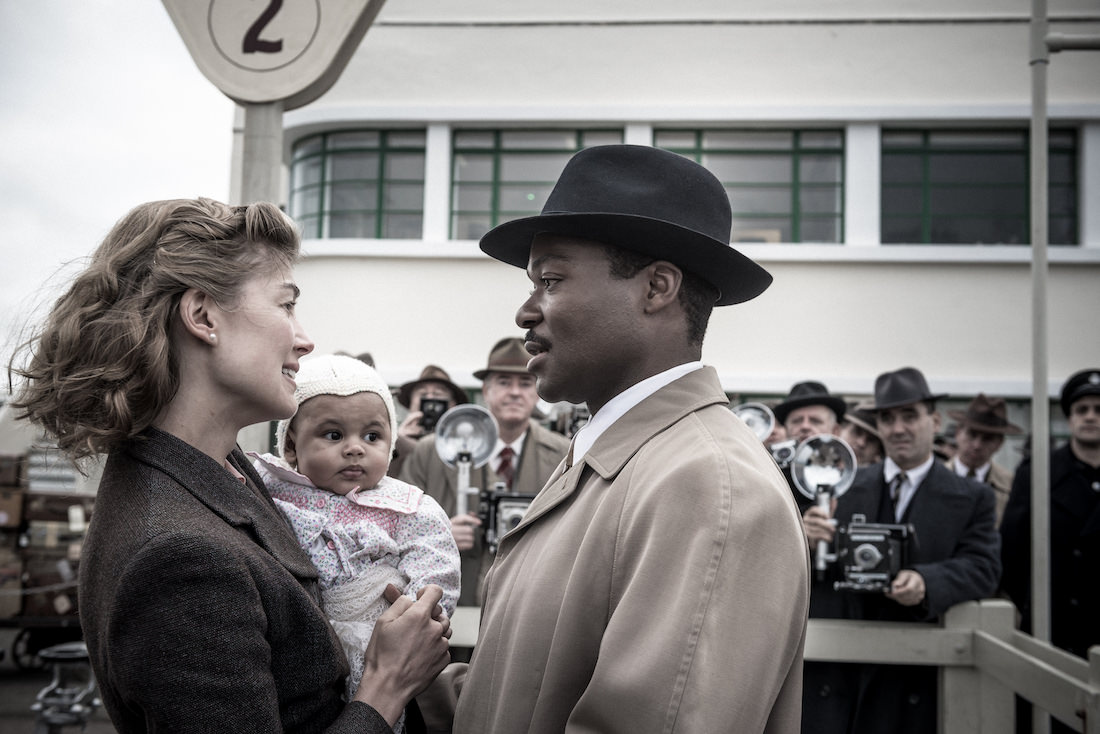 Rosamund Pike as "Ruth Williams" and David Oyelowo as "Seretse Khama". Photo by Stanislav Honzik. © 2017 Twentieth Century Fox Film Corporation All Rights Reserved
Just as he did with his incisive portrayal of King in Selma, Oyelowo threw himself into research of the real-life figures of Seretse and Ruth including watching newsreel footage. "They were one of the most famous couples in the world after the war. For me, watching that footage was useful in getting Seretse's very specific accent down because it wasn't strictly a Botswanan accent; it was influenced by the English way of speaking at the time," he says. "There was more material from later in life; 10, 15 years after these events [in the film] but what there is gave me enough clues as to who they were in the '40s and '50s."
The visual sheen and ambitious scope of A United Kingdom was a deliberate choice that grew from both Asante's and Oyelowo's love for classic British epics that combined romance, history and political intrigue, such as Lawrence of Arabia and Gandhi. "But the film that was my North Star was The English Patient," Oyelowo says. "That was the film my wife and I went to see on our first date and it was the film I pictured when I imagined 'A United Kingdom' in my head. I am glad that when I watch 'A United Kingdom' it doesn't disappoint when I remember the aspirations I had for it."
Featured image: David Oyelowo as "Seretse Khama" and Nicholas Rowe as "Fenner Brockway" in the film A UNITED KINGDOM. Photo by Stanislav Honzik. © 2017 Twentieth Century Fox Film Corporation All Rights Reserved​