Oscar Watch: The Salesman's Cinematographer Hossein Jafarian
The Salesman, nominated for this year's best foreign film Oscar, reunites Iranian writer-director Asghar Farhadi with his frequent actors Taraneh Alidoosti and Shahab Hosseini. Hosseini earned Best Actor honors for The Salesman at the 2016 Cannes Film Festival (Farhadi won Best Screenplay at Cannes).
The film also re-teams Farhadi, best known for his Oscar-winning A Separation (2011), the first Iranian film to capture that honor, with cinematographer Hossein Jafarian. Jafarian shot Farhadi's 2006 film Fireworks Wednesday, about a young woman whose presence exposes marital strife set against the backdrop of the Persian New Year, and About Elly (2009), which centers on a group of Iranians whose trip to the Caspian Sea turns tragic.
Both films are filled with a controlled, quiet suspense and intrigue that creates a slow burn. The same is true of The Salesman, which many consider the frontrunner for this year's Oscar. Farhadi has announced he won't be attending the Oscars ceremony, in protest of President Trump's executive order last month on immigration.
The Salesman opens with Emad (Shahab Hosseini), a high school literature teacher, and his wife Rana (Taraneh Alidoosti) fleeing their Tehran apartment as it shakes and nearly collapses due to nearby construction. The couple is also taking part in a modern-day production of American playwright Arthur Miller's Death of a Salesman, staged in a circular room with neon signs and jazz music. Emad's playing failed salesman Willy Loman; Rana is Willy's loyal wife Linda. One night, after staying late at the theater, Emad enters the couple's new apartment to find Rana bloodied from a blow to the head inflicted by an intruder while she was in the shower. After being treated at a hospital, Rana insists she's fine and ready to resume rehearsals for the play. But Emad's compassion gradually gives way to anger, guilt and shame, exposing a rift in the marriage as wide as the cracks in the walls of their former home. As he searches for the assailant, his vengefulness raises questions about his character and what, exactly, is being avenged. The climactic scene, shot in one room, determines the direction of each character in ways both surprising and sorrowful.
Jafarian, who like Farhadi lives in Tehran, discussed his approach to the film and his collaboration with Farhadi in an e-mail interview.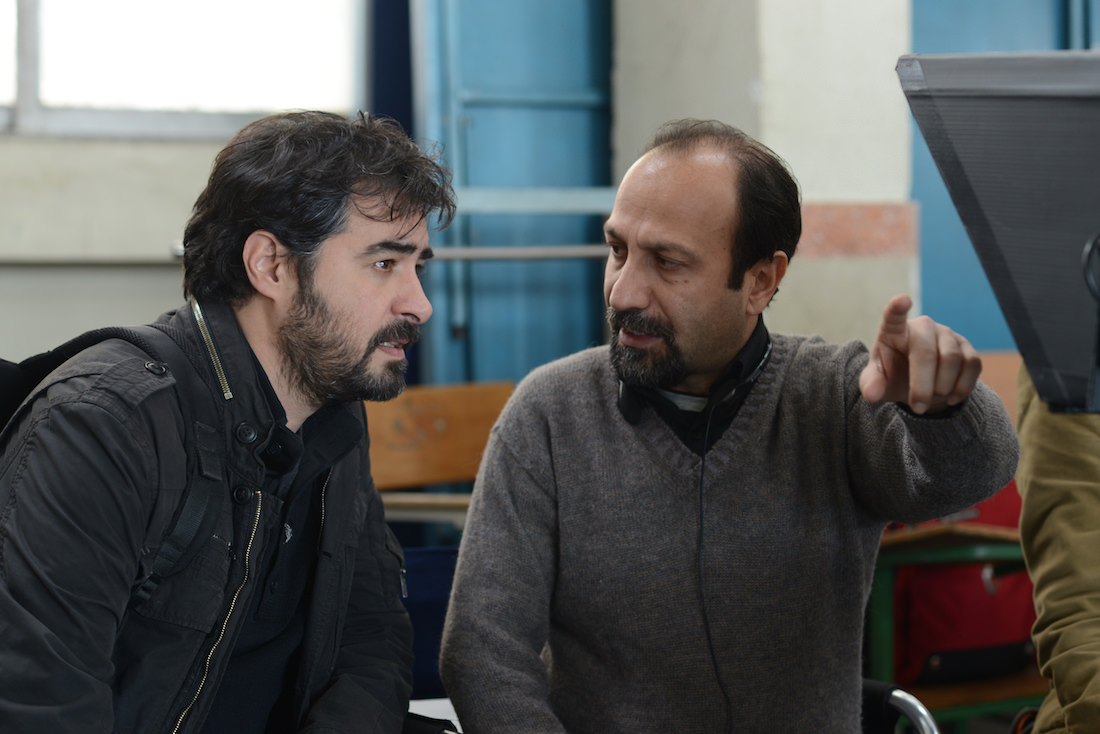 L-r: Writer/director Asghar Farhadi and cinematographer Hosseein Jafarian. Courtesy Amazon Studios.
What were the particular challenges of shooting this film?
Like most films shot in Iran, we shot The Salesman on location. Places that were not designed for shooting a film, which can always be challenging. The main challenge however was providing a space where the actors would have freedom of movement to deliver believable performances within any given scene. Because in order to get these great performances by the actors, Farhadi would have us film the scenes in their entirety – often from multiple angles using lenses with various focal lengths. Which in many instances meant the camera would have to move 360 degrees without giving away our artificial light sources and equipment.
A lot of scenes take place in small spaces but I think that's true of nearly all Farhadi's films. Did you want a particular look for those scenes in the second apartment, and those in the theater?
Since I'm of the school of thought that cinematography has to serve the story, after consulting with the director I light each location based on the events that are to take place in that location and the effect it must have on the audience. In regards to lighting the apartment where we see the assailant I wanted it to look and feel like a prison. The kitchen where the assailant is questioned was lit to make it feel like an interrogation room. All the while creating a sense that the entire location was lit by a couple of light bulbs.
Was there any particular style that you and Farhadi wanted to shoot in, a way that would create tension as the action unfolded, particularly in the final sequence with the assailant?
The theater scenes were in artificial space, where the characters themselves were literally putting on a show as actors in exaggerated make-up and costumes. So I employed more theatrical lighting schemes to help further showcase that facade. For example I used exaggerated blues and reds in some of the theater scenes, because in my opinion it's very American in line with Arthur Miller's Death of a Salesman.
What in particular do you like about working with Farhadi? Do you talk early on about how to shoot the film and does it change depending on circumstances?
We start talking about the story very early on. And then over the course numerous meetings I watch as he develops the story from what is essentially a log line into the fully developed and detailed screenplay that serves as the blueprint of the final film. In our meetings we not only talk about the story and the characters, but also the overall visual look of the film. As he has stated himself, my contribution to the film isn't just as a cinematographer. I often state my opinions about other aspects of the production, from the set design to the acting, and Farhadi is very open to suggestions that other crewmembers might have. Needless to say, working with Farhadi, and being witness to his many great contributions to the art of filmmaking, has taught me a lot in my own field and it's always a pleasurable working experience.
Featured image: Emad Etesami in 'The Salesman.' Courtesy Amazon Studios.