Oscar Watch: Kubo Costume Designer Infuses Clothes with Ancient Japanese Tradition
She's been styling puppets for a decade in stop-motion classics like Corpse Bride, Fantastic Mr. Fox and Coraline. Now, British émigré Deborah Cook has been nominated by the Costume Designers Guild for her intricately detailed contributions to Animation Feature Film Oscar contender Kubo and the Two Strings. The young hero's quest to become a Samurai warrior takes place in the distant past, but Cook says, "We didn't set out to make a period drama. Kubo's a fantasy with adventure element so we took things from different eras and brought them forward in our own creative language."
Working at the Portland-based LAIKA film studio, Cook prepped for Kubo five years ago by traveling to Japan. There, she visited the Kyoto Costume Institute, trawled vintage stores and researched the Jōmon era (300 BC) along with Heian (through 1185), Edo (1603 to 1868) and Meiji periods (through 1912). Cook says, "I had to immerse myself in this history in order to give Kubo clothes the integrity and authenticity they deserve."
Here's a look at Cook's history-inspired costume designs as illustrated in Chronicle Books' "The Art of Kubo and the Two Strings."
Young Hero Kubo
Kubo wears the same shirt for the entire movie and he's in every scene. Cook made sure he sported an iconic look, beginning with the color of his silk kimono. "It's this very rich red, associated in Japan with youth and vibrancy and the renewing of things seasonally," Cook says. "There's a lot enmeshed in that color, which also has this sort of burnt ochre and orange-ish umbers mixed in. We didn't just want one flat color moving across the screen."
For months, Cook carried a piece of red thread in her pocket determined to find the perfect shade of red. "One day I was in this store in L.A. and out of the corner of my eye, I saw this fabric which had the right color and this tiny-scale texture woven so it would work for Kubo's little eleven-inch body. I said, 'That's it, that's it — I want that one!'"
Cook dressed Kubo in simple worker pants and protective "Gaiter" shin covers typically worn by peasants during Japan's feudal period. To embellish Kubo's ensemble, she added the beetle family crest to the back of his kimono and used ancient rice paste techniques to imprint the cloth with hand-drawn cloud images. Cook says, "We dyed the rice paste, painted it on to the fabric, then washed it out to leave this surface mark behind.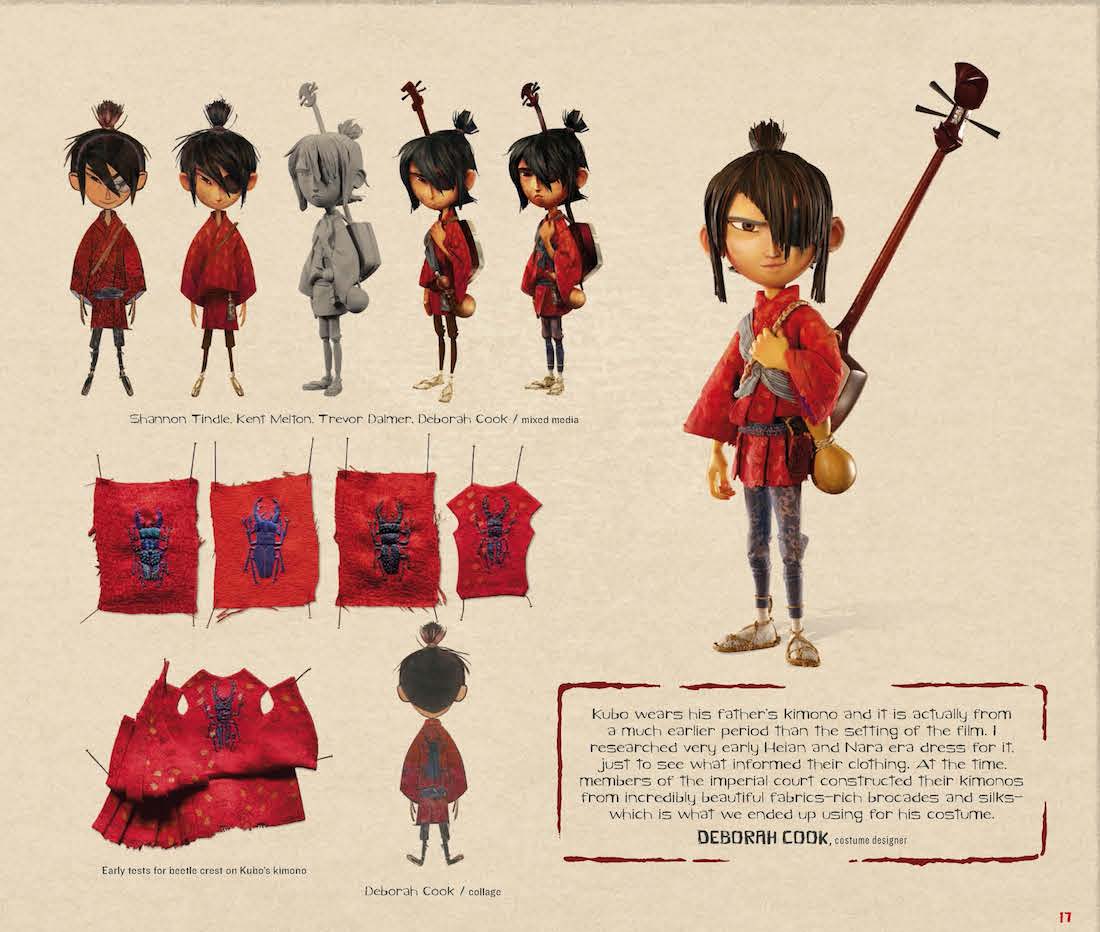 Sad Mother
Kubo's depressed mother only gets energized when she sweeps around their cave home re-living dramatic stories from her past. "We needed to make her sleeves big and flow-y with huge swathes of fabric, but we also needed Mother's kimono to animate effectively," Cook explains. To that end, she added panels and weighted lining to Mother's sleeves for each of nearly 30 identical kimonos worn by duplicate Mother puppets. "That pendulous swooshing at the bottom of Mother's kimono was completely controllable because of the armature we built into it," she says.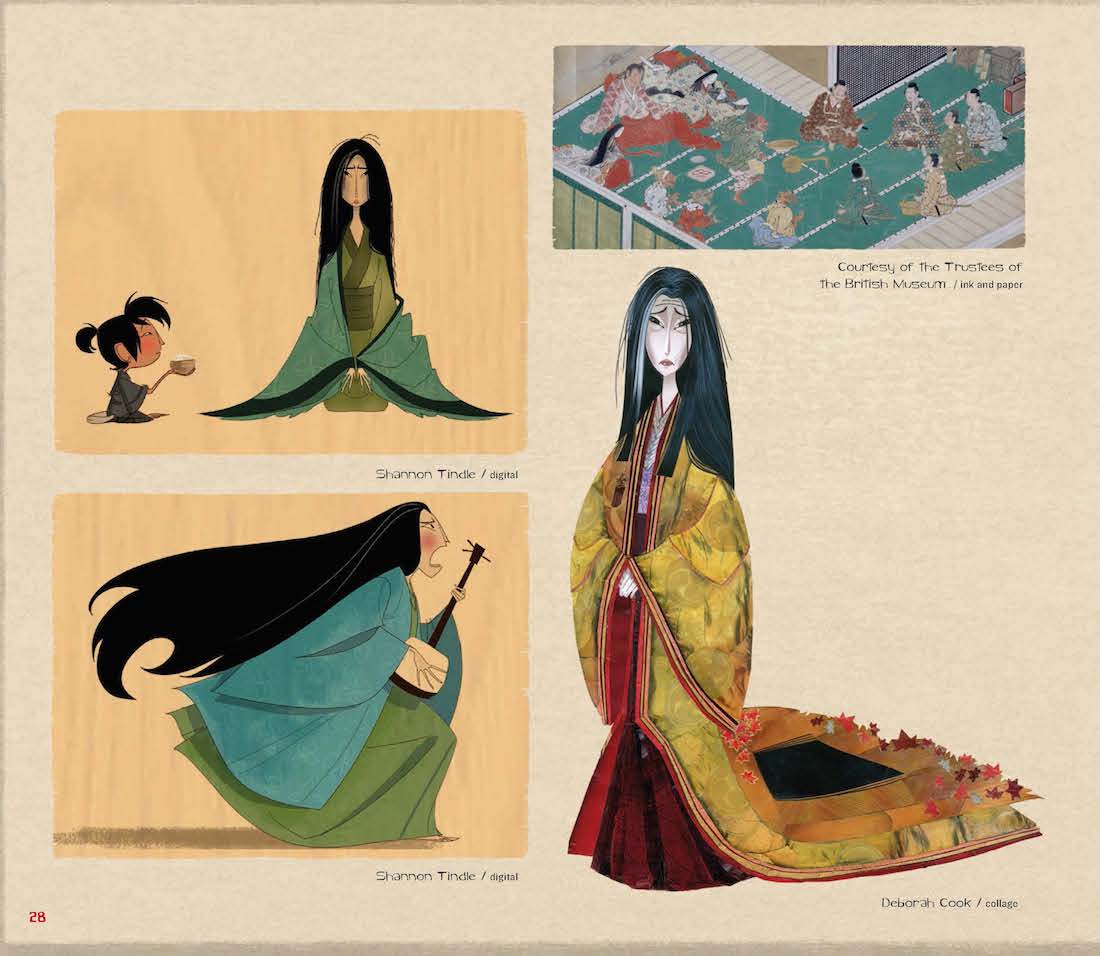 Evil Grandpa
Kubo's nemesis represents Japanese nobility so Cook outfitted him in a sokuti robe, complete with long train, typical of Japan's imperial court. The color palette: pale. "I thought of Grandpa as being this scaly animal so I put him in very cold colors," Cook says. "That coldness propels him to the point where he turns into a shiny moon beast with silvery mechanical scales, so I worked backwards from there and put scale markings all over it."
Cook put Grandpa in a high collar, borrowing from a relatively recent piece of Japanese cultural history. "That padded hoop around Grandpa's neck came from watching the alien visitors in The Day the Earth Stood Still," she says. "It does not have Japanese historical merit, but we took creative license to invest that element into Grandpa's character."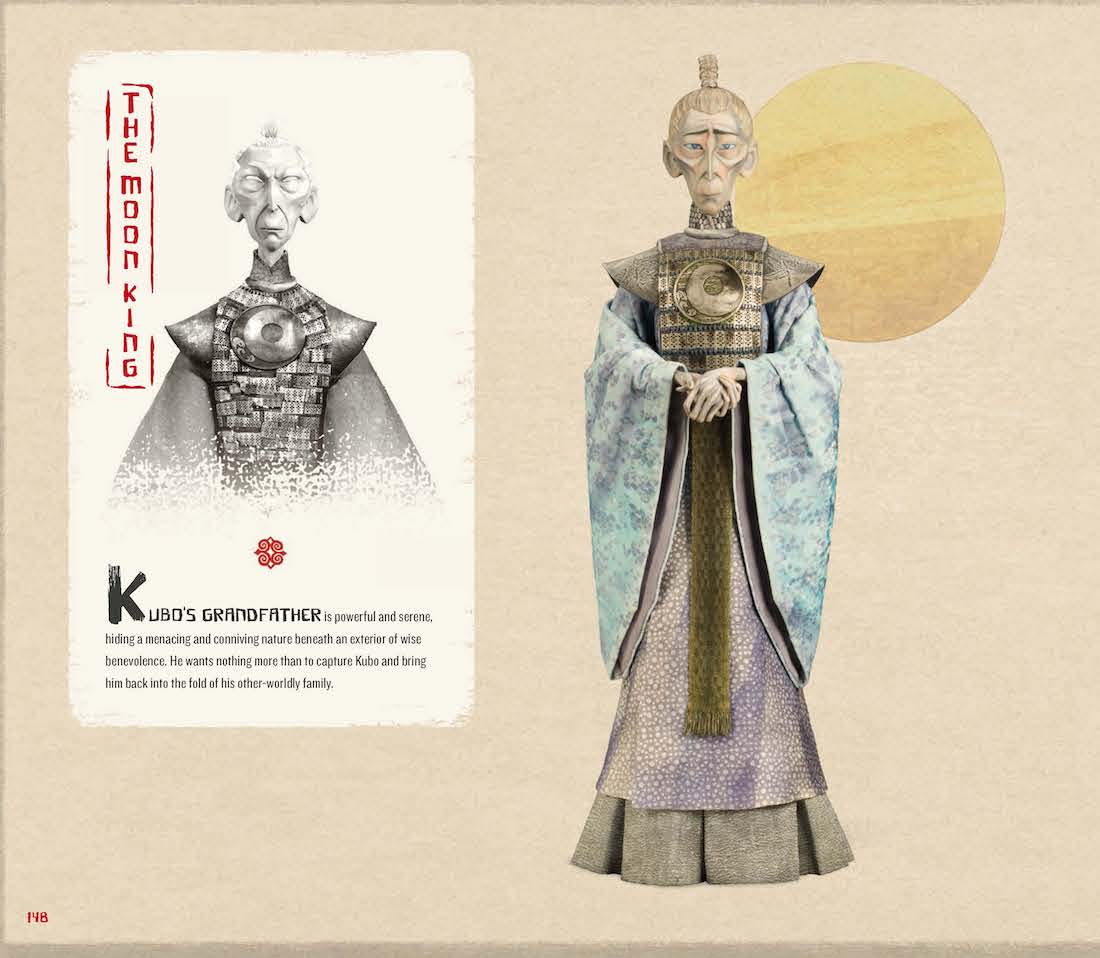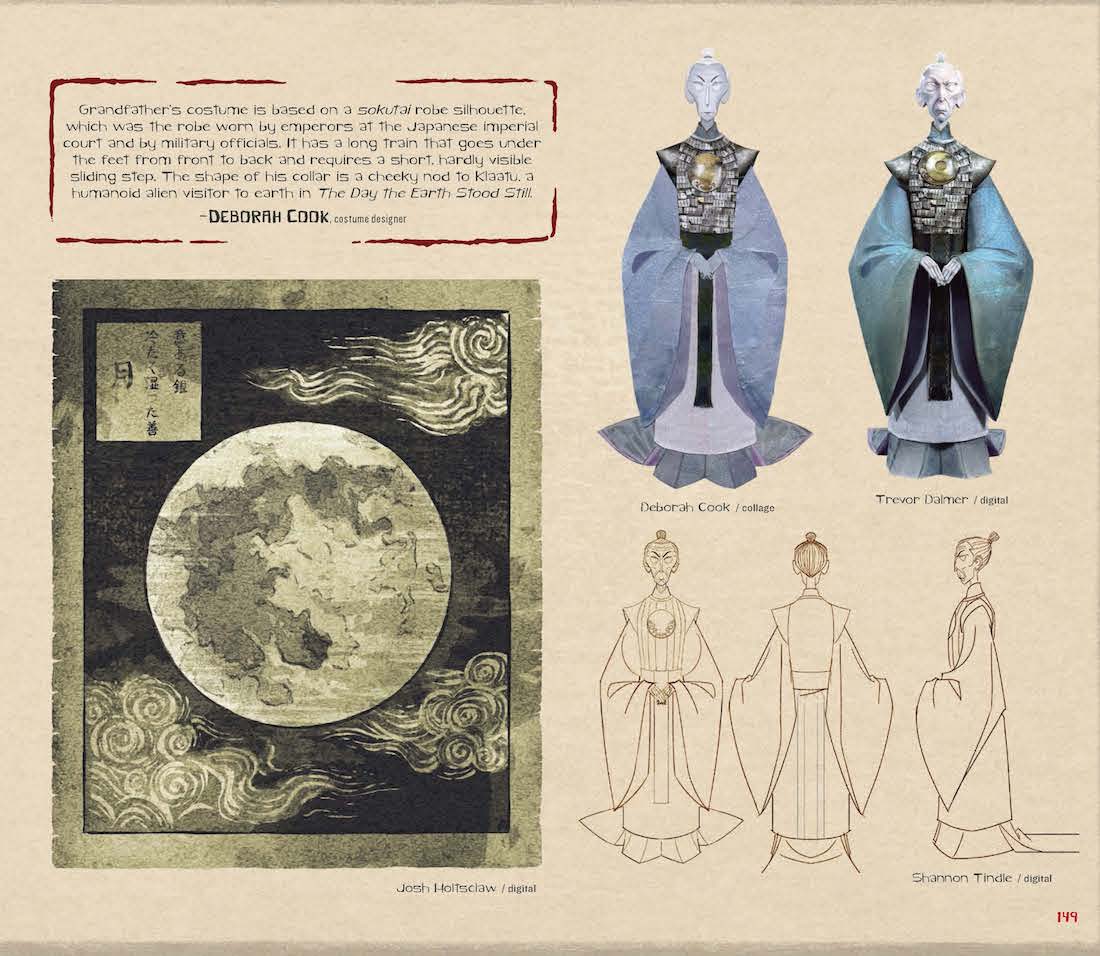 Wicked Witch Sisters
Evil twins terrorize their nephew Kubo wearing tall black hats reminiscent of The Wizard of Oz's archetypal Wicked Witch of the West. In fact, Cook took her inspiration entirely from Japanese Samurai culture. "The sisters do have this witchy appearance but I didn't have The Wizard of Oz in mind," she says. "They have the same type of hat that was historically worn by Samurai warriors."
The sisters' feathered capes also took inspiration from centuries-old Japanese culture. Cook says, "Doing research I learned that bird emblems historically were often found on Japanese clothing, usually cranes or (the mythological) phoenix or pheasant. We wanted to bring that bird motif into the cloaks."
Initially, Cook and her team experimented with fishing wire, wood, and bits of styrene and lollipop sticks. "From that small concept, the cloak grew to the point where we used about 400 feathers, and each feather has its own armature underneath. It's almost like a concertina working within the puppet, and I think it turned out kind of beautiful."
The witches wear Obi mourning belts, hand-woven breastplates and black hakim pants popular with Samurai warriors during the 12th century. "Historically, these pants always have seven creases in very particular positions, five at the front and two in the back," Cook says. "Each crease symbolizes something, like courage or honor. I didn't want to change that for the movie. When I find so much emotion and reason invested in a piece of clothing, to me that's a beautiful thing."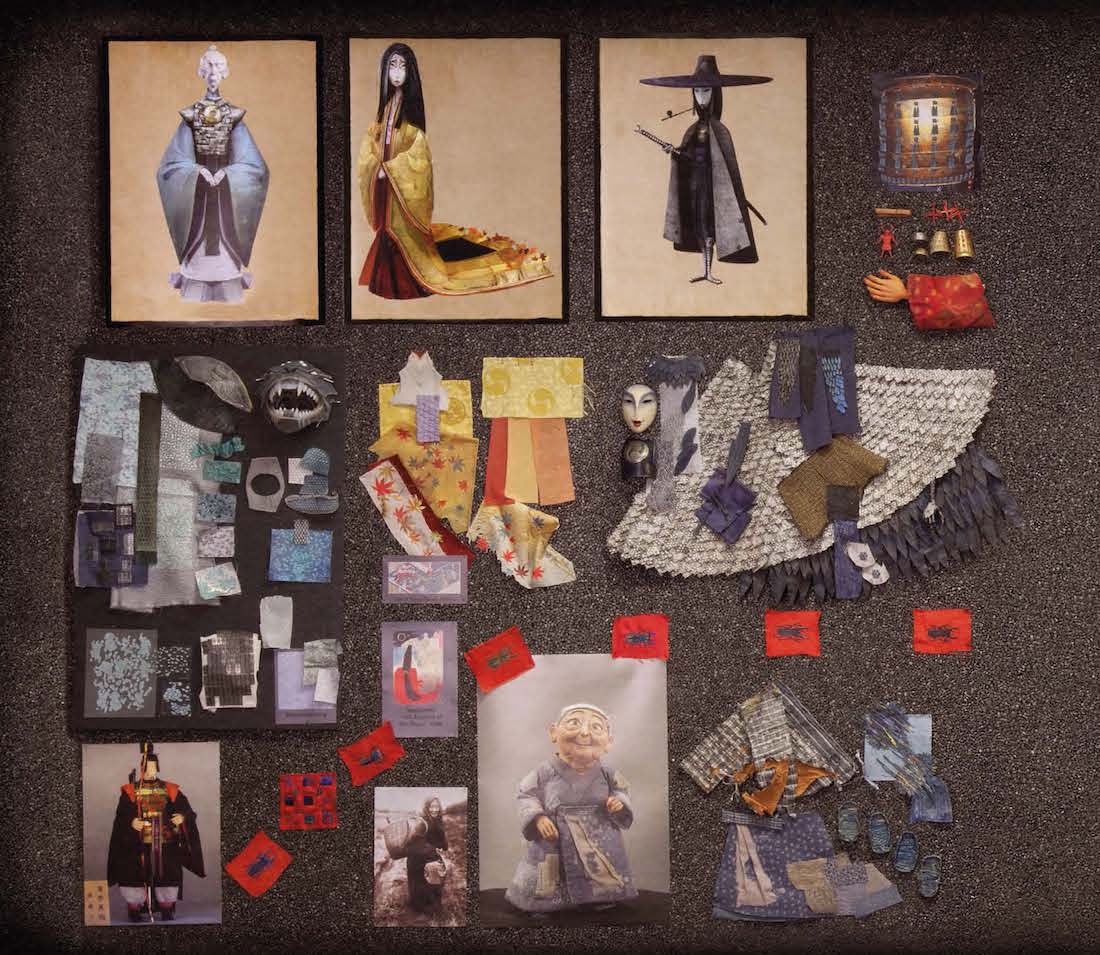 All images courtesy of Chronicle Books.