Know Your 2017 Oscar Nominees: Visual Effects
We've gone big for our Oscars coverage this year. Our annual "Know Your Nominee" series once again looks at every category, giving you the information you need to conquer your Oscars pool. Learn more about the nominees for Lead Actor, Foreign Language Film, Costume Designers, Documentary Short, Editing, Live Action Short, Actress in a Supporting Role, Makeup & Hairstyling, Animated Feature, Documentary Feature and Original Song. Now we turn our attention to Visual Effects. Check back with us as we go deep on all the rest.
In addition to the series, this year we've created a special look at the awards—The Road to the Oscars. Click on the image below to learn more about this year's crop of Oscar nominated films and filmmakers, and the effect their contributions have had on the country at large.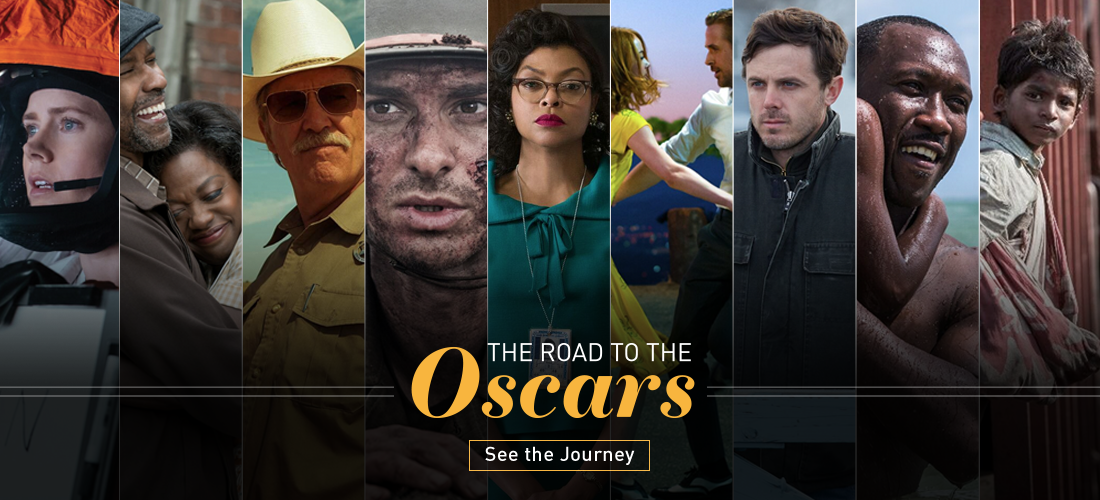 Surgeons and Star Wars and bears, oh my! The nominees in this category cover a wide array of subjects and varying levels of reality, but they all have one thing in common: outstanding visual effects.
Deepwater Horizon — Craig Hammack, Jason Snell, Jason Billington and Burt Dalton
Starring Mark Wahlberg (Boogie Nights, The Fighter) and Kurt Russell (The Hateful Eight), Deepwater Horizon dramatizes the worst oil spill in US history. The explosion of the real-life Deepwater Horizon ignited a fireball that could be seen over 40 miles away, which meant the film's visual effects artists had to recreate large scale disasters.
Hammack, a visual effects supervisor, is well-versed in large scale visual effects: he has worked on Titanic as well as the Star Trek and Indiana Jones franchises. Snell, an associate visual effects supervisor, also worked on Star Trek and Indiana Jones, in addition to the Harry Potter franchise. Billington, another visual effects supervisor, recently worked in the digital art department for Jurassic World and Avatar. Burt Dalton, special effects supervisor, won an Oscar in 2009 for The Curious Case of Benjamin Button and was nominated for two visual effect awards for Star Trek films. Deepwater Horizon is also nominated for Best Sound Editing.
Doctor Strange — Stephane Ceretti, Richard Bluff, Vincent Cirelli and Paul Corbould
After a seemingly career-ending hand injury, neurosurgeon Stephen Strange (Benedict Cumberbatch) seeks healing and discovers a world of magic and alternate realities.
Doctor Strange's nomination derives from the enchanting materialization and disappearance of those alternate realities: cityscapes unfold just beside the characters and gravity rearranges itself around them. The creators have said they drew inspiration both from Inception and the impossibility of M.C. Escher's drawings.
Ceretti and Corbould, both visual effects supervisors, were also nominated in 2014 for their work on visual effects for Guardians of the Galaxy. This is the first nomination for visual effects supervisors Bluff and Cirelli.
The Jungle Book — Robert Legato, Adam Valdez, Andrew R. Jones and Dan Lemmon
A look at a few photos from the set of The Jungle Book might be the greatest testament to the work done by the visual effects team. Shot predominantly in a warehouse in Los Angeles, Neel Sethi (Mowgli) wandered in front of a giant blue screen and through a series of plants and patches of mud, talking to his animal friends who would only come to life later in post-production. In bringing the classic 1967 Disney animated film to life, very little of the final product existed before the visual effects team stepped in.
Legato has won two Academy Awards for his work on Hugo and Titanic, and received an additional nomination for Apollo 13. Jones previously won for his work on Avatar and was also nominated for I, Robot. This is the third nomination for Lemmon and first for Valdez.
Check out our previous interview with Legato here.
Kubo and the Two Strings — Steve Emerson, Oliver Jones, Brian McLean and Brad Schiff
Kubo and the Two Strings is a rare case of an animated film also being nominated for Best Visual Effects. In fact, It's been 24 years since the last animated movie, The Nightmare Before Christmas, was nominated in this category.
Creators describe Kubo as a "hybrid" for their combined use of stop motion and computer animation. The film features an abundance of big names: Charlize Theron, Ralph Fiennes, George Takei and Matthew McConaughey, to list a few. The plot follows Kubo (Art Parkinson), who must set out to find his late father's magical suit of armor to defeat an evil spirit.
This is the first nomination for visual effects supervisor Emerson, animation rigging supervisor Jones and animation supervisor Schiff. McLean was given the Scientific and Engineering Award from the Academy last year for helping to utilize 3D printing technology to rapidly increase the speed and quality of stop motion animation characters' features.
Rogue One: A Star Wars Story —John Knoll, Mohen Leo, Hal Hickel and Neil Corbould
Also up for nomination in the Best Sound Mixing category, Rogue One mixes typical Star Wars visual effects with newer and more advanced technologies and techniques. Like The Jungle Book, filming very often relied on empty, blue sets and the actors' imaginations.
This is visual effects supervisor Knoll's sixth overall nomination and would be his second win. He previously was nominated for his work on other Star Wars and Pirates of the Caribbean films. Animation supervisor Hickel has won one Academy Award and been nominated for an additional two, all for the Pirates of the Caribbean franchise. Special effects supervisor Corbould has won two and been nominated for another two. This is the first nomination for visual effects supervisor Leo.
Featured image L-r: Diego Luna, Felicity Jones and Alan Tudyk in Rogue One. Courtesy Walt Disney Studios