Know Your 2017 Oscar Nominees: Editing
We've gone big this year for our Oscars 2017 coverage. Our annual "Know Your Nominee" series will once again touch upon every category, giving you the information you need to conquer your Oscars pool. Learn more about the nominees for Lead Actor, Foreign Language Film, Costume Designers and Documentary Short, and check back with us as we go deep on all the rest. In addition to the series, this year we've created a special look at the awards—The Road to the Oscars. Click on the image below to learn more about this year's crop of Oscar nominated films and filmmakers, and the effect their contributions have had on the country at large.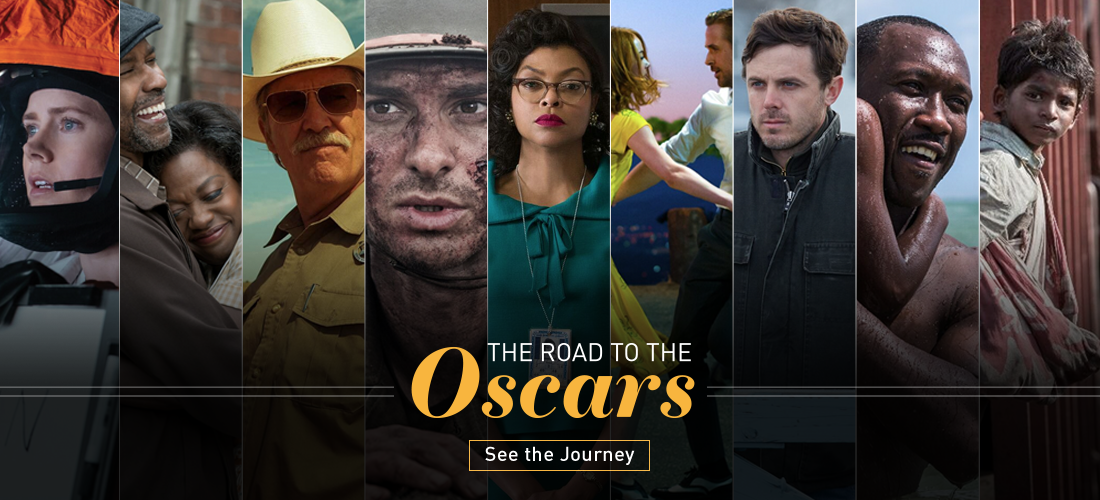 Now let's have a look at this year's nominees for editing.
Arrival—Joe Walker
Joe Walker has cut a slew of fantastic films, including Steve McQueen's Shame and 12 Years a Slave, and Denis Villeneuve's Sicario and now Arrival. The two-time Oscar nominee clearly enjoys working with Villeneuve—the fevered intensity of the cartel drama Sicario and now the cool, haunting elegance of his work on the time-and-mind-bending drama of Arrival showcase his ability to handle complex narratives with seemingly effortless grace. His work on Arrival effectively weaves in extraterrestrial elements while playing with our perceptions of time and space. The result is a surprisingly moving film.
Hacksaw Ridge — John Gilbert
John Gilbert began working in film with New Zealand's government filmmaking unit, The National Film Unit. He then began working in television instead, eventually finding his way to feature films. Since then, Gilbert has cut 17 features, including Peter Jackson's epic The Lord of the Rings: The Fellowship of the Ring. For the bloody, brutal World War II drama Hacksaw Ridge, Gilbert helped plunge viewers into the battles without ever sacrificing clarity or cohesion. Gilbert's work helps give form to the dizzying confusion of war, while focusing on the heroes who emerge from the chaos.
Hell or High Water — Jake Roberts
https://www.youtube.com/watch?v=JQoqsKoJVDw
Roberts has earned his first Oscar nomination with this tense West Texas cops and robbers thriller. Roberts' ace editing helped give Hell or High Water's story about two brothers who carry out a series of bank robberies in order to save their ranch both tension and depth. The film tells the brothers' story as well as that two Texas rangers, and cuts back and forth between them, giving them equal weight and resonance. What happens when an irresistible force meets an unmovable object? Roberts work here seems to ask that question with every graceful cut.
La La Land —Tom Cross
https://www.youtube.com/watch?v=0pdqf4P9MB8
Cross won an Oscar for cutting director Damien Chazelle's glorious Whiplash in 2015. La La Land continues their exploration of the power of music, in this extremely rare modern musical, showcasing Cross's chops at cutting big, lavish song-and-dance numbers. The editing follows a similar rhythm to the music, and the results are a film that flows with the mercurial wit and brilliance of a great jazz song.
Moonlight —Nat Sanders and Joi McMillon
When we interviewed Joi McMillon, she told us that director Barry Jenkins is an extremely precise filmmaker, one who knows what he wants across every aspect of the process. Considering this film required McMillon and fellow editor Nat Sanders to shape a story about a single life told over the course of three distinct eras, their collaboration with Jenkins' had a very high degree of difficulty. Needless to say, they pulled it off. Both Sanders and McMillon have known Jenkins from their time at Florida State, and their work together bears the hallmark of a long friendship; trust. Moonlight is one of the most moving films to come out in recent memory. Their nomination is also historic—McMillon is the first black female Oscar nominee in the category.
Featured image: Alex Hibbert in Moonlight. Courtesy A24.