Know Your 2017 Oscar Nominees: Director
We've gone big for our Oscars coverage this year. Our annual "Know Your Nominee" series once again looks at every category, giving you the information you need to conquer your Oscars pool. Learn more about the nominees for Lead Actor, Foreign Language Film, Costume Designers, Documentary Short, Editing, Live Action Short, Actress in a Supporting Role, Makeup & Hairstyling, Animated Feature, Documentary Feature, Original Song, Visual Effects, Production Design, Adapted Screenplay, Sound Editing & Mixing, Actress in a Leading Role, Actor in a Supporting Role, and Cinematography. Now we turn our attention to Director.
In addition to the series, this year we've created a special look at the awards—The Road to the Oscars. Click on the image below to learn more about this year's crop of Oscar nominated films and filmmakers, and the effect their contributions have had on the country at large.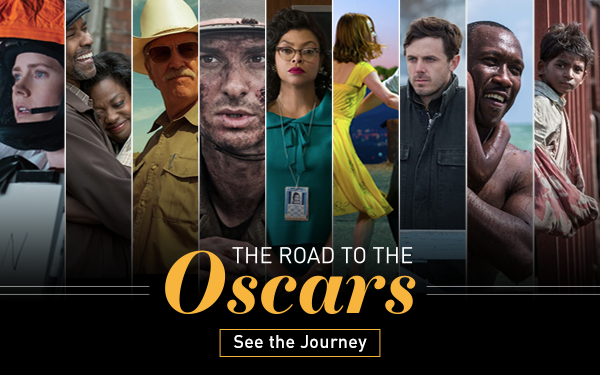 Denis Villeneuve — Arrival
In short order, Villeneuve has proven himself as one of our most promising up-and-coming directors, a master of the tense, taut thriller. In 2013 alone, two of his films, Enemy and Prisoners, showed what he could do with a relatively small budget and tight, insular worlds. Then 2015 so the release of his sweeping, terrific drug crime epic Sicario. This past year, his fluent direction of the mind-bending sci-fi thriller Arrival put to rest any fear Blade Runner fans had that he could handle the upcoming sequel. The film's simultaneously meditative and thrilling, the closest any sci-fi film has come to peak-Spielberg in years. While he's a long shot to win Best Director, it's almost a given he'll create many more opportunities for himself to do so.
Mel Gibson — Hacksaw Ridge
The true story of Pfc. Desmond T. Doss (Andrew Garfield), a Congressional Medal of Honor winner despite refusing to bear arms during WWII on religious grounds, is about perfect a Gibson project as possible. In Hacksaw Ridge, Gibson got to revel in the carnage that so many of his films showcase, while being centered on a morally unsinkable central character whose heroism in the ferocious Battle of Okinawa could not be questioned. The film is a visceral jolt, shot largely in Australia, with action that's as hard to look away from as it is to endure.
Damien Chazelle — La La Land
Chazelle's already scooped up the major directing awards—the Golden Globe, BAFTA and Directors Guild—so he's the odds on favorite here. His work on his modern musical is deeply impressive, especially his ability to seamlessly thread gorgeously orchestrated song and dance numbers throughout the film with nary a hiccup. We thought Whiplash was ambitious—La La Land was a logistical nightmare, and Chazelle managed it as if he's been directing movies for decades. At 32, he would be the youngest in Best Director winner in Oscar history.
Kenneth Lonergan — Manchester by the Sea
Lonergan's devastating drama doesn't register a single false note. The writer/director's return to cinema (his last film, Margaret, came out in 2011) proved once again that Lonergan gets the very best out of his performers (Casey Affleck, Lucas Hedges and Michelle Williams are all nominated for Oscars), and this time around, he's given them the richest, darkest material of his career.
Barry Jenkins — Moonlight
It's impossible to overstate Jenkins' achievement in Moonlight. An emotionally explosive film that never resorts to melodrama, one deeply personal to the director and so expertly crafted you may overlook how daring the structure is. Moonlight is a film of such subtle potency that its' pleasures, from the performances to the cinematography to the score, keep resonating long after the film is over. The impact of the story in total, however, hits you in the film's lyrical, genius final ten minutes. One of the best films in years with a perfectly calibrated ending—Jenkins could steal Chazelle's thunder.
Featured image: Trevante Rhodes and Andre Holland in Moonlight. Credit: Photo by David Bornfriend, courtesy of A24