Know Your 2017 Oscar Nominees: Cinematography
We've gone big for our Oscars coverage this year. Our annual "Know Your Nominee" series once again looks at every category, giving you the information you need to conquer your Oscars pool. Learn more about the nominees for Lead Actor, Foreign Language Film, Costume Designers, Documentary Short, Editing, Live Action Short, Actress in a Supporting Role, Makeup & Hairstyling, Animated Feature, Documentary Feature, Original Song, Visual Effects, Production Design, Adapted Screenplay, Sound Editing & Mixing, Actress in a Leading Role, and Actor in a Supporting Role. Now we turn our attention to your nominees for Cinematography.
In addition to the series, this year we've created a special look at the awards—The Road to the Oscars. Click on the image below to learn more about this year's crop of Oscar nominated films and filmmakers, and the effect their contributions have had on the country at large.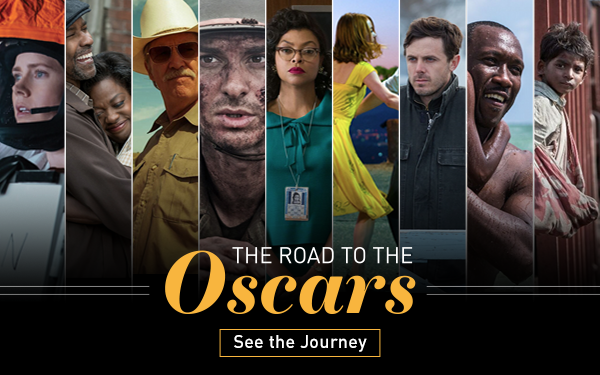 Bradford Young — Arrival
Young was a big reason that Denis Villeneuve's soulful sci-fi film managed to be both grand and intimate. Young has proven himself to be an uncannily gifted lenser on films big and small, from his spellbinding work on Ava DuVernay's MLK biopic Selma to J.C. Chandor's New York crime drama A Most Violent Year. Arrival proved that there's no genre Young can't capture, and his sweeping vistas of the alien ships and military response were balanced by the intimate portrayals of Amy Adams' Louise Banks' relationship with her ailing daughter. As Villeneuve says in the below featurette, "Bradford really is a master of light."
Linus Sandgren — La La Land
Many of your Oscars prognosticators are predicting that Sandgren's bold, immersive work in Damien Chazelle's modern musical. From that wild, thrilling opening scene in a L.A. freeway ramp was turned into a rousing song and dance routine. Sandgren has already been awarded for his work on the film, at both the Critics' Choice Awards and BAFTAs, but the surprising win fro Lion's DP Greig Fraser at the American Society of Cinematographers Awards means that this thing is far from a done deal. Read our interview with Sandgren here.
Greig Fraser — Lion
Fraser shot 2016's biggest hit, Rogue One: A Star Wars Story, but it's his work on Lion that is earning him accolades. As he told us in this interview, one of his goals was making sure the first half of the film, which follows the journey of Saroo, a five year old Indian boy is gets separated from his family, was telling the story from his point of view. In order to do this, Fraser used a gimbal rig that could bet set any height he chose, showing viewers the world through Saroo's eyes. "We've been experiencing the story at Saroo's height, so when you suddenly you cut to a wide shot of this plucky little kid on a massive bridge, it makes the audience realize 'Oh my Lord, he's tiny."
James Laxton — Moonlight
We interviewed Laxton about his work on what was, to our mind, the most beautifully shot film of the year. One of the surprising things we learned is that Laxton used the wide-screen "anamorphic" format, often favored by massive action franchises, to capture Barry Jenkins' film about a young man's struggle to survive, and thrive, in Miami. The film is told in three distinct eras, giving the tender, intimate film an epic sweep. "We wanted to make the film feel larger and do away with this concept that American independent films should feel small," Laxton told us. "Shooting the film in anamorphic contributed a little bit to making a movie that's not boxed in by what people in this country think of as being 'independent film.'"
Rodrigo Prieto — Silence
Prieto has worked with Martin Scorsese on The Wolf of Wall Street and the pilot for HBO's Vinyl, but their collaboration on Silence was on completely different scale. Set in 17th century Japan an following two young Jesuit priests who travel there to find their missing mentor, Prieto's work is one of the most remarkable things about a movie that is remarkable in nearly every way. By turns atmospheric, elegiac, magical and horrifying, Silence is not easy viewing, but it's unlike anything put to film, this year or any other, and Prieto's work helped Scorsese realize a vision he has wanted to express for 28 years.