Know Your 2017 Oscar Nominees: Best Picture
We've gone big for our Oscars coverage this year. Our annual "Know Your Nominee" series once again looks at every category, giving you the information you need to conquer your Oscars pool. Learn more about the nominees for Lead Actor, Foreign Language Film, Costume Designers, Documentary Short, Editing, Live Action Short, Actress in a Supporting Role, Makeup & Hairstyling, Animated Feature, Documentary Feature, Original Song, Visual Effects, Production Design, Adapted Screenplay, Sound Editing & Mixing, Actress in a Leading Role, Actor in a Supporting Role, Cinematography, Director, Original Screenplay, and Original Score. Now we turn to Best Picture.
In addition to the series, this year we've created a special look at the awards—The Road to the Oscars. Click on the image below to learn more about this year's crop of Oscar nominated films and filmmakers, and the effect their contributions have had on the country at large.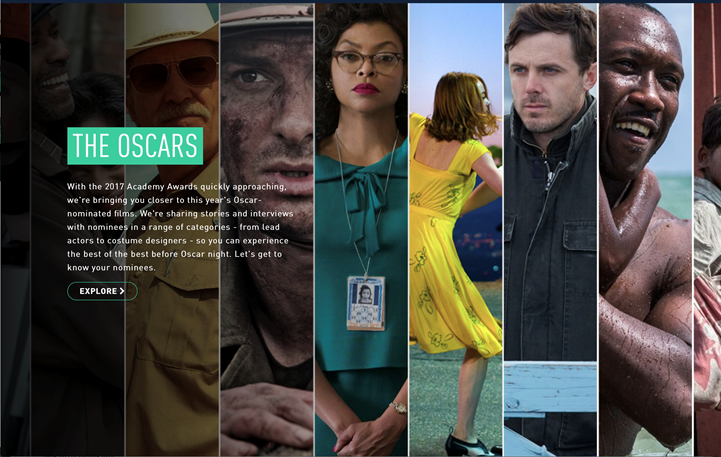 We've made no secret of our love for Arrival. It's why we spoke to the film's editor, screenwriter and production designer in an effort to unpack its subtleties and charms. Dennis Villeneuve's film, based on a soulful, complex short story by Ted Chiang, is an achievement for the eyes, ears and brain (Jóhann Jóhannsson's score is an overlooked masterpiece, but was ineligible for Oscar consideration due to the inclusion of a Max Richter composition). Centered on Amy Adams moving turn as a linguistics expert trying to crack an alien language, with the fate of the world on her shoulders, Arrival soars by grounding itself in her personal story, reminding us that often, when science-fiction is at its best, its concern is not with aliens or robots, but with human beings.
Denzel Washington's adaptation of August Wilson's play gave us one of the most brilliantly loquacious films in recent memory. Sticking close to Wilson's generous blueprint, Washington's Troy Maxon can talk, and one of the great joys of the film is how it lets both Washington and his costar, the astonishing Viola Davis, as Troy's wife Rose, rip into their monologues with their abundant skill. Between Troy's biting, domineering personality and Rose's clear-eyed, rueful dignity, Fences provides two tour de force performances by two of our greatest performers.
Mel Gibson's bloody, brutal WWII drama tells the true story of a Pfc. Desmond T. Doss, a soldier who refused to bear arms out of religious belief but still ended up winning the Congressional Medal of Honor for bravery thanks to his exploits during the Battle of Okinawa. Gibson has never shied away from brutality and gore, but by putting a pacifist at the center of his film, he's worked his way back into Hollywood's good graces.
In David Mackenzie's West Texas cops and robbers film, you may find your loyalties evenly divided between the cops (played by Jeff Bridges and Gil Birmingham) and the robbers (Chris Pine and Ben Foster). The performances are top notch, and the timeliness of the plot (banks trying to muscle out the little guy) set against the genre pleasures of watching charismatic guys on either side of the law go at it give the film an added jolt. Screenwriter Tyler Sheridan seems to know a thing or two about writing gripping, modern day crime dramas.
Director Theodore Melfi could have jumped onboard Spider-Man: Homecoming, but instead he was drawn to this film, the true story about three black female mathematicians who overcame institutional racism (and sexism, for good measure) at NASA to help launch astronaut John Glenn into orbit. Melfi's deep research into the period and specifics of NASA, coupled with bravura performances by the film's three leads, Taraji P. Henson, Octavia Spencer, and Janelle Monáe, have made Hidden Figures one of the most cheering stories in film this past year.
Damien Chazelle's modern musical has tied All About Eve and Titanic as the most nominated film in history (14) for a reason. Working in a mythologized (but contemporary) Los Angeles, Chazelle's film boasts one of the great opening sequences in recent memory (that astonishing song and dance routine on an LA freeway) and a felicity with threading music into the narrative in a way that feels both fresh and timeless. Nearly every film that enjoys the awards success of La La Land gets some critical backlash, and this film is no different, but viewers should remember the feeling they had when they first saw it. We should all take a little joy where we can, and La La Land has got it in heaps.
Director Garth Davis told us he needed to find "a believable kid who was streetwise" to play the child Saroo in his tear-jerking drama, based on a true story. After a very wide search, Davis and his team hit the jackpot with Sunny Pawar, whose young Saroo gets separated from his family and ends up on a dangerous journey through India, finally ending up being adopted by an Australian family and moving halfway across the world. The film would almost be too bittersweet if it weren't true, but both Pawar and Dev Patel's performances as Saroo (and Nicole Kidman's as the adoptive mother) are fantastic, and when you find yourself weeping at the film's end, you can rest assured your tears have been earned.
Kenneth Lonergan's devastating drama was so expertly constructed, you would be excused for missing the details in favor of gasping at the film's extended meditation on grief. We tried to wrap our heads around why it worked so well (speaking to the editor, the sound designer, and the writer/director himself), but perhaps it's not so difficult to understand. You write a great script, you get great actors perform it, and you leave no detail unattended. When Boston janitor (Casey Affleck) unexpectedly becomes the legal guardian of his teen-age nephew (Lucas Hedges), re-settling (for a time) in his hometown of Manchester, you think you know why everyone's so down, until a shocking second act reveal gives you the story's tour source of misery. Michelle Williams's brief-but-potent performance rounds out the film, and all three of the main actors were nominated for Oscars for their efforts.
In a truly great year for film, we leave, in our humble opinion, the best for last (also, because of the alphabet.) Barry Jenkins' masterpiece offers one of the most singular films in years, an intimate, tender, and at times terrifying portrait of a life in three parts. We follow Chiron, from boyhood to adulthood, as he struggles to come to terms with his sexual identity amid a turbulent home life in Miami. Moonlight is the product of a visionary director and a team of filmmakers in lockstep with that vision. Joining Jenkins as an Oscar nominee (Best Director and Adapted Screenplay, which he shares with Tarell Alvin McCraney) are his cinematographer Barry Laxton, his editor Joi McMillon, his composer Nicholas Britell, and two of his stars, Mahershala Ali and Naomie Harris. The film is luminous, telling the story of a single soul and how easily any of us can be elevated or destroyed by a little human tenderness, or the lack thereof. No film has felt this urgent and necessary, and yet part of Moonlight's brilliance is how it allows the viewer to come to this conclusion on her own. It's potency is inseparable from its subtly.