Uncategorized
Know Your 2017 Oscar Nominees: Adapted Screenplay
We've gone big for our Oscars coverage this year. Our annual "Know Your Nominee" series once again looks at every category, giving you the information you need to conquer your Oscars pool. Learn more about the nominees for Lead Actor, Foreign Language Film, Costume Designers, Documentary Short, Editing, Live Action Short, Actress in a Supporting Role, Makeup & Hairstyling, Animated Feature, Documentary Feature, Original Song, Visual Effects and Production Design. Now we turn to Best Adapted Screenplay.
In addition to the series, this year we've created a special look at the awards—The Road to the Oscars. Click on the image below to learn more about this year's crop of Oscar nominated films and filmmakers, and the effect their contributions have had on the country at large.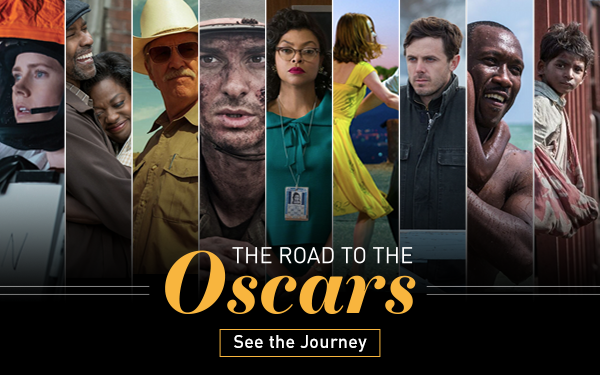 This year's Best Adapted Screenplay nominees cover a wide range of material from an eclectic mix of source materials. Those materials include a heady science-fiction short story, a book about a piece of NASA history that had long gone unreported, a memoir, and two plays centered on the lives of African Americans in different eras and milieus.
Arrival — Eric Heisserer
When we interviewed Heisserer about adapting Ted Chiang's sci-fi novella "Story of Your Life," he discussed how he managed to create an airtight script from source material that goes deep on, among other things, determinism and the Sapir–Whorf hypothesis. "Adapting pre-existing work is both harder and easier," Heisserer says. "It's slightly easier because you have some material to fall back on and find some answers whenever you get in the weeds, but it's also harder in this case because you're dealing with a lot of highly intellectual concepts in a story that also a very grounded emotional core. And trying to protect and preserve both while escalating the narrative and tension is not easy." Not easy, not, but Heisserer managed to craft a story about a linguist (Amy Adams) deciphering a symbol-laden alien language taut, thrilling and emotional. The script's subtly complex structure is practically Memento–like, with a lot more heart.
Fences —August Wilson
While Tony Kushner helped director Denzel Washington tweak aspects of the script, the playwright himself did the work, before he passed away in 2005. The adaptation hews closely to Wilson's Tony Award-winning play, and why not? "Fences" was the sixth part of Wilson's ten-play "Pittsburgh Cycle," and like the play, the film is thunderously poetic, embodied by Washington's Troy Maxon, a sanitation worker in the 1950s who has never met a silence he can't punctuate with his potent vocabulary and titanic personality. For Washington and Viola Davis, although Fences rarely leaves the Maxon's small house, the film gives these masterful actors the room to fully embody Wilson's world.
Hidden Figures—Allison Schroeder and Theodore Melfi
"I mean this one, as cheesy as it sounds, it felt more than just a movie to me. It felt like, oh my gosh, we're doing a good thing here, like this really matters." This is what Allison Schroeder told us when we interviewed her about working on Hidden Figures, which tells the story of three black female mathematicians at NASA in the sixties who helped get astronaut John Glenn into space, only to have their contribution forgotten for nearly half a century. Schroeder and Theodore Melfi worked from Margot Lee Shetterly's nonfiction book, which chronicled the incredible story of NASA's secret heroes—Katherine Johnson, Dorothy Vaughan and Mary Jackson. Played by Taraji P. Henson, Octavia Spencer and Janelle Monáe, respectively, their contributions to one of America's proudest moments in the 20th century are hidden no longer.
Lion — Luke Davies
Saroo Brierley's memoir, "A Long Way Home," about getting separated from his family in India as a child and ending up in Tasmania sounds like studio executives crafted it. Yet Luke Davies script renders this story with the necessary terror of a child at the mercy of strangers, and the angst of a young man who, while loved by his new family in Australia, yearns to find the home he lost. Both the film's director, Garth Davis and cinematographer, Greig Fraser, told us that the key to the film was capturing young Saroo's perspective. Davies script gave them the blueprint to make that perspective feel so lived in—with a little help from seven-year-old actor Sunny Pawar.
Moonlight—Screenplay by Barry Jenkins, story by Tarell Alvin McCraney.
Director Barry Jenkins and playwright Tarell Alvin McCraney seemed fated to come together to turn McCraney's play, "In Moonlight Black Boys Look Blue" into the motion picture masterpiece that is Moonlight. Both men come from the same Liberty City neighborhood in Miami, yet they'd lived parallel lives until never met until they collaborated on one of the best films of the decade. Moonlight, structured in three parts, covers one young man's maturation from a quiet, troubled child into a sensitive, secretive man, and is as good as a film you'll see this or any other year. The adapted script doesn't have an ounce of fat on it, and the resulting film is all the more nourishing for it.
Featured image: Clockwise l-r: Sunny Pawar in Lion, Moonlight theatrical poster, Taraji P. Henson in Hidden Figures, Amy Adams in Arrival, Denzel Washington and Viola Davis in Fences. Courtesy Weinstein Co., A24, 20th Century Fox, and Paramount Pictures.