Know Your 2017 Oscar Nominees: Actor in a Supporting Role
We've gone big for our Oscars coverage this year. Our annual "Know Your Nominee" series once again looks at every category, giving you the information you need to conquer your Oscars pool. Learn more about the nominees for Lead Actor, Foreign Language Film, Costume Designers, Documentary Short, Editing, Live Action Short, Actress in a Supporting Role, Makeup & Hairstyling, Animated Feature, Documentary Feature, Original Song, Visual Effects, Production Design, Adapted Screenplay, Sound Editing & Mixing, and Actress in a Leading Role nominees. Now we turn our attention to Actor in a Supporting Role.
In addition to the series, this year we've created a special look at the awards—The Road to the Oscars. Click on the image below to learn more about this year's crop of Oscar nominated films and filmmakers, and the effect their contributions have had on the country at large.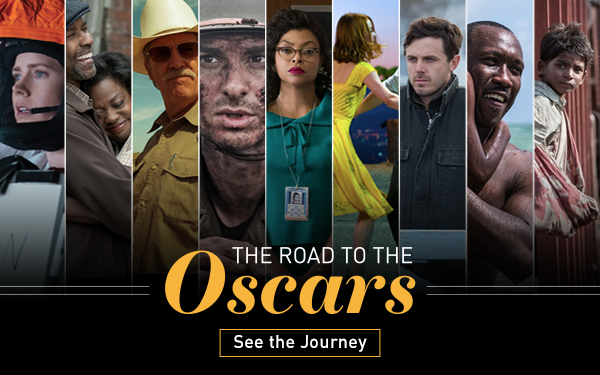 Mahershala Ali — Moonlight
Talk about making a massive impact on a film with limited screen time. Mahershala Ali gives arguably the most potent male performance in any film this year while only appearing the film's first third. Ali plays Juan, a drug dealer who becomes a surrogate father figure to Little,
the small child he finds hiding in an abandoned apartment. Ali manages to captivate in every scene he's in (and there are only a handful), and pulls this off in movie that has numerous astonishing performances. As Michael Schulman of The New Yorker put it, one of Ali's extraordinary feats is the fact that "he makes his absence felt." Once he disappears from the film's second and third acts (without any real explanation, which only deepens our appreciation for his loss), the young Chiron is down one ally. In a nod to Juan's hold on his imagination, and ours, once Chiron becomes a man himself, we see in the way he dresses and behaves that Juan has never strayed from far his heart. The same can be said of his affect on the viewer. Ali should take home the statue.
Jeff Bridges — Hell or High Water
This is Bridges seventh Oscar nomination, and there could be no more genial presence on or off the screen. Playing a nearly retired Texas sheriff on the trail of a couple of bank robbers, Bridges is as gruffly lovable (if a little more sane) as he was in the Coen Brothers True Grit. Chasing two high-strung bank-robbing brothers in David Mackenzie's film, Bridges is lawman who oozes calm, that is, until things go batty in the third act and we get to see the old dog sweat, and bare his fangs.
Lucas Hedges — Manchester by the Sea
The youngest of our nominees, Hedges delivered a self-possessed performance in Kenneth Lonergan's drama, playing a teenage boy whose just lost his father. Hedges manages to be believably bereft while still being very much a teen (his burning ambition for much of the film to have as much sex as possible), and it's something to behold him try to navigate living with his uncle, played by Casey Affleck, who is dealing with his second massive tragedy and is all but erased himself from the world. Their interactions feel lived-in and hard earned, and while Affleck was a safe bet to standout in the film, Hedges does a lot with a role that could have easily been one note.
Dev Patel — Lion
Patel shares the role of Saroo with child actor Sunny Pawar, and it's a testament to how much of a leading man he's become that he isn't all but overshadowed by the lively, adorable Pawar. In fact, since breaking out in Slumdog Millionaire, Patel has proven in Lion that he can carry a film on his now broad shoulders. As the adult Saroo, now living in Australia after being separated from his family as a child, he becomes obsessed with finding out where exactly he's from. His quest to locate his birthplace is one part Google-map detective story, one part family drama, and about ten parts lump-in-the-throat weepy when the film reaches its climatic finish. Patel delivers.
Michael Shannon — Nocturnal Animals
Shannon is one of the best character actors in the business. When he enters the frame, it's very difficult to concentrate on anyone else in it. For proof, look to the last performance he was nominated for, playing a mentally ill neighbor to Kate Winslet and Leonardo DiCaprio in Revolutionary Road. If you can steal scenes from those two, you're doing something right. In Tom Ford's twisty, wild Nocturnal Animals, Shannon's a Texas cop who is does not blanche at treating hardened criminals exactly the way they treat their victims. While the gruff lawman might be well-trod territory for an actor, Shannon once again makes it all his own.
Featured image: Mahershala Ali in Moonlight. Credit: David Bornfriend