The Founder's Production Designer on Building McDonald's & More
A semi-fictionalized account of the takeover of the original McDonald's franchise by milkshake salesman and the man typically referred to as its "founder," Ray Kroc (Michael Keaton), John Lee Hancock's The Founder opened this past weekend. It is notable for several things, of which some, like Michael Keaton's performance as ambitiously malevolent Kroc, have been getting lots of press, while others, like its thoroughness in depicting an accurate slice of the 1950s, less so. We chatted with production designer Michael Corenblith about recreating the original Golden Arches — functioning kitchen included — and reverse-engineering original McDonald's burgers.
How did you do create the original Golden Arches and the McDonald brothers' first San Bernardino diner? They were both such faithful representations of the era but were very different from one another.
They were both absolutely built from scratch. Purpose built from the ground up. When I began my research, there were ample avenues to explore what a Golden Arches franchise looked like. In Downey, California, is the site of McDonald's number three, which was opened in August of 1953. It was the the second of the McDonald's model, with Phoenix being the first, of course. With McDonald's having given us no indication as to their attitude or posture toward the film, we had to be very discreet. They were completely silent, though we certainly felt we were going to be scrutinized. We wanted to be sure that our [depiction] would be unchallengeable in terms of accuracy and fidelity. We didn't want to open ourselves to any challenge of the fair use concept. I'm accustomed to having complete cooperation with the entity we are depicting, access to the archives, making sure it's correct, but it was the opposite with McDonald's.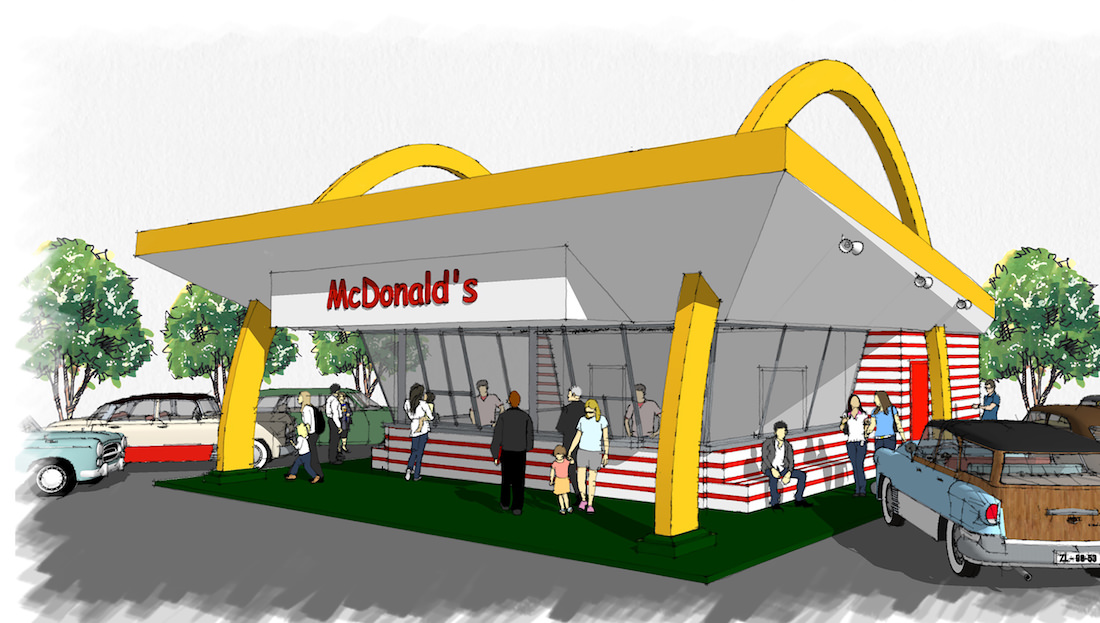 What would we would typically do would be to arrive [in Downey] before they opened on Sunday mornings, do some photography, take some field measurements. We used that as a resource and married it with archival documents available online, such as YouTube videos, original instructional manuals on use of the kitchen, and blueprints found on eBay. After the franchise had changed its branding and its look, the McDonald's Corporation built a replica of Kroc's original franchise, and there were videos of people being walked through the kitchen, so that was the foundation of the archival research I could do on the Golden Arches.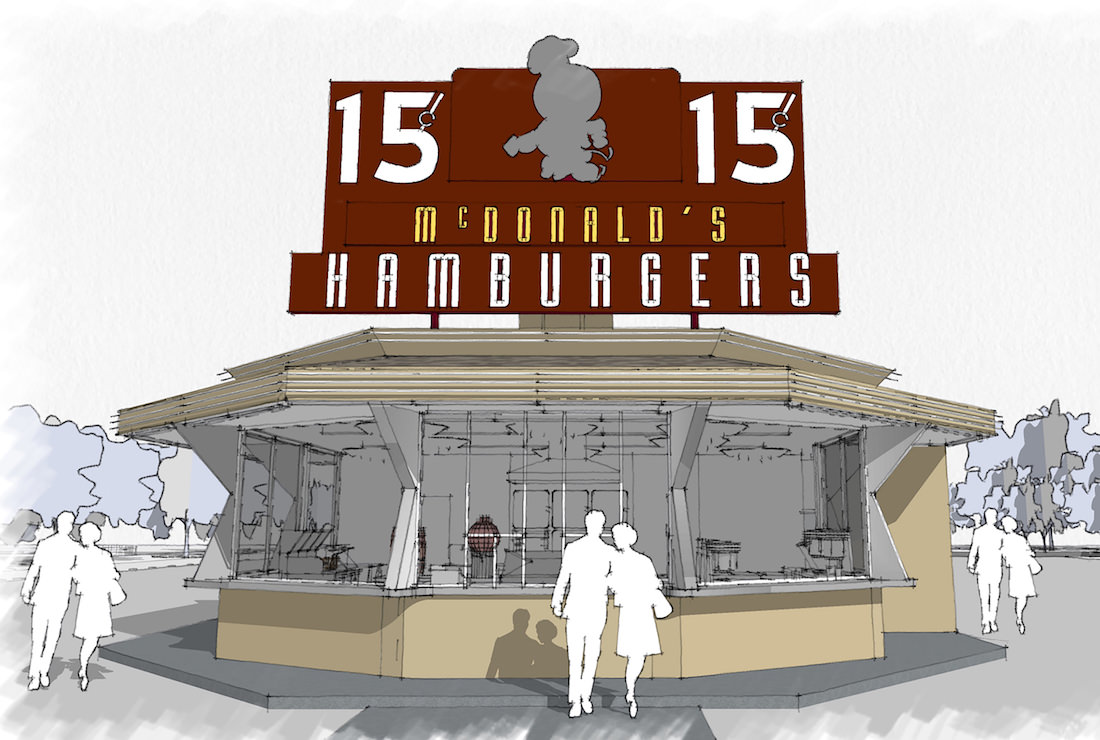 Regarding the brother's original franchise in San Bernardino, our producer made contact with the heirs of Dick and Mac [McDonald, played by Nick Offerman and John Carroll Lynch], who had built a museum on the site of the original restaurant, from which I was able to access archives. So we were able to replicate the restaurant based on artifacts from the museum. Our prop master was able to get some original kitchen equipment…what the audience sees is the actual french fry extruder that existed in San Bernardino in 1953. Our attention to fidelity was very, very high.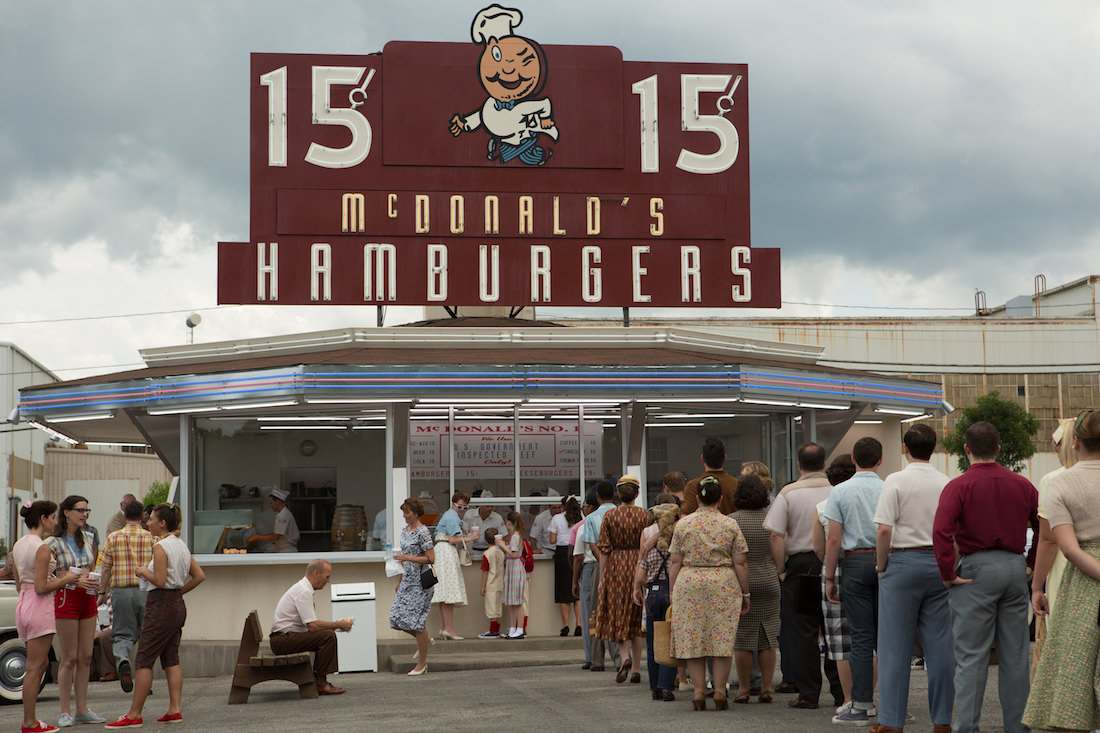 How else did you differentiate between the two restaurants while recreating them?
My recreation of the octagonal building and its signage came from archival photography that I found online. Unlike the archival material that I could gather about the Golden Arches, because that building was torn down in the mid 1950s, there was no color photography. So I had to make color deductions based on other archival sources I could find. Also, the design scheme of the movie was foundationed in creating a contrast between the brothers' restaurant and Kroc's franchise. What I was trying to do was create a contrast between the original San Bernardino franchise, which was very much of a part with an American prewar roadside architecture, and contrast that with the McDonald's design, which was emblematic of a highly branded, optimistic postwar, space age vocabulary. Differentiating the palettes between the two was something I wanted to be strongly emphatic on, so colors in one would never be represented in colors of the other.
The Kroc family home also offered a distinct aesthetic faithful to the era. How, and where, did you recreate that?
The Kroc family home existed in Arlington Heights, Illinois. We had done a little research on what the home looked like, and I had done a movie previously in Chicago and every weekend I had gone to Oak Park to see the Frank Lloyd Wright buildings. So I had a good idea [of what the Kroc suburban home should look like].
Avondale Estates in Georgia was where we were shooting. I was trying to have a very distinctive upper Midwest flavor. I was looking for red brick, steeply gabled roof lines, dormer windows, all to give it that snowy, upper Midwest look. But as often happens in these situations, the exteriors that gave us the look, but did not yield the interiors. So this was a combination of two different houses in Avondale Estates. Throw a few period cars into the mix, and we had a situation where there were very few anachronistic elements —signage, telephone poles — so that we were able to do this in-camera as much as possible, without visual effects.
Speaking of the elements, did you have the original McDonald's cups and wrappers made? Are those true to real life?
The original cups and wrappers had been provided by the museum in San Bernardino. They had original cups and wrappers. They also provided the original hats that the employees wore. Our costume designer was able to find the manufacturer information from the inside of one of the hats, and the company that manufactured them in 1953 still had patterns for these. So our original hats were made from original designs. Regarding the wrappers, a McDonald's hamburger in 1953 was not the same size as now, so using a wrapper from the museum, we reverse engineered the size of the burger. So all the hamburgers you see getting made had all been scaled to fit in a period wrapper from 1953. We actually had to engage bakers to make specific sized buns. Everything was painstakingly handcrafted. The burgers were a little smaller. Everything wasn't quite super-sized at that point!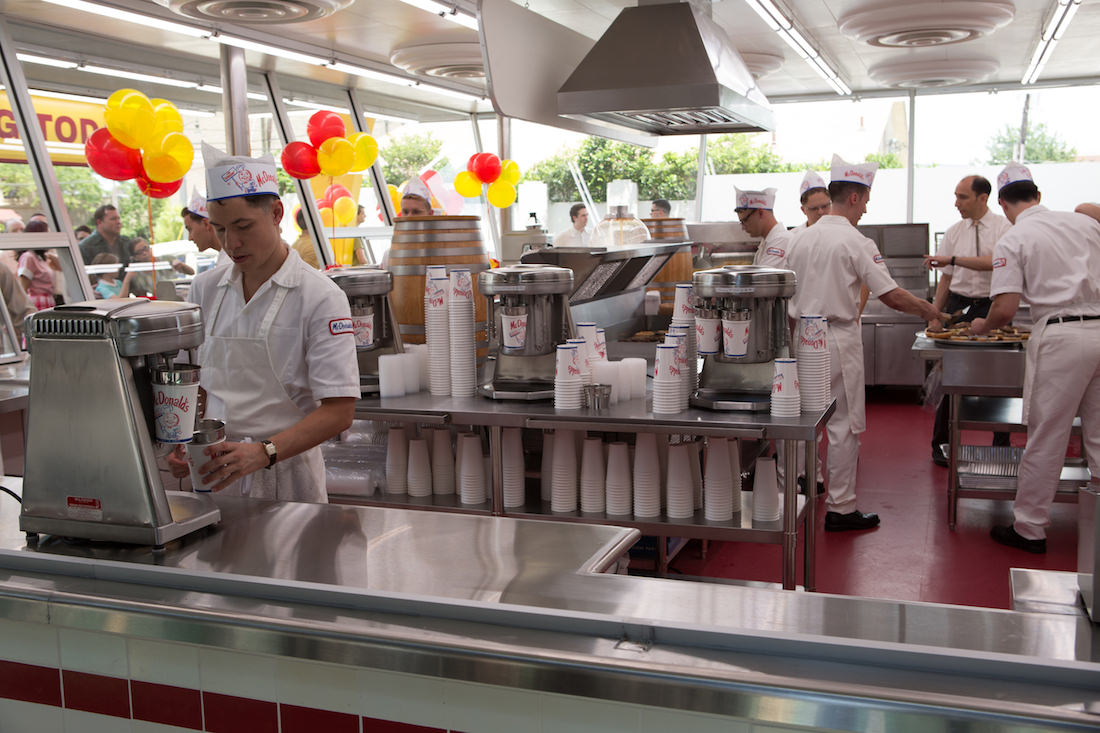 Besides Avondale Estates, where was most of the production based?
Our production was based in Atlanta. We did some work on sound stages, like the offices. We had to go much farther afield to find the car hop restaurants, about 90 minutes outside Atlanta, to find the proper roadside architecture. Golden Arches was built in Douglasville; the original McDonald's built in Newnan. Both of these were shot as interiors and exteriors, and had working kitchens in both franchises. Both were built with large, removable windows, so the camera could stay outside the perimeter of the building. The kitchen arrangements were so compact, there was no wasted space, and there was no room to bring the camera into the building.
Well, we're hungry now. Is there anything about the production you'd like to add?
McDonald's is so deeply embedded into the American psyche, it was a great opportunity to give proper credit to the McDonalds brothers who created this system, and to show an audience what their original San Bernardino franchise looked like.