Costume Designer Kim Tillman on xXx: Return on Xander Cage's Fierce Fashion
Costume designer Kim Tillman knows how to dress active characters. While she's put her touch on plenty of films that involve attractive actors in pretty clothes (Fools Rush In, Wild Things, 10 Things I Hate About You), she's also made her name outfitting roles that require a wardrobe befit for movement. From the epic seafaring adventure Battleship to the globe-trotting, high octane espionage thriller xXx: Return of Xander Cage, Tillman has learned how to make action stars look good while they risk their lives.
For Cage, this also meant mixing the styles of extreme athletics and government operatives, creating chic looks for powerful women, such as Ruby Rose and Nina Dobrev, and designing characters' looks as action-packed as the film.
xXx has some very stylish folks doing very dangerous things—is this what attracted you to the project?
I was incredibly flattered to go on the interview. It was one of those things where I walked in and just went, 'wow.' I've only done one other big action movie, so when I walked into the room and saw the director's [D.J. Caruso] board, it was really similar to my visuals that I'd brought in, so I thought I might be able to get into a groove with him. Sure enough, we clicked.
How much research did you do into the previous xXx films?
I know the designer who did the other two movies [Sanja Milkovic Hays], so I called her up, and she was just incredible. We talked quite a bit along the way, too, and she was super helpful. The thing is the first film was thirteen years ago, so I thought that having a new perspective and giving this film a different style was important. Especially considering how much has changed for the character.
How did the character's changes inform your design work?
So Xander Cage has supposedly died, but he faked his death and he's been in hiding. We don't know where he's been until the opening of the film, so the biggest thing for me was, rather than be intimidated by the action, why not really focus on the characters themselves, because no matter what kind of action is going on, there's always the underlying character. So I asked myself questions about them. Where do they live? What do they do? Who are they?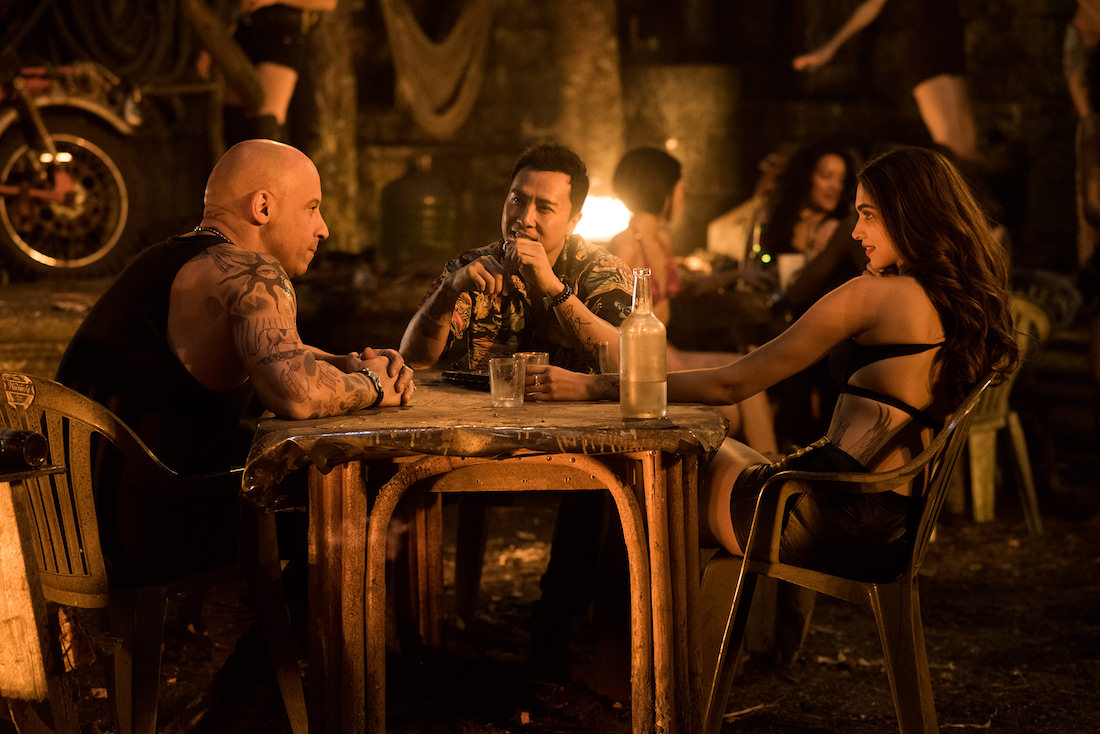 L-r: Vin Diesel, Donnie Yen and Deepika Padukone. Courtesy Paramount Pictures.
Do you design with the action sequences in mind, or, do you create the look and then figure out a way to make the clothes work for the action sequences?
I always like to not betray the action, meaning, there are so many times when you see the way a character is dressed and you say, now they're going to do a stunt because of that movement-related outfit. So we started with what we thought looks great and what fits in the environment. We were supposed to be all over the world, so I tried to stick with what was appropriate to those locations. There was some spandex, but it's not spandex all the time.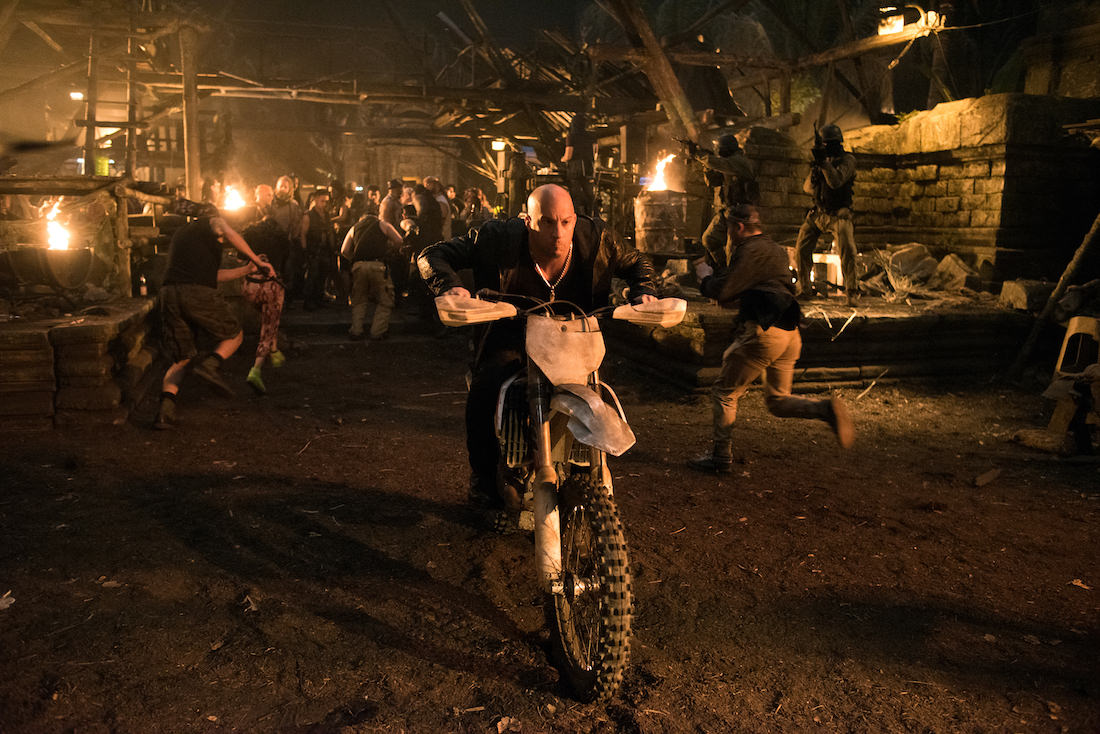 Courtesy Paramount Pictures.
What techniques do you use to make it so the clothes work when the actors and stunt performers are required to fly around the set, flipping, jumping, kicking, punching and generally getting tossed around?
Designing for this film was very special because almost every single actor in this movie is either a martial artist or an athlete of some sort. And it all happened so fast! With Vin, I had a little more time. D.J. [Caruso] and talked, and we knew there was probably going to be a lot of black, so we decided to start there. We wanted to make sure we were translating the Triple X vibe. Luckily we had such great craft people in Toronto, where we got some fantastic stretch fabrics and dyed them in our colors.
These stretch fabrics can be put into any article of clothing?
Yup. Every single costume we liked, we'd make stretch panels inside the legs and arms. We'd do a quick fitting with the actors, cut open the seams, have them kick and do their speciality movement, and go from there. Tony [Jaa] jumps in the air and kicks, Donnie Yen does that fantastic sideways kick jump—so each actor did their movement to see if our costumes were stretchy enough. Deepika Padukone is a dancer, so we had to have stretch pants on her almost entirely because she does these amazing splits, so anytime she wore leather we'd have to put these little stretch panels into her clothing. At the same time, the clothes could stay tight, which made them look tough and sexy. We hid the flexibility—it's a simple thing, but there's such joy and happiness to be able to put them in fashionable clothes and add the stretch panels.
Do you need to constantly alter the clothes as the shoot goes on?
It's like sculpture. Every garment in a stylized movie like this is altered throughout. With Donnie Yen, he showed up in Toronto and went to work the next day. He was at one weight at the beginning, and then as soon as he started, with this type of training that's required, his body changed. So not only are you altering the costume at the beginning, but as you go. For example, he got more muscular in the shoulders and smaller in the waist, so you don't want it to look like his clothes are suddenly baggy, so you take them in so he maintains the same silhouette in the movie. You're always altering. I like that it seems like magic, but it's really just math. Where to put the stretch, how much, etcetera. If you don't want to make a garment out of stretch material entirely, you have to do the math. It's a constant challenge and really fun.
There are a few really impressive actresses who are just as active as the guys—what was it like creating their looks?
Deepika's costumes got a lot of oohs and ahs. The DP, Russell Carpenter, was always like, wow, this is going to be beautiful to shoot. There was a lot of black, as it's a moody and dark film, but I tried to alter that with gray and navy, layer with dark brown or dark olive, to try and add other dark shades in there so it doesn't just get lost.
I think we said, "How kick ass!" at least ten times a day. And the ladies—Deepika, Ruby Rose and Toni Collette are all fantastic, and all really different characters. They were each sexy but in a smart way. They were not the damsels in distress; they each had to hold their own as a part of the team. It could be a woman versus a man, man versus man, it was pretty equally opportunity in this movie, and they all had their skills, it was all there in the script. And when they were uncovered it was because they were hot, it wasn't gratuitous. It wasn't 'let's put them in a bikini top.'
The women are just as tough as the men.
Ruby had done two other action movies before this, and Deepika is a huge star in India, and they both had to do some really crazy stunts. They were both up in the harnesses by themselves, having to deal with being swung around while in costume, a pretty costume no less! But a costume they could kick ass in.
Sounds like you had fun on the film.
I love action movies. Between my partner in LA and my new assistant in Toronto, we all hit a groove. Often times when you're really working hard you lose sight, and it's just like, 'let me get enough sleep, get there, drink my coffee and get focused.' But on this film we were excited. I came to work early, ready, it was a challenge for sure, but Vin sets the tone. He has fun. This is one of his many franchises, but he loves this character and that love is infectious. I really did like the math of it, as I mentioned, it's really fantastic to do a stylized movie, whether it's fashionable spies or characters from other parts of the world—trying to figure that problem out, and then adding the action and having that look believable. I looked through photos of the film at Paramount, and I was really happy about how everybody looked, I have to say. I know they were happy and comfortable, and I think action movies add a whole other layer. There are a lot of people in this movie and there were a lot of alterations to do, but when I was able to go to set and watch the actors perform the stunt, and the clothes held together and the actors looked cool, I felt like a kid again.
xXx: Return of Xander Cage opens on January 20.
Featured image: Vin Diesel and Deepika Padukone