The Coen Brothers Will Write & Direct Their First TV Series Buster Scruggs
The small screen has become a siren song for some of the best and brightest talent in film, so it should come as no surprise that two living legends, Joel and Ethan Coen, are creating a TV show. It's called The Ballad of Buster Scruggs, and it will be a limited anthology series set in the Old West. The Coens have made two memorable forays into westerns already, with their astonishing No Country For Old Men in 2007 and True Grit in 2010.
Variety broke the story that Annapurna Television is partnering with the Coen brothers on the show, with a plan of potentially combining a television and theatrical run. The Coen Brothers wrote the original script and will direct. Annapurna, run by Megan Ellison, has carved out a great niche for itself since its inception in 2011, working with auteurs like the Coens, Paul Thomas Anderson, Kathryn Bigelow, Richard Linklater, David O. Russell and more. This past September, it launched Annapurna Television, which is headed by former HBO executive Sue Naegle.
"We are very excited to be working with Megan and Sue on this project," the Coen brothers said in a statement to Variety.
It will be intriguing to see how this plays out into a theatrical run. Variety reports that Buster Scruggs will be filmed as a miniseries because the scope of the story is too large for a single feature film.
This could be a new trend in Hollywood, as the Coens' Buster Scruggs is following in the footsteps fo Imagine Entertainment's adaptation of Stephen King's The Dark Tower series.
"Imagine partners Brian Grazer and Ron Howard had planned to do something over both theatrical and television, but ended up sticking with one feature film, which Sony will release later this year," Variety's Justin Kroll writes.
Buster Scruggs is said to intertwine six different storylines, but plot details peter out after that.
Check out our WatchList of the best of the Coen Bros. and learn how to stream their films.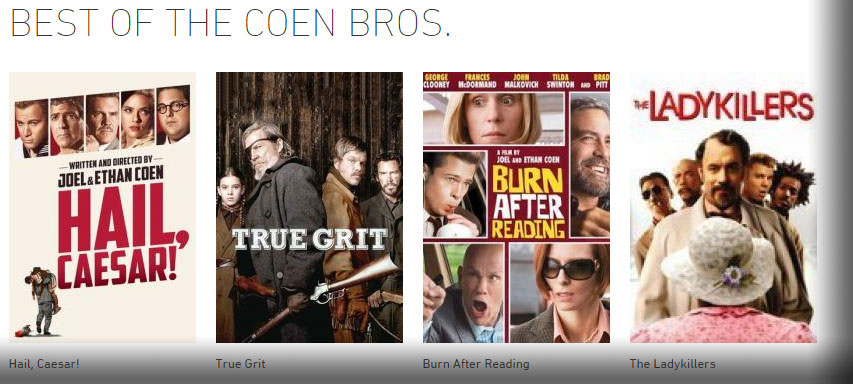 Featured image: Javier Bardem, Ethan Coen and Joel Coen at the Cannes Film Festival.​