Molly Shannon on her Heartbreaking Role in Other People
For Molly Shannon fans (and we are legion), it's long been known the former SNL standout had acting chops that stretched beyond her iconic contributions to the show. But what contributions! Shannon became a featured player on SNL in 1995 and inhabited a few of the show's most memorable characters, including (of course) oddball Catholic school girly Mary Katherine Gallagher (Shannon took the character onto the big screen with 1999's Superstar), and, a personal favorite, Terry Rialto, the earnest co-host of "The Delicious Dish," who, along with Margaret Jo McCullin (Ana Gasteyer), gave the world Schweddy Balls.
Since Shannon left the show in 2001, she's quietly been playing an impressive, diverse cast of characters. In the last few years, including 2015's Me Earl and The Dying Girl, on HBO's Divorce, as Joanne, the unhinged, possibly bi-polar best friend of Frances (Sarah Jessica Parker), and this year's Other People, as Joanne, the dying mother of the lead character David (Jesse Plemmons), in an astonishing performance which earned her an Independent Spirit Award nomination for Best Supporting Lead Actress. (The Spirit Awards recognize the best in indie filmmaking, for films that were made for $20 million or less.)
Shannon knew of Other People's writer/director, Chris Kelly, from SNL, but their paths never crossed, not even at SNL's 40th Anniversary. The film is a personal one for Kelly, who drew on his own family life to tell the story of David, who returns home to Sacramento from New York City, after breaking up with his boyfriend, to take care of his terminally ill mother. Their connection is undeniable, evidenced in an early scene before a house party where Joanne is late to her own shindig, dressing up and putting on a show for her beloved son. Although she's gravely ill, being near David lights Joannae up. The chemistry between Shannon and Plemmons is remarkable.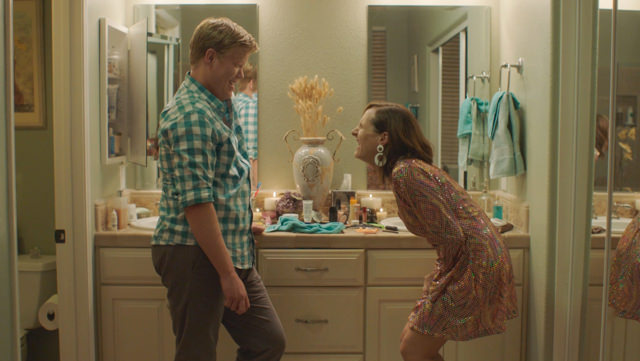 Along with Shannon, Bradley Whitford plays his father, Norman, who has never been able to fully accept his son's sexuality. Maude Apatow plays David's sister Alexandra, decidedly grown since appearing in Knocked Up all those years ago. Joanne is the family's center of gravity, and part of what makes the story so sad is knowing that the center cannot hold forever.
"It was only later, after Chris offered me the part of the mother, that he told me he said he kept saying in meetings that he wanted someone like Molly Shannon to plaly my mom," Shannon says. "So I sat in my bedroom reading the script, and it took my breath away. This script is divine, it's so beautiful, I deeply related to it as a mother. Just how close she was to her son, how complicated this type of thing is for families. The funny times, the sad times, Chris captured it so beautifully. He was in New York on his way to the Correspondent's Dinner, I told him I loved it and I was so excited to be in this movie. After that I took myself on a run, listening to Miley Cyrus, just running around the block because I was so excited. I thought, 'I'm gonna be in this movie!'"
Like Kelly, Shannon is no stranger to losing a parent to cancer. And while she makes clear that Other People is not a docu-drama, the fact that they both knew what this felt like from the inside out was key.
"He wanted me to find my part in my own way. I spoke to his mom's best friend, Bonnie, at length. We talked about his mom, her values, her life. It was great. Chris really helped me with any questions I had, I felt so lucky to have the opportunity to do this. And to work with Jesse Plemmons, he's so sublime, the scenes are so intimate, the whole cast of comedians. It's such a good cast!"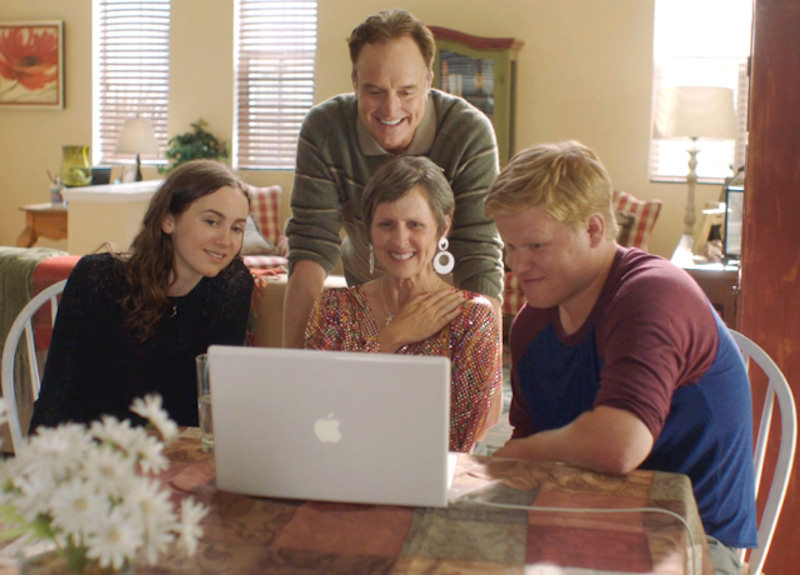 L-r: Maude Apatow, Bradley Whitford, Molly Shannon & Jesse Plemmons.
Because the film was a true indie, there wasn't a ton of time beforehand to prep. The emotional heft of the story, coupled with the ace performances by Shannon and Plemmons (their scenes together are both brutal and lovely), you'd be forgiven for thinking they'd had months to prepare. They did not.
"It was interesting, Jesse and I had met only once, but it came together so quickly. And we didn't have the luxury of rehearsals. We had this intimate scene in bed when I apologized for the fact that, when he came out, I didn't react so great—and this was on the first day of filming," Shannon says. "It was so wild to have that scene, when she's asking for forgiveness from her son, on day one, but it's what I love about acting. We'd definitely have to take a breath after one of those scenes, because they're just so sad. But I also felt great when we got through it, when we were connected and in the moment, and then you think, 'Yes, we got that one.'"
One of the hardest things to watch is the way Joanne subtly loses steam as the cancer progresses, both physically and emotionally. The minute changes to Shannon's physical appearance are sublte. Her performance is such than you never for a minute forget how hard Joanne is trying to keep her family's spirits up while her own life ebbs, until the physical toll of the chemotherapy is too much. Shannon credits the devastastingly accurate physical transformation to her ace hair and makeup team.
"Hair and makeup absolutely transformed me. Because it a low budget independent feature, you have to move fast. Matthew Mungle did the prosthetic make up, and he was a part of this amazing team. They'd have like an hour, an hour and a half at most. They looked at the different skin tones during chemo, and tracked the days where I'd have to change the makeup, the tones, the color—they were incredible at researching what shades you go through on chemo and off."
The entire filmmaking team was adamant about making sure Joanne's illness was depicted with candor and clarity. By the time she loses her hair and dons a wig at alocal fast food joint, you can feel how uncomfortable she is with the disguise. This bittersweet scene, which revolves around her will, includes Shannon at her nimble best. She's funny, she's vulnerable, and she's pissed. When she takes off the wig, you want to cheer and cry simultaneously.
"It was so real. It wasn't some glossy thing. It felt very real. Chris really showed the totality of who Joanne is; she's funny and strong and smart, she has so much life, she's this strong mother, but her life is being cut short. The cancer is ravaging her body, but she's doing whatever she has to do to buy time. What's she going through is so difficult. She'll fight until the end, so I deeply, deeply related to the material, what a mother would do."
There's a moment when David regrets the fact he'll never be able to take Joanne around the world, a fanciful notion (what son really does that with his mother?) but one filled with longing and despair. Joanne's response is simple and perfect.
"That part that pulled on my heartstrings, 'I want to take you around the world,' and she says, 'I get to see my whole my world at dinner toight.' That made me cry reading that. I asked Chris [Kelly] if his mom said that, and she did. She said the most profound things. I said, 'What a poet, what a writer, no wonder you're a writer! Look what she said!' I just wanted to do a good job serving the material and the writing."
While the relationship between Joanne and David is more or less sublime, his relationship with his father is strained and, in many ways, heartbreaking. Shannon was quick to point out the complexity in Kelly's portrayal of a father who can't quite come to terms with his son being gay. There is a moment when the family lingers outside of David's apartment in New York, the one he ostensibly shares with his boyfriend (in actuality they are broken up, but David can't bear to tell his parents), where his father won't join them and go up and see the place.
"They're Catholics. It's complicated and tough. Mom gave him a hard time when he came out, and the dad's still struggling with it. The movie played at Out Fest, and the response was incredible," Shannon says. "The scene when I stand up to my husband after he refuses to come up to the apartment, and she's like, 'Are you kidding me? I'm going to go up there, and I'm going to drink a glass of wine.' I loved how complicated it was. And yes, these things are complicated, we've come a long way, my dad was born in 1926, we've come such a long way, and we have a long way to go. The father is limited, so it's frustrating, and he's trying, so it's also beautiful. And I loved it. Marriage is complicated. She's feels very close to her son, maybe more so than with her husband."
Shannon has gotten to a point in her career where she no longer feels the need to hustle for every part. For a film like Other People, the connections presented themselves thanks to her long, fruitful career.
"There's so many good people I get to work with. This town can make you feel like you're not measuring up, but when you focus on positive stuff and positive people who want to work with you, you go towards that. You go towards the love. I choose the ones who want to work with me. I'm embracing that. I'm in a place in my life where I'm appreciative, I worked really hard for this."
Featured image: Jesse Plemmons and Molly Shannon in Other People. Courtesy Park Pictures.