La La Land's Choreographer Puts the Pep in the Musical's Steps
Mandy Moore, 40, a four-time Emmy nominee lauded for her routines on the talent competition show So You Think You Can Dance, is one of the most in-demand choreographers working today. She just finished Season 23 of Dancing With the Stars and is currently in rehearsals for the touring version, which kicks off Dec. 16. And she is film director David O. Russell's go-to dance guru, overseeing the fancy footwork performed by Bradley Cooper and Jennifer Lawrence in Silver Linings Playbook and the disco moves in American Hustle.
She also possesses a sense of humor when it comes to any confusion caused by the existence of that other Mandy Moore, the singer-actress whose career has gotten a boost from her starring role in the new hit TV show This Is Us. Check out the dancing Moore's Twitter handle — @nopenother. Translation: "Nope, not her."
But Moore's profile is also on the rise now that she is associated with La La Land, which opens Dec. 9. It's a rare 21st-century movie musical not based on a Broadway show or Disney animation that features original tunes as well. The throwback to showbiz songfests from MGM's golden era and those from the '50s and '60s, done in widescreen and drenched in lollipop-hued primary colors, is set in contemporary Los Angeles as it revolves around Emma Stone's aspiring actress Mia and Ryan Gosling's ambitious jazz musician Sebastian as they chase their dreams and each other. Moore talks about how she got involved in Whiplash filmmaker Damien Chazelle's passion project (which lovingly captures each dance move in its full-body entirety, no fast-paced MTV-style edits) and how it is a fantasy come true for her.
When did you decide to be a choreographer? I assume you started off wanting to be a dancer first?
Yeah, definitely. I was 8 in Colorado. Luckily enough, even in a small town, my dance training was super varied. Ballet, tap, jazz, folkloric, breakdancing and belly dancing. My teacher was supportive of me creating my own work as well. I thought dancers just naturally made up their own dances. When I went to Los Angeles, it all went hand in hand. I never was just a choreographer, dancer or teacher.
What was the first movie musical you remember seeing in a theater?
I probably never saw one in a theater. My mom and I would go to the local movie store and rent VHS tapes for a week, back when you could do that. Titles like Singin' in the Rain and Oklahoma. I was obsessed with Guys and Dolls. I wasn't that into Fred Astaire and Ginger Rogers yet because their films weren't as accessible back then. Mostly it was late MGM musicals and Gene Kelly.
It must have been thrilling to have a chance to do a full-on movie musical from scratch.
When I got the script, I thought, "There is no way they are going to make this. This is incredible, like a dream."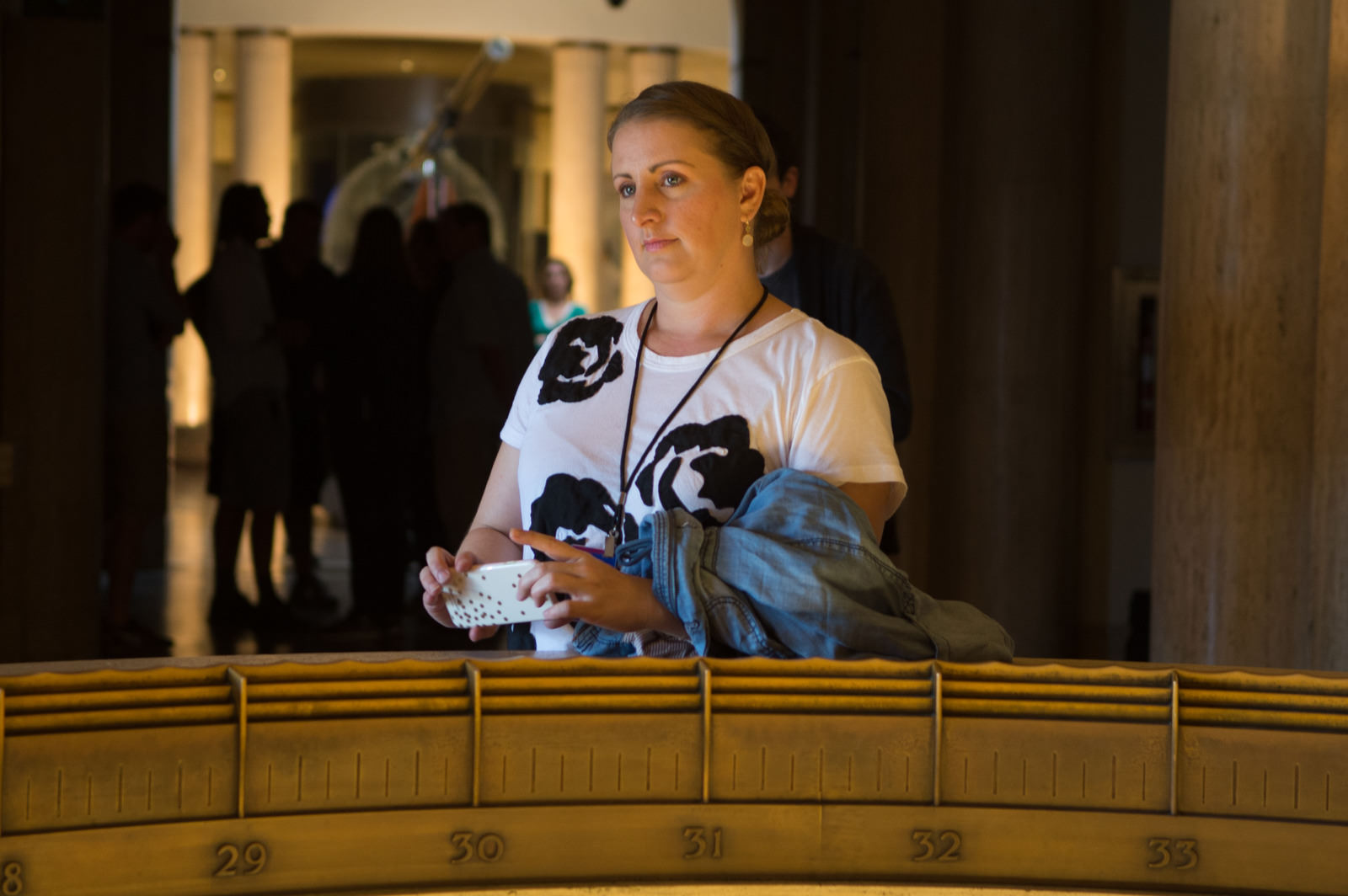 Mandy Moore on the set of La La Land. Photo Credit: Dale Robinette
You have choreographed stage shows but primarily dances for TV and movies. How are the mediums different when it comes to what you do?
Working on a film in general is so different than TV. Just the time frame. You have to do it week after week and don't get a chance to let things marinate. There is a beauty to that. But my heart definitely lies in film and the collaborative nature of film. Damien is a dream director. He is clear about what he wants, a perfect partner for the perfect crime. With Silver Linings Playbook and American Hustle, I was in more of a bubble. Here I was involved in a creative boot camp with Ryan, Emma and a pre-production skeleton crew of dancers. We were immersed in this world together.
You've become a specialist of sorts for mentoring people who aren't professional dancers or who are dancing outside their usual genre comfort zones. What is the key to making them feel at ease and confident about dancing?
Funny enough, I never thought I would become that person who gets to work with people don't really dance. First and foremost, it is driven by the story and how good a dancer they are supposed to be. Who are these people and create movement that reflects their characters. Like any coach, I get them moving along a path. Some days are good days and some are bad, when they feel like they can never do this. Teaching dance to children helped me to coach actors who are not dancers and showing them how to get from A to B. They have to understand there will be some falling and failing. It's all part of rehearsal.
Ryan sang and danced when he was part of The All-New Mickey Mouse Club as a kid and Emma took ballet lessons when she was younger and starred in the musical Cabaret on Broadway in 2015. How did they stack up with Jennifer and Bradley, whose dancing wasn't supposed to be that perfect?
Jen will tell you herself that she is not a dancer. When she stumbled on the stairs when she won her Oscar, I texted her that we should have just concentrated on you walking to the stage in that dress.
You worked with Ryan and Emma long before shooting began.
The pre-production process lasted between six to eight weeks. Before that even started, before they even signed on, I had them do flexibility and coordination pattern building. How to remember steps. How to do it time after time. So that initial work or foundation building is important. They had to have a good base of how to learn how to dance. I couldn't just spit out moves. There would be long one takes with no coverage. They had to be on game physically and mentally, performing a routine on top of singing and acting. It had to be a meticulous process, very thought-out for both of them. Both were really very cooperative and so excited to be there.
When did you know that things were beginning to click for them?
Ryan took private lessons during pre-production. He liked working late at night. We would start at 7:30 and end at 9:30. He liked to use Frank Sinatra's version of Summer Wind. He loved the vibe of song. We would repeat different sliding steps. The moment finally came when I looked at him and thought, "That is Sebastian, his vocabulary, the feel about him." The same thing happened with Emma, when I suddenly thought, "OK, I see Mia."
Let's talk about some of the more memorable numbers you created. One is Another Day of Sun, which opens the movie and takes place on an actual gridlocked freeway, where the stuck drivers leave their cars behind and begin to sing and dance. Was that one take?
No. It was all crafted to be a "oner." That is what Damien wanted originally. But the logistics involved with using a crane that could move 360 degrees didn't allow it. There are three hidden cuts, whenever there is a whip (when the camera suddenly moves quickly in a blur to one side). A couple people have told me they thought it was one take.
Fame came to mind, when they are outside the school dancing on cars and through the New York street traffic. What did you want to convey? How many dancers were needed?
The big thing Damien wanted was movement. A traffic jam with vertical movement — that on paper seems like great idea. Logistics alone, the amount of prep, what the number had to be logistically — that was 90 percent of it. When it got to making up the steps, they were dictated by where people are standing, whether they are on a hood or roof of a car. They could move down a lane but it was only four feet wide. The fire marshal had safety regulations, too. You could not go to one side of a car or had to stand this far away from the median. Damien wanted an opening that allowed the audience to fall into a musical. Not too in your face, not too confusing. "Oh, singing, dancing, all these people." We hired 30 dancers and 100 really patient, amazing extras who filled in the gaps. It took two days to shoot. We shut down the freeway for 12 hours and brought up the cars and dancers. You can only rehearse so much in a parking lot since the freeway was at an incline at that intersection. We started at midnight on a Friday and the first dancers were out there by 4 a.m. when the sun came up.
A Lovely Night was very reminiscent of Gene Kelly in Singin' in the Rain, when Ryan spins while holding onto a street light, and Fred and Ginger in the gazebo in Top Hat when there is tension between them and he sings Isn't This a Lovely Day.
Damien loves Fred and Ginger. I think that what he loved so much about them was their ease, their dancing never forced. It felt incredibly real. What is better than doing banter and acting flirtatious during the magic hour before the sun fully sets?
On So You Think You Can Dance, you and other choreographers often use a bench, chairs or a couch as a prop. You did that here with a park bench. It works well with couples getting to know each other. Also, I liked that Emma changed out of her heels into more comfy shoes before they danced. And that their spectator shoes matched.
We got up there to the location overlooking the city. It was a big, massive road with trees. It needed something to ground the dance. They started by walking up the hill then singing. Then she sat on the bench, changed her shoes and they went to toe touches. Why did she change them? They had to dance on cement and a road with a massive incline. Although costume designer Mary Zophres had referenced those blue high heels, Damien said she can't dance in these shoes. I often put flats in a bag because my feet hurt by the end of the night. Mary saw the part of the choreography when they move their heels and toes together and decided they would have matching shoes.
Then there is the heavenly planetarium waltz at the Griffith Observatory inspired by Rebel Without a Cause, when Ryan and Emma twirl among the clouds and stars. Who came up with the idea of using a handkerchief rising into the sky like a bird to explain the lack of gravity?
I think Ryan came up with that the day of shooting. There had to be a transition that allowed the audience to go into the fantasy. He said, "What if my handkerchief would fly up first?" The silhouettes of them were done in front of a green screen and stunt doubles were eventually used.
Their waltz reminds me of the Disney animated version of Cinderella, when she goes to the ball and dances with the prince.
Actually, Damien referenced the outer-space dance in WALL-E.
What do you hope moviegoers take away from this?
Hopefully, the film inspires people to love and dream. Truly, when I watch it over again, I walk out and think, "Yeah, dreams are great." Damien and his crew are allowing us to fall in love musicals again.