How Hacksaw Ridge's Production Designer Transformed Australia into Okinawa
Hacksaw Ridge Production designer Barry Robison has worked on films in Australia so often that he acquired dual-citizenship. Being familiar with the area gave him an advantage when working with Australian director, Mel Gibson. The setting, however, was unforgiving for a period piece set in America and Japan. Robison literally reshaped the land to take audiences back 70 years and thousands of miles away. The film garnered three Golden Globes nominations, and his rigorous research and scrupulous attention to detail earned him an Australian Academy Cinema Television Arts (AACTA) award for Best Production Design.
We spoke with Robison about scouting the perfect location, shooting in Australia, recreating the battle of Okinawa and more.
How did you prepare for this film?

I had done a lot of photographic research out of the WWII museum in New Orleans, which is unbelievable. Hacksaw Ridge and the Battle of Okinawa [are] really well documented. In the research, there was one aerial photograph of a command headquarters on Okinawa, and they had put all the tents at the base of a structure that looked to be a church. I thought, "Wow, how fantastic for the scene that needed to play out." You have this broken down Anglican Church in the background so that when Desmond [Doss] comes off the battlefield, he's on his rest day reading his bible. Subtly in the back is that bombed out broken down church, and in the movie it really played well. It was real. I did dream it up, but it was also in the research.
In Desmond's diaries and the books written about him, there are a lot of historical photos of him. There are pictures of Desmond, after the battle standing on top of Hacksaw Ridge. It's just so extraordinary you just can't believe it, It gives me goose bumps even talking about it. We knew what the cliff face looked like but it was interesting how all I had were aerial photographs of the ridge above the battlefield, so it was very hard to tell what the battlefield really was like because it looked like the moon with pock marks from shelling. At the museum, I found documents from guys who had been there with verbal descriptions so those really helped us out.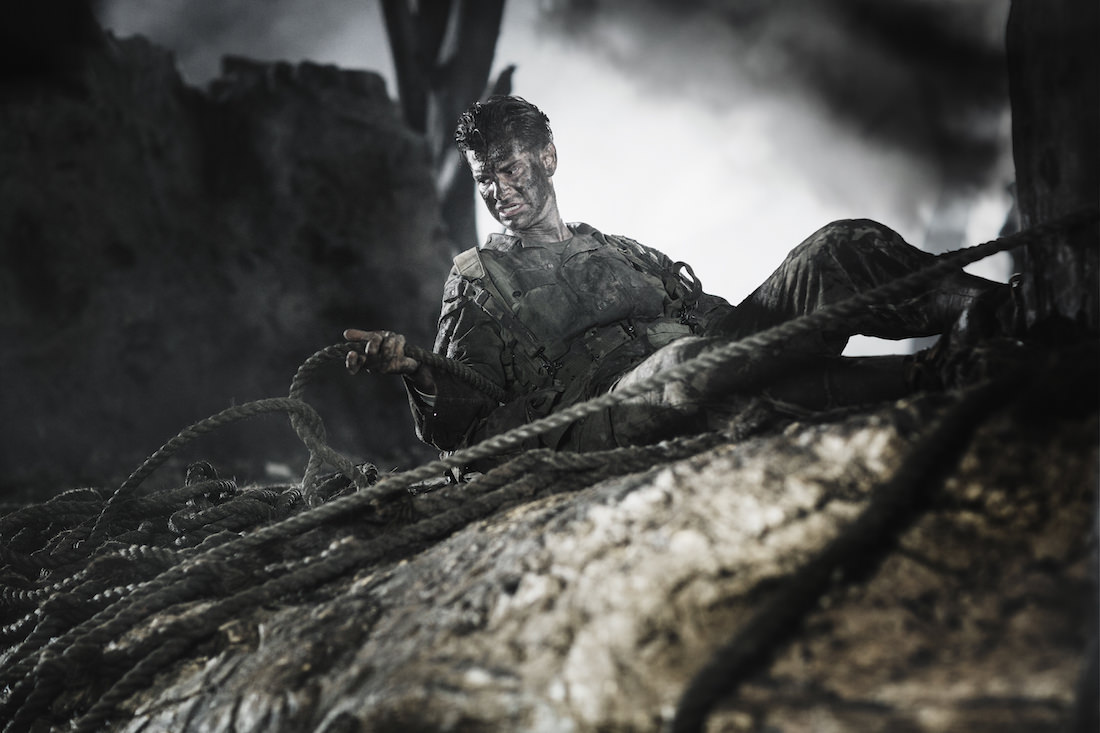 Andrew Garfield stars as 'Desmond Doss' in HACKSAW RIDGE. Photo Credit: Mark Rogers
How were you able to turn Australia into Virginia and Japan?

It was really a challenge. Trying to do a period film almost anywhere in the world is difficult because we're in the 21st century and this is obviously in the early 20th century. So these challenges are amplified in a foreign country and Australia is familiar and yet foreign. Everyone drives on opposite side of the road, the signs are different, and automobiles are different. We changed storefronts, street signs. The vehicles were also a challenge because they drive on the left hand so my transportation coordinator, Geoff Naylor, had to put in fake steering wheels.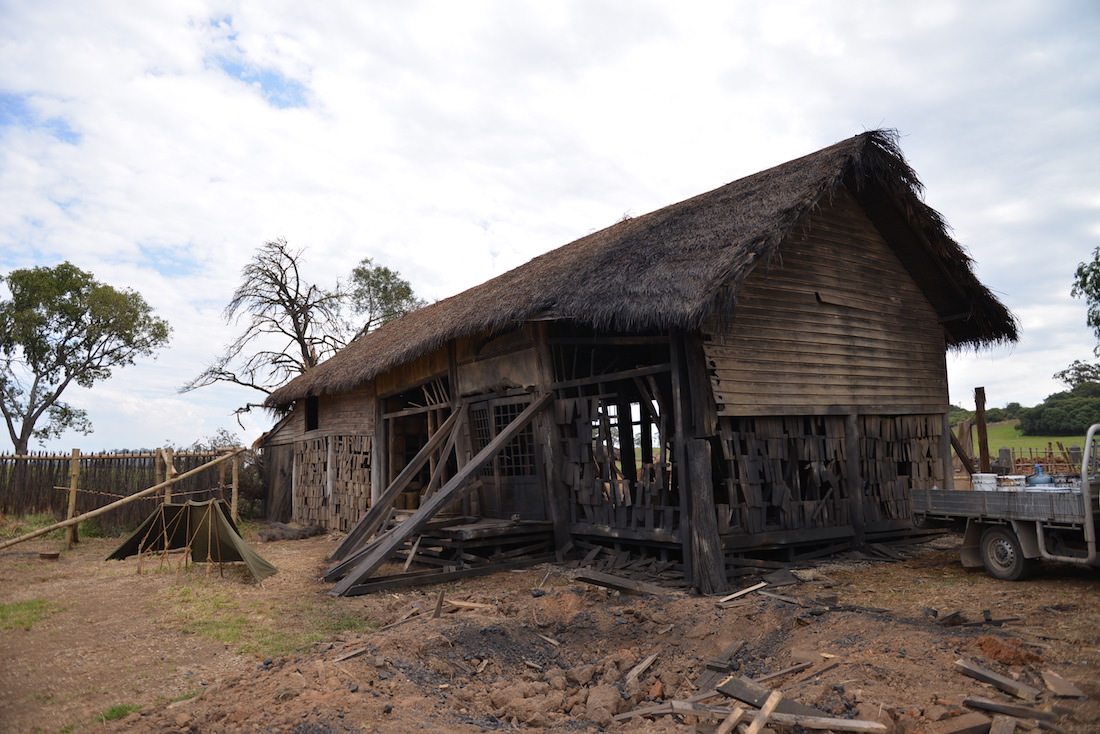 A Japanese farmhouse created in Australia. Photo Credit: Barry Robison
What about the landscape? 

One of the larger challenges of Australia is there are eucalyptus trees everywhere. We found a perfect place to do the battlefield out in the western suburbs with no trees and wide-open spaces, but of course we couldn't make the deal. So what we found in the same area was a heartbreakingly beautiful dairy farm. What's going on in Australia is the same thing that's going on in the whole world. 21st century urban spread is really taking over all of these old farmlands and putting in big housing developments. This farm was one of the last so we were able to cut the deal and we used this farm sort of as a mini production studio.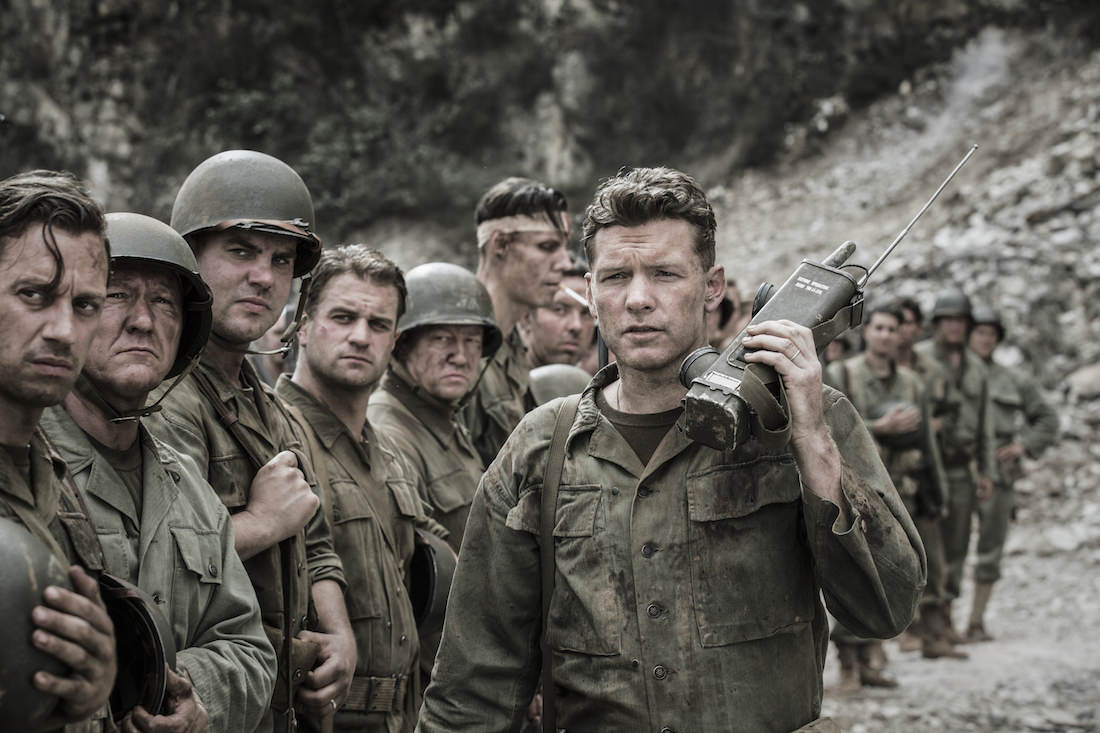 Sam Worthington stars as 'Captain Glover' in HACKSAW RIDGE. Photo Credit: Mark Rogers
Did you shoot the whole film at this location?

We got a lot of things out of it. We did the Japanese farmhouse, road to Okinawa, battlefield headquarters, and of course the battlefield, all in this one location, which really helped production. If production doesn't have to be on the move it gives more time for the filmmaker to shoot his film so it really worked out well. The obstacle there was that it was surrounded by eucalyptus trees and we can't go in and cut everything down. That's just not a real situation. However, bulldozers were standing by to begin work on the property for a housing development after we were done so we negotiated that we could cut down some trees, but very few.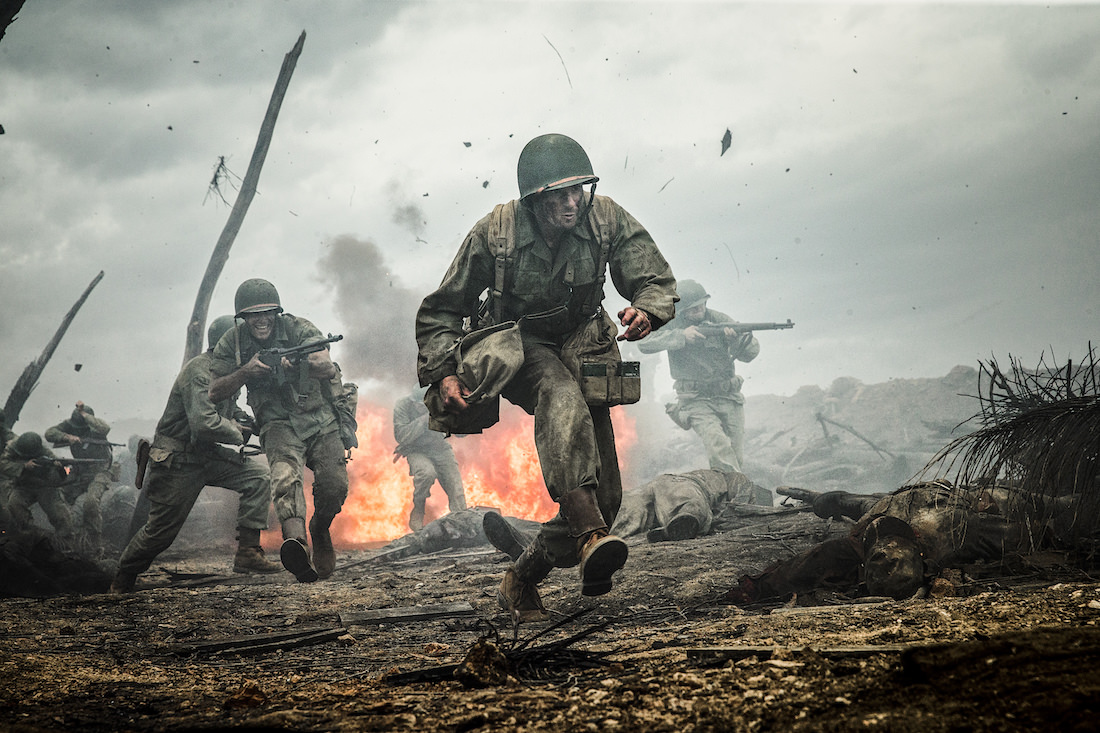 Andrew Garfield stars as 'Desmond Doss' in HACKSAW RIDGE. Photo Credit: Mark Rogers
How did you design the battle scenes?

After we saw the site, our supervising art director, Mark Robins, and I sat down and plotted out how to lay the battlefield out. We made a big clay model so everybody could understand what the battlefield was going to be. Mel used that model for blocking scenes and dealing with the effects coordinator. What we decided to do was dig down into the land about 8 to 10 feet and create a big shallow bowl and pushed all the dirt up to the sides to create a berm. So when you were down in the battlefield, the camera would look up to the sky or into the berm and that allowed us to put in big special effects fog tubes. So when they called action, we would pump a lot of smoke through so it would obscure the horizon line, and it really gave Mel that fog of war he was looking for.
Were you happy with the ultimate location?

I'm the kind of production designer that will talk to the director and scout the locations and let the locations speak to me. When I went out with my locations department, this property really spoke to me. I certainly had to talk Mel into it. He just didn't see it and wasn't really sure because he had fallen in love with that first location. I said, "Mel, this is fantastic, look at what we're going to get here" and I could see it in my mind's eye. The one thing a production designer gets to do is dream – we're dreamers. So the battlefield was one thing where I saw this broken down barn at the edge of this beautiful pond. I said, "This is the perfect Japanese farmhouse location."
What did you enjoy most about working on Hacksaw Ridge?

My job reminds me so often of when I was a little boy playing with my friends in our sand boxes and backyards and push dirt around and make dams and all that jazz. In Australia, they don't have prop houses. So everything has to be built from scratch. From trunks to lockers to beds, the wood burning fireplaces, everything is built from scratch. The prop makers are just incredible, so the joy of doing Hacksaw was that I've worked with the same people now on four or five movies down in Australia and they are just incredible. To have some days where you just know everyone is firing on all cylinders and understand the vision that I've either described or drawn in some way is so exciting.