Composer Jake Monaco on Building His Instruments, Scoring for Pixar & More
Composer Jake Monaco has worked on everything from big budget comedies like Keeping up with the Joneses, to children's animations like Amazon's The Stinky and Dirty Show and the recent Pixar short Piper. Nothing is off limits to Monaco in his search for the perfect sound- he explains how instruments made from everyday objects like vodka bottles, or a $6 wok from Ikea, help him hit the right notes.
How did you break into film/TV scoring?
Music came into my life at a very young age. I was six when I first started taking guitar lessons. Within a year I was kind of over it. How many six-year-olds really want to practice anything on a daily basis?
After that I actually didn't pick my guitar back up until I started my freshman year of high school. My family had just moved and I needed a hobby, so I decided to give it anther shot; this time it stuck! I taught myself how to play and began writing songs. When I got to college I started playing at bars and on other campuses with a few different bands. My stint as a rockstar (so far) lasted about six or so years. Then everyone my age started searching for real jobs, so it felt like it was time to grow up and start 'adult-ing'.
All it took was one visit to USC's film scoring program and I knew that's where I wanted to be. I applied, got accepted and moved across the country. Then just before graduation, I started working for Christophe Beck. Slowly but surely, coffee runs turned into opportunities and I started writing additional music. Then along came Dinotrux and Be Cool Scooby Doo, followed by The Stinky and Dirty Show…and here I am today talking to you!
You work on a wide range of projects from big budget comedies like Keeping Up With The Joneses to children's animations like Amazon's The Stinky and Dirty Show? How do you approach the different genres?
My approach to scoring comedies is generally to keep things fun, so in that respect there are more similarities in scoring these different genres than one might think.
The Stinky and Dirty Show is heavily focused on education, which is very important to Amazon. So throughout each episode you'll notice lots of 30 second cues and signature sounds that the preschoolers can identify and associate with storyline events. A fun example is the 'rach-a-ding' sound (it's official-unofficial name) that can be heard every time a main character asks a question that starts with, 'What if…'
Then we've got Dinotrux. The creators knew exactly what they wanted – an 'HBO for kids' feel. The cues are longer and more cinematic helping bridge not only each episode's arc, but each season and looking forward, the entire series. The music has been growing and developing with the characters.
When it comes to larger films, I tackle things similarly. My first step is always establishing main thematic material and from there the goal is to develop them seamlessly along with the storyline. This definitely isn't always as easy as it sounds. In Keeping Up With The Joneses, there are two completely opposite families: the Gaffnes and the Joneses. Toward the beginning of the film, it was a must that their differences were emphasized by the score, but as the film progressed and their worlds collided, the music needed to portray this evolution to the audience.
You use a range of unusual instruments, including a percussion table made out of pots and pans. Have you always been interested in experimenting with ways to achieve different sounds? How did it start?
I remember seeing street musicians as a kid and thinking how cool it was seeing someone play buckets and sheet metal like a drum kit. Fast forward to my moving to Los Angeles and getting involved in film scoring. Along with the awesome big stuff, I've also been part of some pretty inspiring smaller recording sessions. It's always so incredible – seeing what kind of creativity the musicians bring.
If the written part just said 'shaker', it wouldn't be a surprise if the percussionist brought out 30 different sounding shakers, some of which would be the type you'd expect but others might be self-made- like tiny nails in a glass jar.
Or if I'm working with a guitarist and ask for a more shimmery sound, he might take out tiny sticks or brushes that offer a different texture and produce a sound like nothing you'd expect to hear from a guitar. Every time I had an experience like this I'd try to apply what I'd learned somewhere else. For example, swirling my wedding ring around in a $6 wok from Ikea, creating a metal drone, or restringing a cheap guitar from Groupon with 6 of the same gage strings and then bouncing yarn mallets off of them. The possibilities are endlessly exciting to me!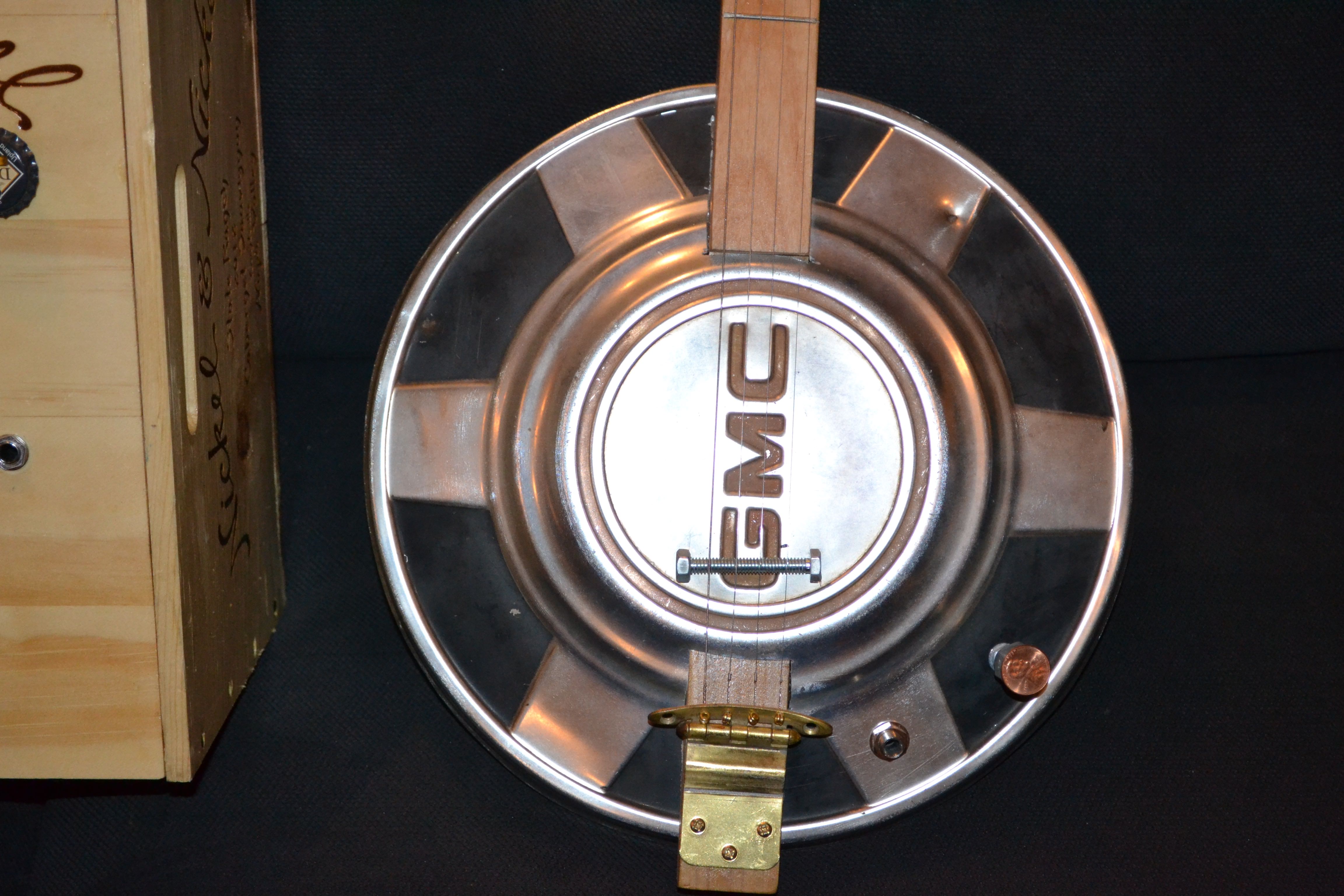 Do you have a favorite instrument that works its way into everything?
Funnily enough, that Ikea wok has been in five or six films and two of my shows!
Can you talk me through some of your more unusual instruments and how you've used them recently? In Keeping Up With The Joneses for example?
When the film you're working on (Keeping Up With The Joneses) repeatedly references a hookah bar in Morocco you know you're going to get to have a little fun! In order to capture the right sound with a Middle Eastern twist we invited two talented musicians to join us for one of the sessions. One played the sintir and the other, the kemenche. The sintir is a three-stringed instrument with a low register, plucked like a guitar, and the body is actually covered in camel skin, so it doubles as a drum…while you strum. The kemenche also has three strings but it rests on the knee, has a much more nasally sound to it, and is played with a bow.
Another one of my favorite instruments is a homemade piece I like to call the 'Ketel Bells.' First martinis and now music. Meet my my multi-talented friends. I added a little bit of water to each bottle so that when you strike them with sticks or brushes they each give off a different pitch. Most recently I've used this instrument when creating the sound for the Bit Bugs in Dinotrux.
What is your process for coming up with a score? Is it the same each time? How do you get the creative juices flowing?
My ultimate goal is always the same – to make the score different than anything else I've ever composed. Sometimes a specific instrument inspires me, while other times a certain sound or the overall theme of the film (or show) helps steer me in the right direction. After scoring a few key scenes and making sure things are actually working out as I envisioned, I usually start from the beginning and work my way from scene one to end scene.
Who/what are you inspired by? Who are the film composers you admire?
Working with composer Christophe Beck for so many years was one of the most influential experiences of my career thus far. He taught me the ropes and took me under his wing. I'll always be grateful for the years we spent making some pretty great music together.
Thomas Newman is another film composer that I've always been in awe of – his scores always have such a unique and emotional sound to them.
Do you have any particular projects/genres you're keen to work on? People you'd like to work with?
I actually really love working on animation and comedies in my day-to-day. It's a nice feeling – coming into the studio and being able to keep things light and fun! On the flip side, I love fantasy and psychological thrillers. I think what David Yates has done with the last few Harry Potter / Fantastic Beasts films has been pretty incredible. And I'm always sucked into David Fincher's films.
What is the project that you've worked on that you've been most proud of?
This past year, I had the opportunity to collaborate with guitar legend Adrian Belew on the music for the Pixar short, Piper. Working with him, director Alan Barillaro, and the rest of the Disney/Pixar team on this spectacular short was an experience I'll never forget.
What projects are you working on at the moment/have coming up?
Currently I'm still working on Dinotrux (season 4) and Be Cool Scooby Doo (season 2), as well as a Lego Disney production called Frozen Northern Lights. Stay tuned…!