From Storyboard to Screen: Behind the Scenes of Disney's Moana
Disney is in on the joke about "princess movies" in the new animated feature Moana (in theaters Nov. 23). In the film, a road trip by sea in which a young Polynesian woman named Moana leaves her island home to find the demi-god Maui and return a lost object to its right home, there is more than one joke about the title character's princess credentials.
The Credits recently sat down with Hyrum Osmond, Moana's co-head of animation, and David Derrick Jr., story artist, to discuss the long process of getting Moana from storyboard to screen.
Osmond, who worked on Zootopia, Frozen and Wreck-It Ralph, and Derrick Jr., who worked on Rise of the Guardians and How to Train Your Dragon, visited the visual arts school at the University of Colorado Denver and spoke with reporters in advance of their presentation to students. The below interview has been edited and organized for clarity.
Can you give me an overview of the process of making Moana?
Osmond: Altogether, there were 93 animators on the crew. [Most of the crew was on Zootopia during the time Moana was being storyboarded.]
Derrick Jr.: We're moving on Moana and we have to make sure jokes don't overlap [with Zootopia] and different things….I was supposed to be on Zootopia, but then because of my ancestry I said there's no way I'm leaving Moana; I'm staying on for the whole time.
Osmond: Typically, not all the crew works on the show but we reached this point where we got every single animator in the studio to work on Moana, which also made that special. Crunch time, everyone gets involved.
Derrick Jr.: There were four directors total. In all the movies I've ever worked on, you kind of get lost in the weeds at some point and you need to be course corrected….So Ron [Clements] and John [Musker] worked on the [overall] direction and did the dailies and Chris [Williams] and Don [Hall] focused on story structure.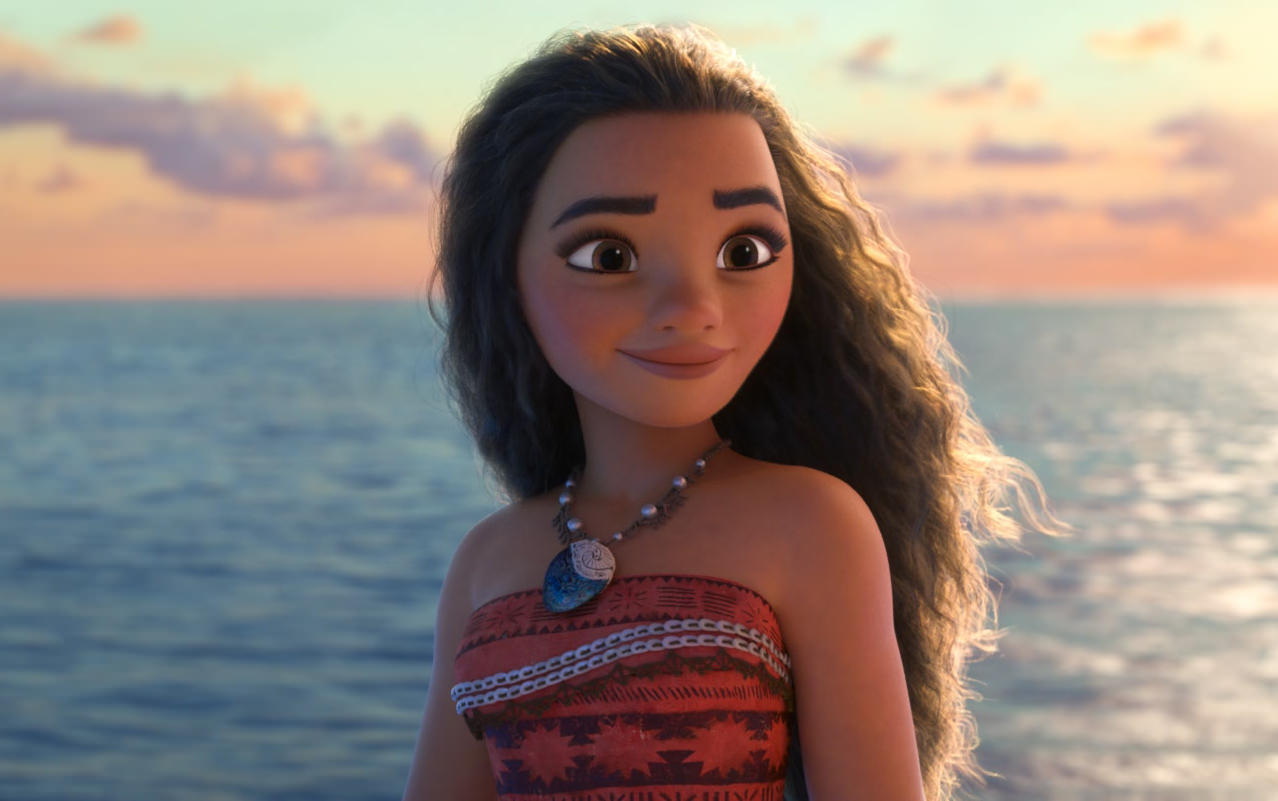 Moana. Courtesy Walt Disney Studios
Osmond: We encouraged [the animators] to use their reference but go beyond that reference, don't be tied one-to-one to that reference. What we did do was whenever our voice talent would come in to record, we would record them. In fact, our supervising animator Mack Kablan actually sat in the recording booth with The Rock for like four hours just watching him….He wasn't watching so he could animate one-to-one, he was just watching for those little nuanced things that Dwayne [Johnson] would do to try to put into that performance.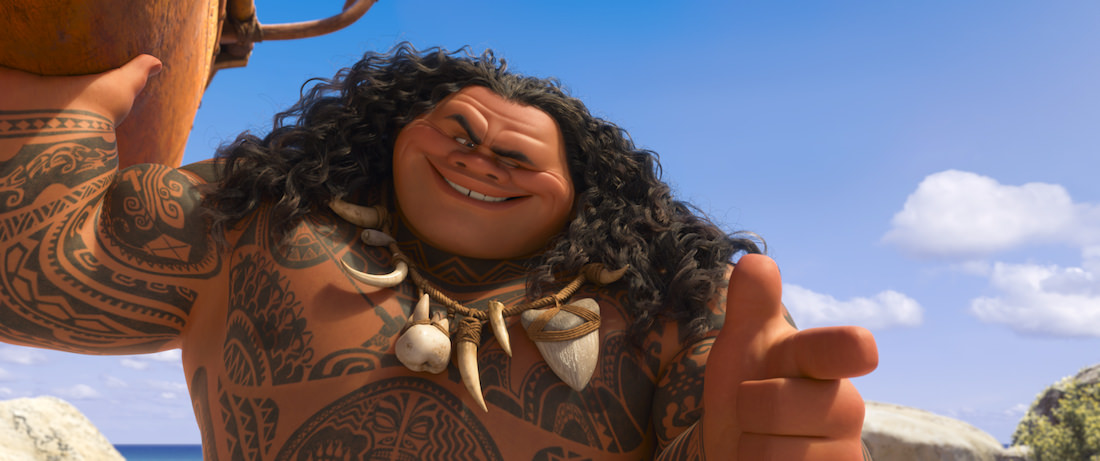 Maui. Courtesy Walt Disney Studios
Derrick Jr.: They started [the story] with Maui. His stories are ubiquitous throughout all of Polynesian culture. In my Samoan genealogy, the very first man is Maui. So it's not just myth it's genealogy. They had kind of a True Grit model early on, where they had a young girl who was setting out to do something that was beyond her and she needed to find someone with the tools and that would be Maui….we built the film like eight different times. We tried to get the story in a good place so that [Osmond] only has to animate it once. Because we're the cutting room floor; animation should not be.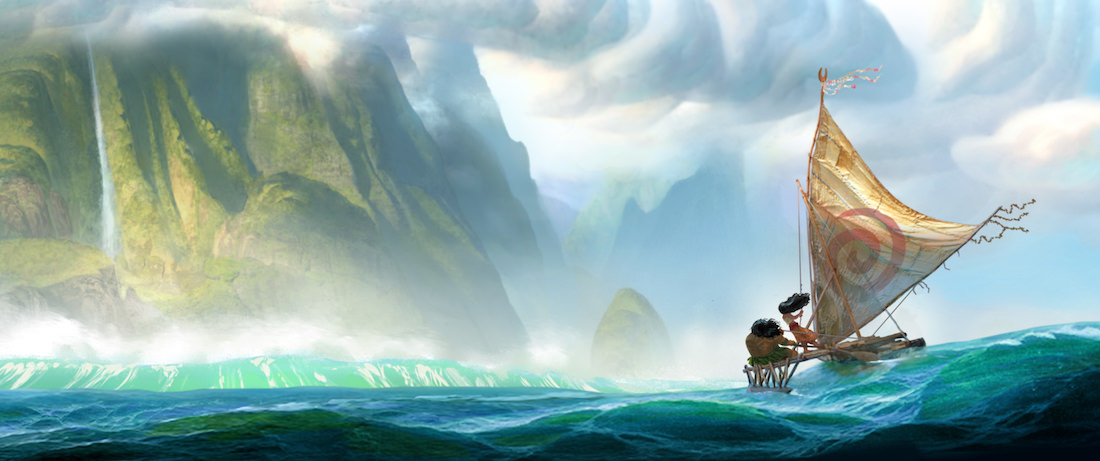 What was the process like turning the ocean into a character in this movie?
Osmond: That was one of the bigger challenges on the film. It really came down to a back-and-forth collaboration between effects and animation. The amazing effects crew handled the look of the water, the believability of that water. For us, we had to create a character that could emote, that you could connect with without facial or body [cues]….We would animate that water in dailies with directors, then there would be a back and forth with effects to get the ripples moving across the water. There was a lot of back and forth making sure that was just right, that it didn't take you away from the performance.
Derrick Jr.: Story-wise, it was always really tricky because we said we were going to make a road trip movie and the road is going to be a character. We had to make sure the water never helped too much.
How difficult was it to combine two styles of animation for the movie's depiction of the 'Mini Maui' character?
Derrick Jr.: As Maui was developing, he always had tattoos. And tattoos are not fun to draw. First you have to draw him, then you have to draw all the tattoos.…Then the idea came up, what if we actually made [a tattoo] a character and this character is an extension of him? Every screening there was just more Mini Maui.
https://www.youtube.com/watch?v=XdkefR3aQus
Osmond: We tasked Eric Goldberg, who animated the genie in Aladdin, to supervise that character. That was one of the neat things about this film. [Mini Maui] was all hand-drawn on paper. Then we scanned it in and imported it. That process was really cool for a lot of people on the crew, because Eric Goldberg is one of the guys that inspired us to be animators and we actually got the chance to animate a shot with him.
What does it mean to you to work on a movie that includes Disney's First Polynesian princess?
Derrick Jr.: Working on this film for me was a gift and a privilege and it was very important to me. I have ancestors from Samoa and just as Moana comes to understand her heritage, working and researching this film brought me closer to my own.
John Lasseter, he's a stickler for research; he [told the directors] if you're gonna tell a story set in the South Pacific you need to go there. So they went to the Pacific. When they got there, they experienced the culture and the people and it completely changed the story they were going to tell. A lot of people don't realize the Polynesian culture is a rich culture that is still alive today that is often misunderstood. From that first trip, they established an Oceanic Story Trust [a coalition of anthropologists, historians, choreographers, musicians and linguists] and it built up over time [to ensure] the cultural aspects were watched and we did it right.
The fact that we were setting out to make this [movie] the right way was super important for me. And also that this was going to be about Moana….We'll probably put labels on her outside of Disney animation that she's a "princess," but for us she's the strong daughter of a chief who is not defined by who she marries or who she's related to but she just fights for her culture.
Did you have a favorite character in Moana?
Osmond: Gramma Tala. From design to voice talent by Rachel House, she makes the film for me.
Derrick Jr.: Moana….I really identified with her.