Loving's Breakout Star Ruth Negga on the Role of a Lifetime
If, as expected, Ruth Negga, the breakout star of Loving, snags a best actress nomination, it will likely be met in some corners by furrowed brows and the question, 'Who's Ruth Negga?'
They'll know soon enough. Predominantly a British stage actress who's played Ophelia at the National Theatre and legendary singer Shirley Bassey in the 2011 BBC biopic Shirley, Negga was born in Addis Ababa to an Irish mother and an Ethiopian father and lived there until she was four before being raised in Limerick and London. She's relatively unknown in the U.S. except to fans of AMC's Preacher (she plays Tulip O'Hare) and ABC's Agents of S.H.I.E.L.D (she's Raina).
Directed by Jeff Nichols (Mud) and co-starring Joel Edgerton, Loving is about real- life couple Mildred Jeter (Negga) and Richard Loving (Edgerton) of Virginia whose marriage led to a landmark United States Supreme Court ruling that struck down the law that prohibited blacks and whites from marrying. The aptly-named Lovings were childhood sweethearts — she was African American and Native American and he was white — who married in 1958 in the District of Columbia because interracial marriage was a crime in Virginia. On a visit back home to see family, the Lovings were arrested, jailed and banned from the state. They filed suit and, in a unanimous decision in 1967, the high court ruled that because marriage was a fundamental right, the state could not prohibit people from marrying because of their race. Loving v. Virginia became a landmark decision that was cited in the arguments to legalize same-sex marriage.
But the Lovings never saw themselves as activists, which makes Negga's quiet dignity as Ruth all the more powerful. "They were not terribly excited to be a poster couple. They were interested in equal rights but that mantle is a lot to deal with," she says. "If you don't have the personality, if you aren't comfortable with that kind of public speaking — I still don't have it; I'm learning — it's quite a heavy mantle."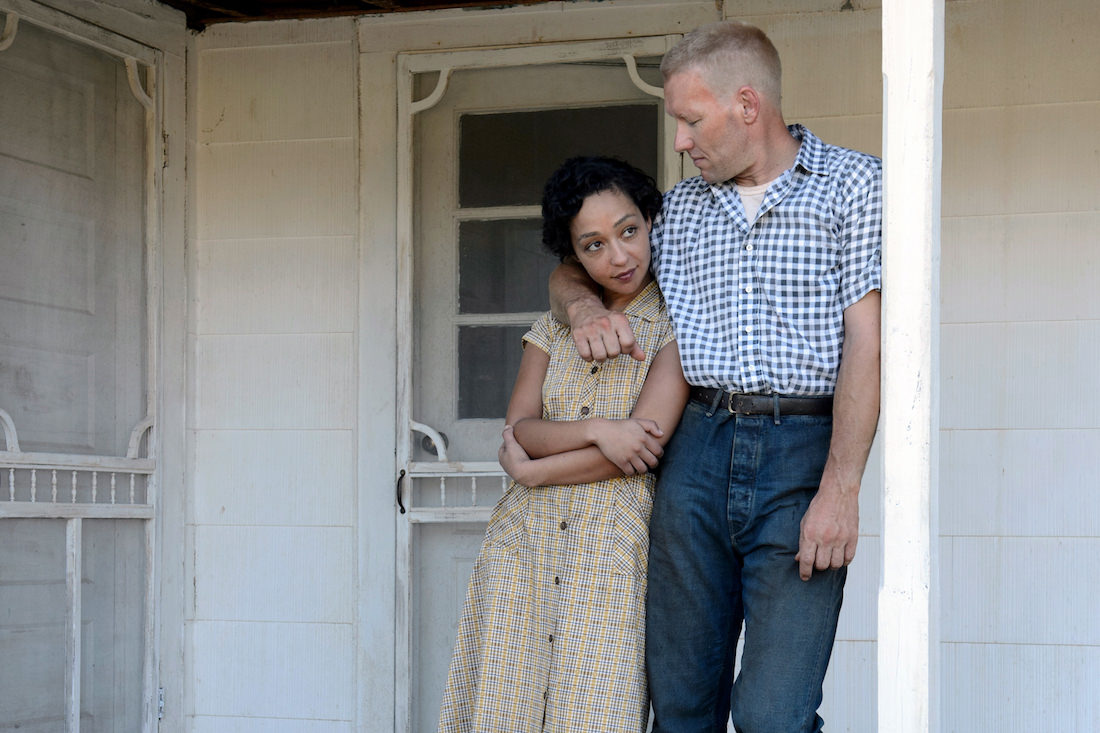 Ruth Negga (left) stars as Mildred and Joel Edgerton (right) stars as Richard in Jeff Nichols LOVING, a Focus Features release.
Negga, 34, knew she was a long-shot when she auditioned for the role. "They had not heard of me. I had a great champion in the casting director, Francine Maisler." Maisler had cast Negga in 12 Years a Slave. Although her role was cut from the film, Maisler remembered her. "She put my name forward and was in the room when I auditioned and I could feel her energy willing me," says Negga. "That makes a huge difference. The whole point of being an actor is that it's a collaborative experience. I've said this before: Joel is as much responsible for my portrayal of Mildred as I am. …People say [the film is a] meditation on relationships. The lovely thing is they were vulnerable to one another. It's an unspoken contract to say, 'I'm behind you. I'll mind you.'"
Besides Edgerton swapping his Australian drawl and Negga her Irish lilt for rural Virginia accents, the actors had to portray individual characters in a partnership that held despite years of external assaults.
"It's a dance where she's being led, first as an innocent young girl, and then she finds the steps and takes the lead," says Negga of Mildred. "I think she would have found it anyway because it was in her, but this speeded it up and I think it's a lovely evolution Jeff has made. What I love about her is that she maintained her sense of self throughout. She refused to let it diminish her. You see her rising to the challenge but keeping her sense of self. The struggle can take over your life and rob you of your humanity and ability to just live."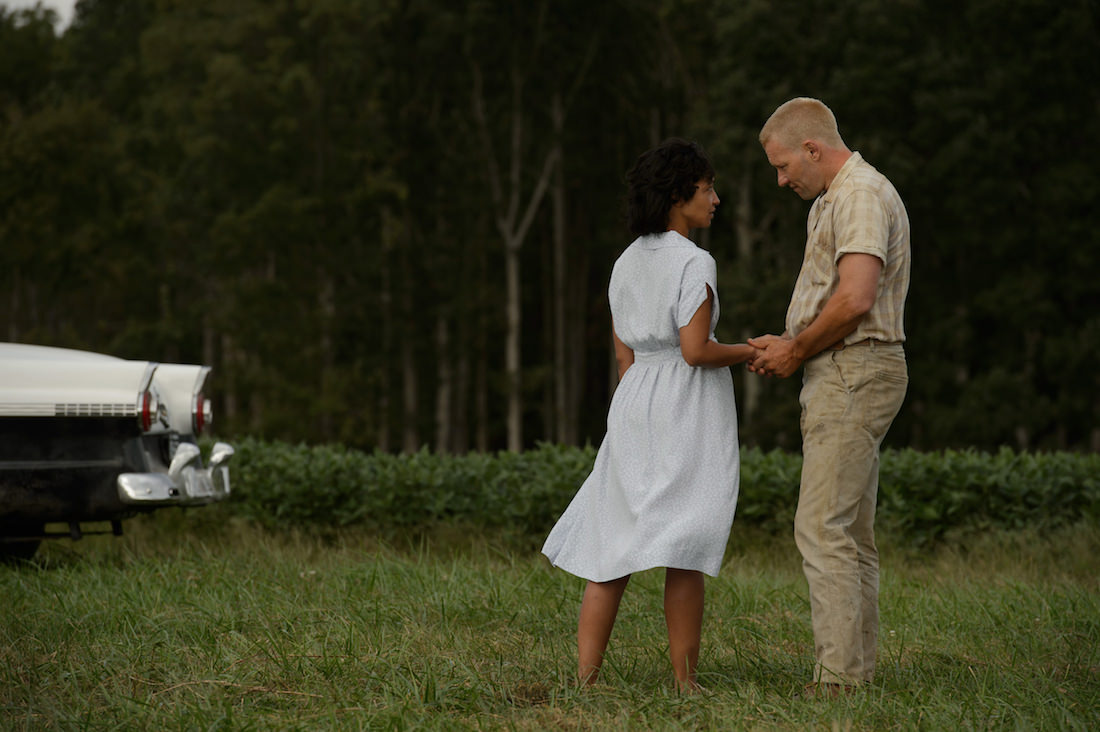 Courtesy Focus Features.
Nichols' film shows the Lovings' working class community in rural Virginia as a place where whites and blacks lived, ate, raced cars and raised families alongside one other. Richard, a car mechanic and bricklayer, was the son of the local midwife; Mildred hailed from a large, supportive family.
"People tell me they love that family and wish we still had communities like that," says Negga. "It's what gives people strength to go out into the world: a family and community holding them up, buoying them."
After they were barred from Virginia, the Lovings moved to Washington, D.C. to raise their three children. But it wasn't home.
"I think [living in Washington] was a period of depression for her," Negga says. "It would have been like taking a limb or cutting away a bit of her soul. I'm half Irish and for us as well, home and the land are big themes in our literature and our filmmaking. Jeff is continuing the theme that where you feel the earth is your home. It was for her, most definitely.
"Jeff wanted to show that side of America. He loves this country. He's from the South; it's important to him to show that there is the possibility to live side-by-side. There were many small towns in America that were cordoned off from the bigger racist attitudes. Jeff shows that America wasn't just a place of conflict. Without the interference of these racist laws and opinions, it was possible to live side-by-side and it still is."
Mildred's sense of displacement led to her increased outspokenness about the law that kept her family from returning home. She wrote a letter in 1963 to Attorney General Robert F. Kennedy who referred her case to the ACLU. The media picked up on the story and the Lovings became a cause célèbre.
"It was moving to see her letters. She had beautiful script; just beautiful," says Negga. "I know people say they were simple people but [what they mean is] that there is a simplicity to the way they lived….What [the Lovings] were fighting for was the right to live that life in simple dignity."
Richard Loving was killed at 41 by a drunk driver in Virginia. Mildred Loving lost her right eye in the same accident, and died in 2008 of pneumonia. But Negga had an invaluable source to draw from: the 2011 documentary The Loving Story directed by Nancy Buirski that served as the inspiration for Loving.
"It was my bible. … it's brilliant. It was such a beautiful opportunity [because] I had her; I had her vibrancy right there and my challenge was to translate that," says Negga.
"I think the thing about playing a real human who lived and breathed is the responsibility to be respectful but the lovely thing as well is we got to fill in the gaps; to finish the pieces that were missing," she says. "It's like putting together a tapestry and that was a lovely challenge."