Dressing the Goofballs of Masterminds
Boasting credits that include George Clooney's Michael Clayton and Angelina Jolie's Salt, costume designer Sarah Edwards usually dresses glamorous stars in sleek outfits for serious adult dramas.
And then there's Masterminds.
Based on an actual 1997 North Carolina heist and directed by quirky Napoleon Dynamite filmmaker Jared Hess, Masterminds stars Zach Galifianakis as a simple-minded armored truck guard who conspires with trailer park goofballs (Owen Wilson and Kristen Wiig) to steal $17.3 million from his employer. Edwards, taking a break from outfitting Anne Hathaway, Cate Blanchett and Rihanna for the in-progress Oceans Eight movie, says "Masterminds is very different from the kind of work I usually do, which is much more minimal and clean and restrained."
By contrast, Edwards found herself going way over the line to make sure Masterminds' fashion-backward characters popped on screen. For starters, she dressed Zach Galifianakis in boots, sweatpants and underwear capacious enough to smuggle thousands of dollar bills onto an airplane. "It's a horrible disguise and Jared was very specific about that look" Edwards laughs. "He drew exactly what he envisioned on a napkin, which I wish I still had because it was a great image: cowboy in sweatpants, a tank top and a long blonde wig."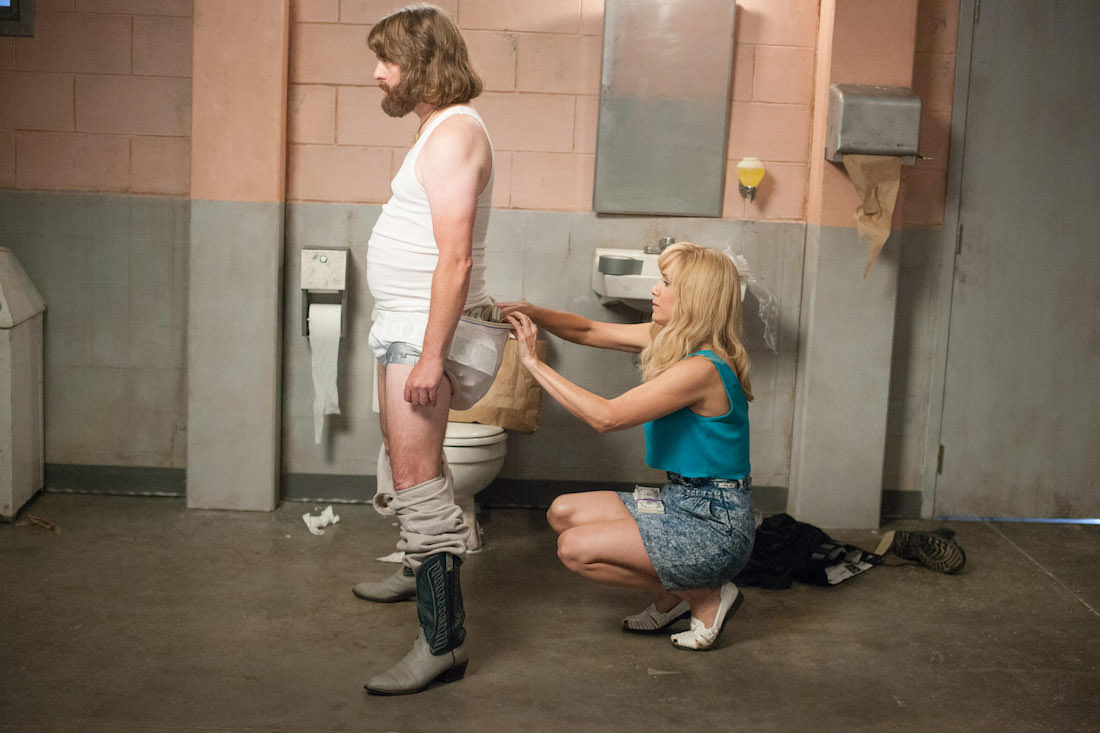 Kristen Wiig and Zach Galifianakis star in Relativity Studio's upcoming release, "Masterminds". Photo credit Glen Wilson. Courtesy Relativity Media
Edwards contributed her own comedic insights when she designed the security guard uniforms worn by Galifianakis and Wiig early in the film. "Zach and Kristen could have worn pants, but talking to Jared, I was like 'How about instead of pants, we put them in shorts? It'll just be funnier.'"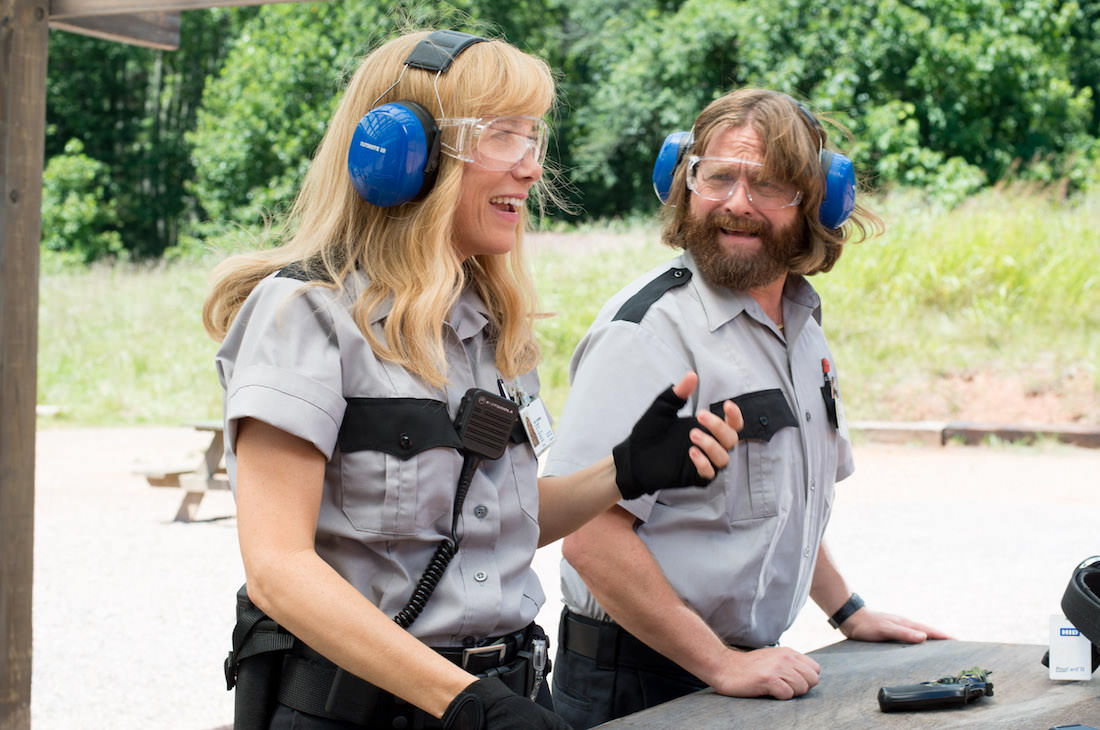 Photo credit Glen Wilson. Courtesy Relativity Media
Wiig's conniving Kelly character dresses a few years behind the times in acid-washed jeans while Wilson's lowlife ringleader Steve Chambers wears out-of-style baggy Zuma pants. Edwards says. "People in this part of the country were still wearing these over-sized things from the eighties, and that was actually a lot of fun to recreate," she says. When Wilson/Chambers becomes an overnight millionaire, he gets fancy. Edwards explains. "The whole family goes to the mall and buys incredibly high-waisted jeans and matching red, white and blue windbreakers. For them, it's the greatest thing in the world."
Edwards sourced most of the vintage outfits in and around Asheville, North Carolina, where Masterminds was filmed. "It was very hard to get our hands on clothes from this period because a lot of this stuff is either still in the back of people's closets or they've been snapped up by teenagers," she says. "Asheville had like three Goodwill stores and two tiny vintage stores. Charlotte was two hours away. It was incredibly difficult to find the clothes for these characters in a way that might not have been if we'd been shooting in New York or L.A."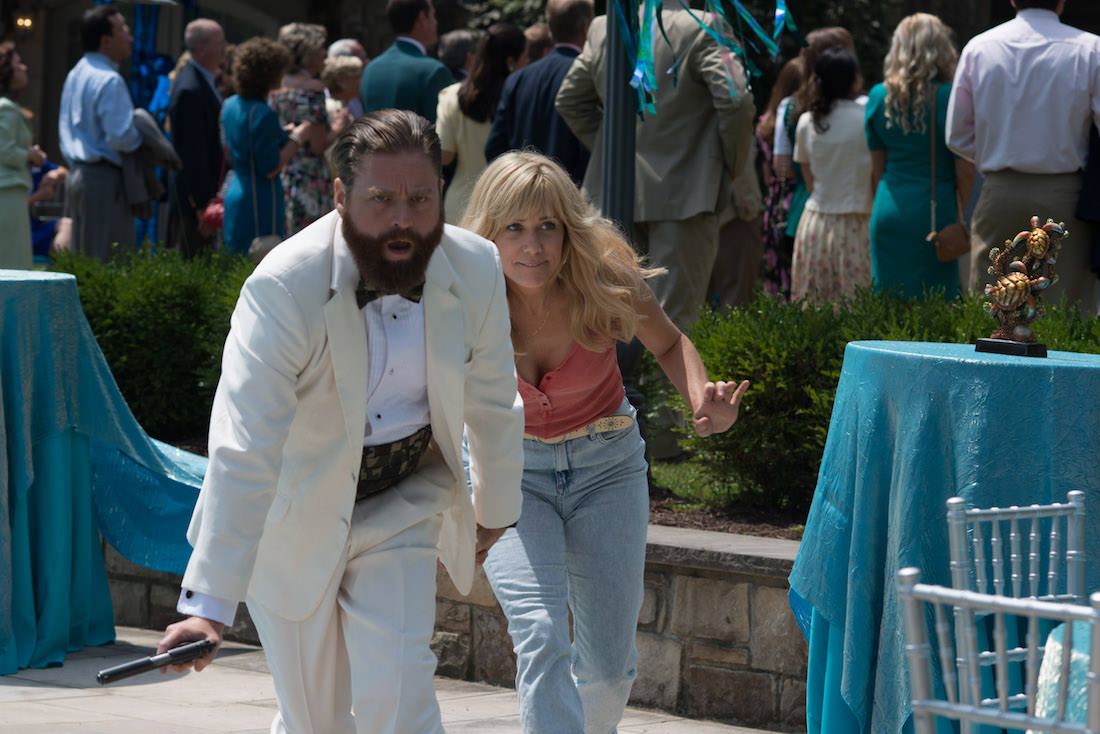 Photo credit Glen Wilson. Courtesy Relativity Media
Those limitations forced Edwards to become creative. The ill-fitting wedding tuxedo worn by Galifianakis came direct from Men's Wearhouse, ordered in multiples of six from the company's rent-a-tux department. And she custom-designed the outrageous red gaucho outfit purchased by Galifianakis' David Ghantt character when he goes on the lam in Mexico. "David's this sweet, almost child-like guy and Jared wanted the costume to speak to that side of Zach's character. He's like a little kid, seeing the outfit in on a mannequin in some store and saying 'Oh, this is cool.'"
Masterminds' most surreal fashion statement comes courtesy of fiancée Jandice, played by Emmy-winning Hilary Clinton impersonator Kate McKinnon. Appearing in a sparkly, super-deluxe wedding gown, she looks hilariously out of place within the confines of a trailer shared by her slack-jawed mother. Edwards says, "I feel like Jandice watches a lot of day time TV. Seeing that kind of dress on soap operas, she wants the crazy veil and great big sleeves and a lot of beading because she has to have the 'Dynasty' wedding. It's the kind of thing she would have found in a small town bridal shop."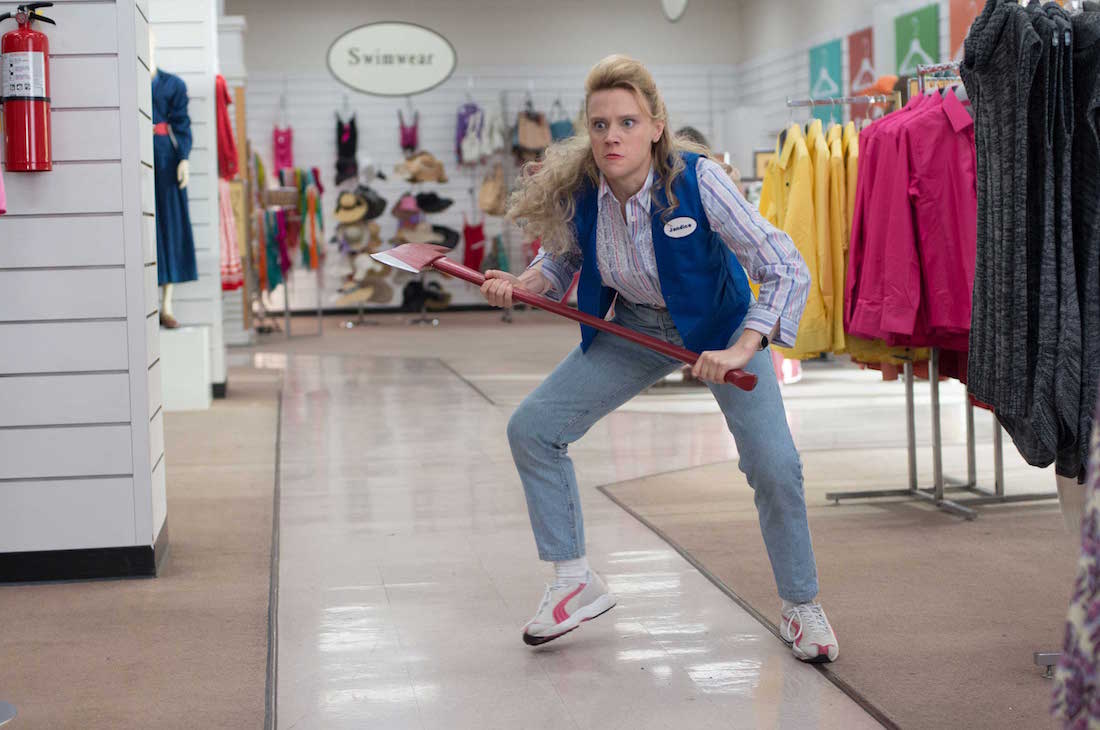 Kate McKinnon. Phoot by Glen Wilson. Courtesy Relativity Media.
Edwards notes that her costumes underscore the delusions of grandeur harbored by the so-called "Masterminds" who genuinely believe they are dressing for success. "They're not," Edwards says. "Jared really likes to play with that contrast."
Featured image: (Left to right.) Ross Kimball (rear) Zach Galifianakis , Owen Wilson, Kristen Wiig and David Ratray star in Relativity Studios' upcoming release, "Masterminds". Courtesy Relativity Media.