Chadwick Boseman Promises Darker, Grittier Black Panther
The principal cast and crew working on Ryan Coogler's Black Panther are like a who's who of up-and-coming filmmakers: Coogler himself, his co-writer Joe Robert Cole, his star Chadwick Boseman, and his cast (thus far) that includes Michael B. Jordan, Lupita Nyong'o, and Danai Guriria. That a major studio film is also primarily made up of young African-American talents is not a small deal.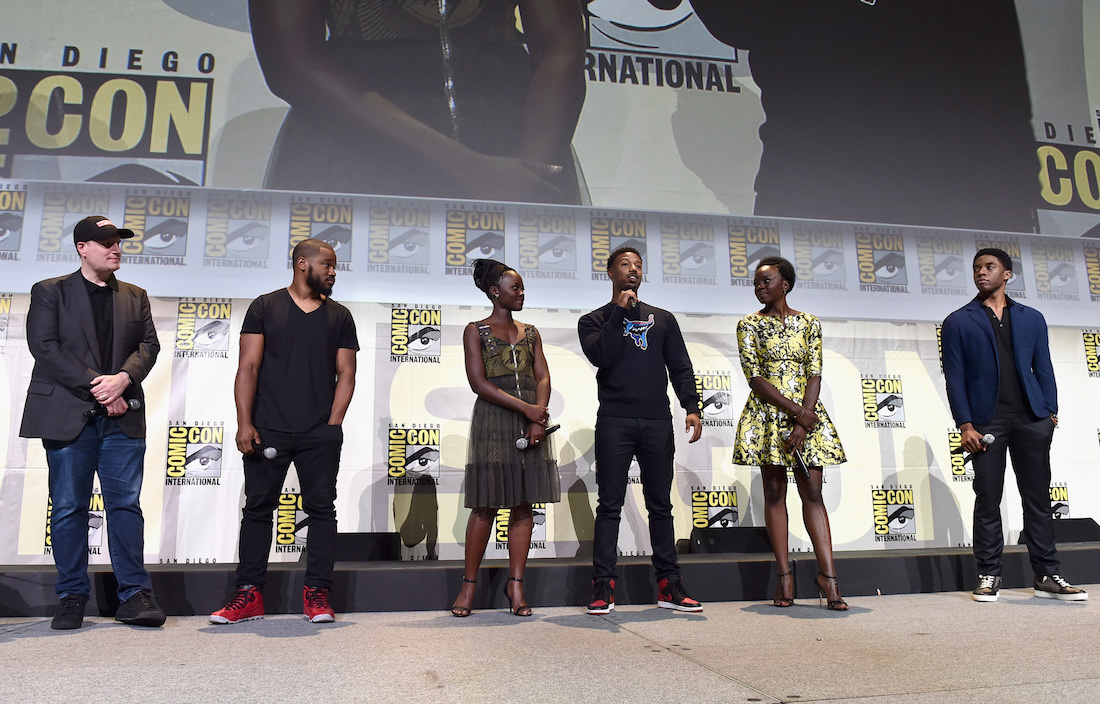 L-r: Marvel president Kevin Feige, Ryan Coogler, Lupita Nyong'o, Michael B. Jordan and Chadwick Boseman.
Recently, Chadwick Boseman spoke to Comic Book Resources about the evolution of Black Panther in his first big screen adaptation. Marvel films have been, on average, much splashier, more colorful and more humorous than the darker fare coming from DC Comics. Think of the difference in tone and tenor between an Iron Man film and any of Christopher Nolan's Batman films. Even this summer's more somber Captain America: Civil War was still far sunnier, and funnier, than Zack Snyder's Batman v Superman or David Ayer's Suicide Squad. But Boseman says that Black Panther will have a more serious tone, befitting his character, a king, no less, and one who dealt with major tragedy in the Civil War storyline.
"It's funny, because on one hand, the Marvel movies that I've liked the most are the ones that are funny," Boseman says. "I love Ant-Man. But for me, most of the time the darker superhero movies are the ones that I gravitate towards, that I love the most. So I'm glad that I'm not in an Ant-Man. I'm glad that the tone of ["Black Panther"] may be a little grittier. I just wanted to establish that from the beginning, that that's what we were doing. That that's what I intend to do. I feel like we'll end up in a place that I've always wanted to be when I look at superhero movies. Those are the ones I like the most. It's exciting to do that."
And what about Ta-Nehisi Coates Black Panther comic that came out this year? Boseman says his old friend's work is already shaping the film.
"I've known Ta-Nehisi for years. I've known him from when he was in DC, when he was at Howard. I'm excited for him, just knowing him personally. I think he's doing great work. I think his work, whether it be directly or not, it's already affecting where the film goes, and the film is probably affecting him, as well. I think that's a great conversation between the two mediums."
Black Panther arrives February 16, 2018.