Tom Hiddleston Back as Loki for Thor: Ragnarok
Tom Hiddleston is still the most beloved Marvel villain we've seen. His Loki infused The Avengers with snarling wit, fury (often at his own brother) and petulance. Here was a villain who you could tell both really wanted what he was after and, simultaneously, was becoming aware he was way in over his head. It was a heady mix. Part of Loki's fury has been in his jealous over Thor (Liam Hemsworth). Thor got the bigger muscles and his father Odin's favor (played by Anthony Hopkins), but little Loki is plenty powerful and plenty pissed, alternately rebelling against his brother (in Thor and The Avengers) and teaming up with him (Thor: The Dark World), but always bristling at being the second fiddle. All of this made him the kind of villain that brings out the best in the good guys and animates the whole film with his reckless energy.
Hiddleston's already having a good year. He's getting great reviews for his role in AMC's The Night Manager, starring in the upcoming Kong: Skull Island, and, now thanks to an update from the man himself, returning to his role of Loki in Thor: Ragnarok, which is in production now in Australia. Director Taika Waititi has teamed Hemsworth up with Mark Ruffalo's Bruce Banner, and the cast already includes Cate Blanchett, Idris Elba, Jeff Goldblum and Tessa Thompson. Hiddleston's inclusion now pushes Ragnarok into peak excitement territory.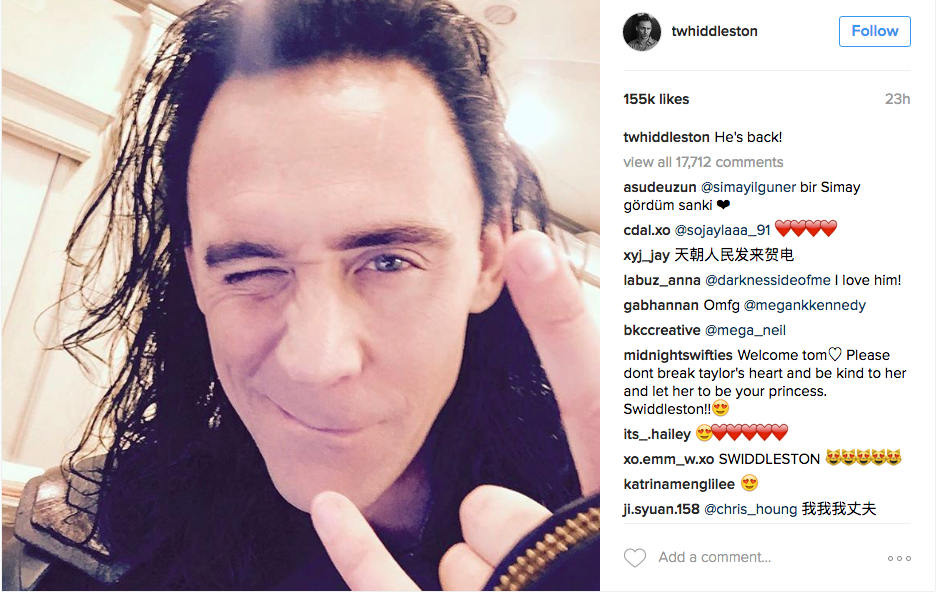 Tom Hiddleston's Instagram page.
When we last saw Loki in Thor: The Dark World, he'd teamed up with his brother and then, by the end, appeared to be dead. Only we found out before the end of the credits that Loki was alive and well and, in pure Loki fashion, posing as Odin. We'll see what kind of mischief the trickster god gets into in Ragnarok, and how much he annoys Thor in the process. This brotherly turmoil has always been one of our favorite subplots to these Marvel movies; Gods, they're just like us!
Thor: Ragnarok will smash into theaters on November 3, 2017.
Featured image: Tom Hiddleston in 'The Night Manager.' Courtesy AMC