Intriguing Theory Emerges Thanks to Photos From the set of Thor: Ragnarok
Thanks to our age of social media, we now get to glimpse images from films as they're being made, shared by the very people who are making them. This is the case with Thor: Ragnarok, which has been filming in Brisbane, Australia for a few weeks. Director Taika Waititi and his cast have dropped a couple of new photos that tease Thor's (Chris Hemsworth) return to Earth, and, spoiler alert, a potential run-in with Marvel's newest superhero to hit the big screen, Doctor Strange.
Waititi shared this photo of Hemsworth, spoiling the big reveal for everyone that the man who plays Thor would appear in Thor: Ragnarok.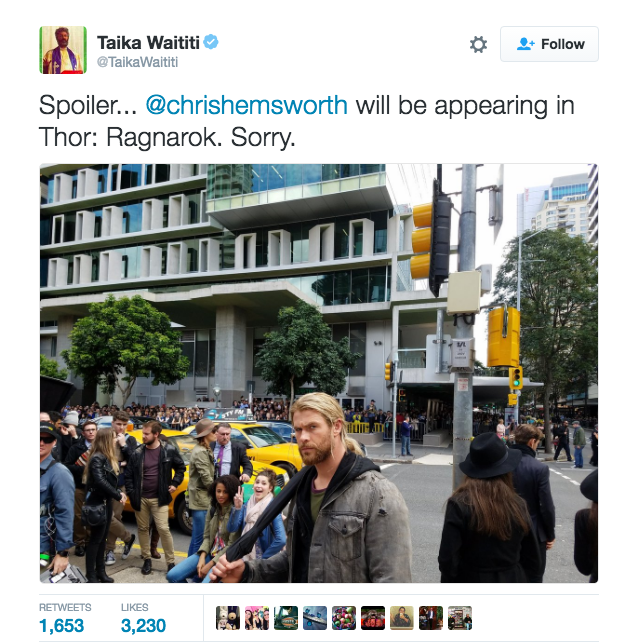 Then Hemsworth got in on the action, sharing this image of himself and Tom Hiddleston, who plays Thor's brother Loki, working for a living: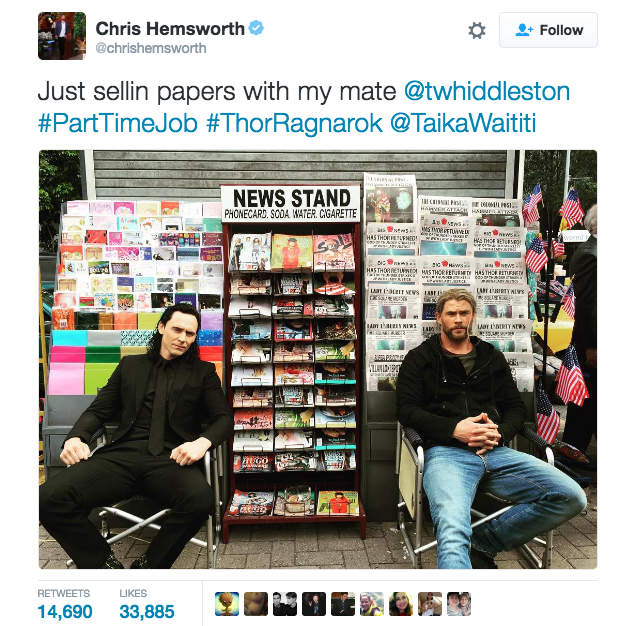 What a lot of people have pointed out about this photo is that this scene is clearly set in New York. The newspapers behind Hiddleston and Hemsworth's has are titled Lady Liberty News, Sleepless City News, etc. So Thor's back in New York—but why? And considering Loki pretty much ruined the city at the end of The Avengers, how is he able to just mosey around?
But the photo that has the internet abuzz is this one, from Daley Pearson, an Australian writer, shared the photo of Thor holding a business card, eagle eyes around the Web have pointed out that the card reads "117A Bleecker St." Do you know what's at that address, folks? Yup, it's the location of Doctor Strange's Sanctum Sanctorum.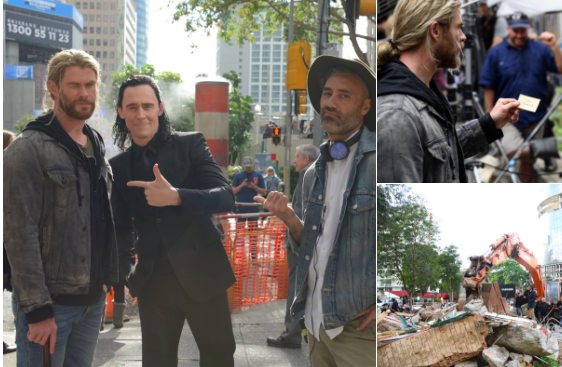 Who knows if this is just a fun little easter egg, or, if it portends a possible cameo by Benedict Cumberbatch's mystical superhero. Regardless, what we do know is we'll get plenty of Loki and plenty of Hulk (Mark Ruffalo), and the rest of the cast, which includes Tessa Thompson as Valkyrie, Cate Blanchett as Hela, Karl Urban as Skurge, Jeff Goldblum as Grandmaster, Idris Elba as Heimdall, and Anthony Hopkins as Odin, ain't too shabby.