Director Rian Johnson has Begun Editing Star Wars: Episode VIII
Godzilla and Looper editor Bob Ducsay will be doing the heavy lifting when it comes to cutting Star Wars: Episode VIII, but as with most films, he'll be joined in the editing bay by director Rian Johnson. And Johnson did what any savvy 21st century filmmaker would do; he shared a photo on Instagram yesterday of himself seated before a bunch of screens, with the word "Picture Start" glowing on two of them. If you're not following Johnson on Instagram, you should be. Photos like this one, of his notes scribbled on a napkin after a call with Lucasfilm president Kathleen Kennedy are manna for Star Wars fans.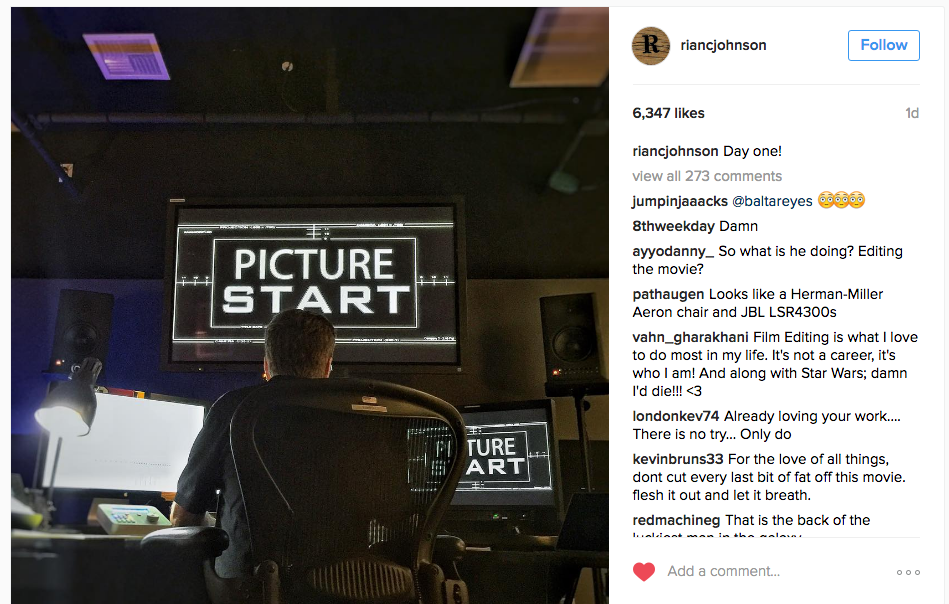 Episode VIII wrapped principle photography in late July, and now Johnson (Brick, Looper) and Ducsay will start the grueling (but exciting!) process of taking all those hours and hours of raw footage and turning them into the film we'll all be rushing out to see. Of all the new directors tackling Star Wars projects, including J.J. Abrams and Rogue One director Gareth Edwards, Johnson's filmography points to a director who could take this franchise into some truly unexpected, possibly weird territory. Granted, he's working with a "saga" film (meaning it's part of the Skywalker saga which began with 1977's A New Hope), but he's also got that coveted middle-film-in-the-trilogy spot, the same slot that The Empire Strikes Back fell into, arguably the best, and darkest, of all the Star Wars films.
Rogue One will come first, this December (and the trailers have been very promising), the first Star Wars film that is non-saga (or stand-alone, if you prefer that rubric), and the first that introduce us to a corner of the galaxy and characters that haven't been hinted at before (save for Darth Vader, who will be making an appearance).
Then it'll be Episode VIII, which is set for release on December 15, 2017. As Johnson and Ducsay begin the editing process, they've got a major ace up their sleeve; legendary composer John Williams has jumped aboard for his seventh Star Wars film.