Uncategorized
We Chat With the Creator of TV's First Polyromantic Comedy, You Me Her
After watching a couple of episodes of You Me Her, you realize that a lot of the story beats you were waiting for haven't arrived, and the show is moving to its own peculiar, beguiling rhythm. In fact, you realize you've never seen TV quite like it, and that perhaps it really is television's first "polyromantic comedy," as the show's been billed. Neither dark and twisted or goofy and unrealistic, You Me Her is a look at what might actually happen to a married couple if they both had real feelings for the same woman.
You've got your suburban husband Jack (Greg Poehler, Welcome to Sweden) who takes some dangerously stupid advice from his brother; the way to spice up his marriage to Emma (Rachel Blanchard, Fargo) is by hiring an escort for some "non-penetration" thrills and then bringing that heat back to his marital bedroom. As I said, it's dangerously stupid advice. When he meets this escort, Izzy (Priscilla Faia, Rookie Blue), he's shocked to find not some world-weary professional but a young graduate student with equal amounts of charm of self-destructive behavior. They are both smitten with each other. They make out. Jack goes home and immediately spills the beans to Emma. And what does Emma do? She arranges to meet Izzy herself. When she does, sparks fly again.
There's your set up. Jack, Emma and Izzy find themselves in a very strange situation; they all really like each other. What's a "normal" married couple to do when they find they're interested in potentially bringing a third person into their marriage?
You Me Her was inspired by an article in Playboy magazine written by John Richardson. The show was created and written by Executive Producer and showrunner John Scott Shepherd, author of "Henry's List of Wrongs" and creator of The Days (ABC) and Save Me (NBC) and was directed by Nisha Ganatra (Transparent, Shameless, Married).
We spoke to Shepherd about his unusual, compelling, and yes, polyromantic comedy.
Let's start with the casting, which is always crucial, and especially so here considering we spend almost all our time with the three leads.
The casting philosophy was that these are real people in the real world. A lot of extramarital shows get sort of un-relatable, you know, like pretend frogs in real gardens, with no consequences or stakes—they seem to exist in a vacuum. The whole idea of You Me Her was, what if? What if this was happening to me in main street, Portland. That idea drove us. At the same time we also wanted a romantic comedy tone. One, I thought there were enough mumblecore versions out there, and two, I thought it was a novel idea to take three people and make it romantic as opposed to a sex drama, and to give it real emotional stakes. We couldn't cast it like Transparent, we wanted them to be attractive, but real world attractive.
Who did you cast first?
I cast Rachel first, and strangely enough, I actually cast her before I chose our director. She seemed perfect for the role. I thought she was highly underrated, and she existed in the comedy world that does things like Another Period, and I thought she did a really good job in Fargo and Peep Show.
Then with Greg, I was preparing for a pitch, and that's when he became available. It's one of those things that clicked. We were down to a few people, and they all seemed to be actors. With Greg, partially because he hadn't been acting much, he just seemed real. And he got up to speed with the comedy so fast. I didn't need him to be too great at comedy, I wanted him to be real, but he was, and so I just said, 'This is my guy, this is my guy.' I did it long enough so everyone believed me. So we got him.
I imagine casting Izzy was tough, as she's got to have believable chemistry with both Jack and Emma, and Jack and Emma together.
Right, she was the real crucial x factor. We were looking everywhere to find the right person. With Priscilla, we basically cast her at the bar at the Sutton. We just realized she was the one, she very specific, and not a manic pixie dream girl, but someone with her own rhythms.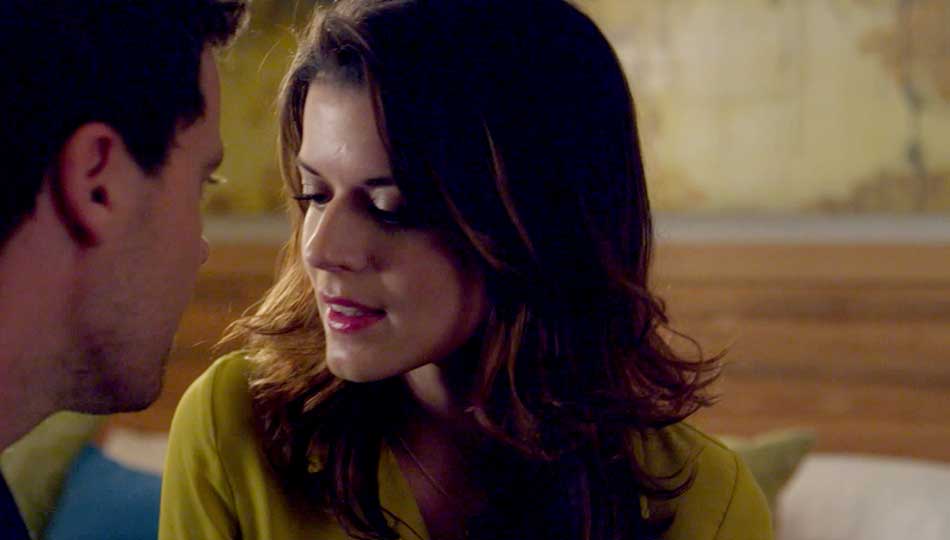 Priscilla Faia as Izzy. Courtesy Audience Network
She's a bit off, Izzy, in a believable and endearing, but still self-destructive way.
Someone has to be a little off to do what she's doing, but I didn't want her to be crazy. Izzy manages to seem like she's making conscious decisions, and isn't self-destructive in an overt way, but she is a bit self-destructive. That's how Priscilla came off when I met her, someone who's smart and self determined, but not perfect. She said to me, "I'm not 100% right there, so I totally get this girl!"
The show's tempo and the performances feel really organic. How much is scripted and how much is improvisation?
It's mostly a scripted show. Greg, the first thing he did was get into improv comedy, and he was named one of the best new improv comedians. He'd been a lawyer all that time, but he'd seen a lot of it through Amy [Poehler]. I'd be lying if I didn't say there wasn't some luck involved, I didn't know Rachel was that good on her fee, she's really good at expanding on a line. Same thing with Priscilla. The three of them together are great, and Nisha gave them time to be together and do creative exercises. They're three really different people. Really different. That gives them this interesting chemistry, they come from very different directions, professionally, and the way they carry themselves in real life is very different. If they'd been too much alike, got along too normally, it wouldn't have happened that way.
The premise of a polyromantic relationship has been explored before, but not quite in a true rom-com fashion. What intrigued you about doing it this way?
All these assumptions about our happiness, relationship wise, what works for us, the idea that everyone's happiness works the same—that's not the case. How we choose to lead our lives, as long we're not hurting people (unless they want you to), I think we're all becoming more tolerant. The idea of approaching polyamory as a polyromantic comedy that's not about dire circumstances and damaged people hurting each other appealed to me. What if this is right for these three? These three live in the real world, they'll constantly be drawn apart by the world and themselves and their expectations. The hardest part of rom-coms is finding a real reason to pull the two lovers apart. Also, to make it the guy who's struggling…instead of him being the one is the happiest with the arrangement, he's the one with most at stake, he's the most wary of it, he's the most concerned that he may end up the odd man out.
Tell me about the production. You shot all of the episodes in one go?
It's shot mostly in Vancouver, which does well for Portland. We did go shoot in Portland, which is something that we talked about a lot of that a lot of people don't do. We went down to shoot a ton of exteriors. They work well together.
It's really hard to stretch an indie budget, but our producer Jonathan Swartz and our director Nisha were still able to give it that expansive look, so it's not too claustrophobic. And that was part of trying to have our cake and eat it too. To be cool like an indie but also feel like a proper romantic comedy, which isn't easy on an indie budget. You have to be creative for when you shoot expensive places. It's ten episodes total, and we shot it all in 35 days, a five hour movie.
What was the writing process like?
I wrote the whole thing in ten weeks. I started out by writing novels, and I wrote this like a ten-chapter novel. It's kind of cool to go back to that immersive, non-crafty feel. It's gotten a lot of support and partnership from a really cool network and studio to not note each script and rather to look at it like a book. Let's not even talk, unless we have some huge problem, until halfway through or more. That allowed me to write it like a book, so chapter eight might affect chapter two. Because nobody had really done this, a lot of it was stumbling into doing the right thing, because writing it that way works well as shooting it that way. When you aren't looking as each episode as a stand alone entity, it is good for binge watching. It's just what was best for my writing and my process.
In this world with these new networks, and Audience and TV Land as long with FX and HBO and Showtime and everyone else, people are more open to letting you do things the way you do them, rather than the way the machine has always worked.
You Me Her airs on DirecTV's Audience Network, at 9pm EST on Tuesdays.