SXSW Alumni: Trey Parker & Matt Stone's Start in Austin
As we settle into Austin and prepare for SXSW 2016, we're also looking back at some of the great careers that were launched here. We begin with longtime creative partners Trey Parker and Matt Stone, who brought their animated short, The Spirit of X-Mas and its' cadre of soon-to-be-infamous characters—Cartman, Stan, Kyle and Kenny—to South by Southwest in 1997. Yet their road to SXSW began years earlier, in 1992, when Parker and Stone, then students at the University of Colorado, put out an initial version of the story about a fight between a violent snowman and Jesus on 8mm. The film was crude, but the elements were all there (except it wasn't Kenny who bit the dust, it was Cartman). In 1995 Fox executive Brian Graden paid the two to redo the short as his video Christmas card – and well, the rest is history. On August 13, 1997, following SXSW, the series South Park premiered on Comedy Central, beginning what is now a prolific run that has run for 19 seasons and counting, and has garnered five Primetime Emmy Awards and a Peabody.
The duo has gone on to create the television show That's My Bush and films like Orgazmo, South Park: Bigger, Longer & Uncut, and Team America: World Police. Parker and Stone premiered their immensely successful Tony-winning musical The Book of Mormon in 2011. The show is still one of the hardest tickets to get on Broadway. In July, South Park was renewed through at least 2019, keeping the bad boy cutouts on the air 23 seasons!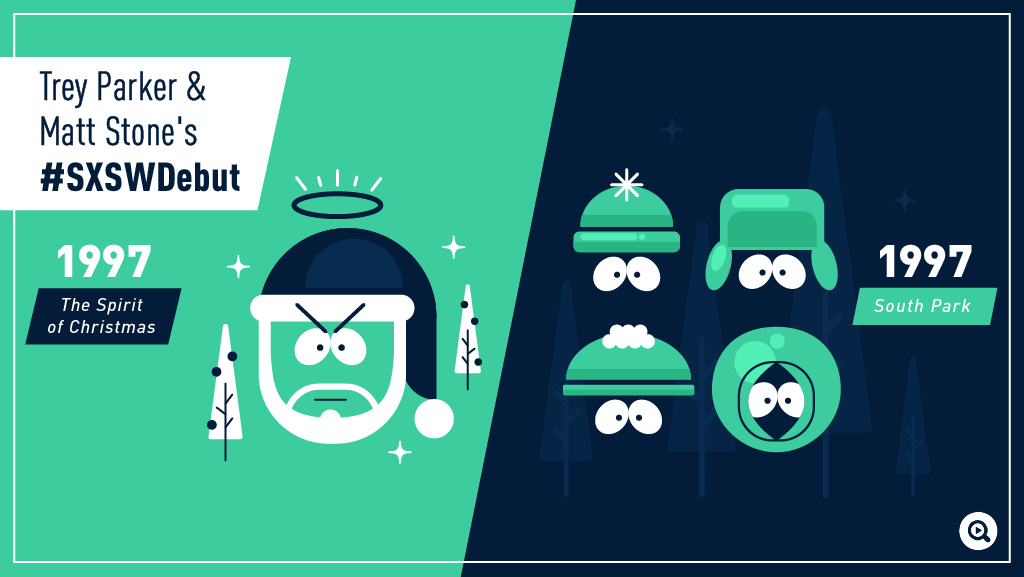 Featured image: Matt Stone and Trey Parker. Courtesy Comedy Central.